Welcome to Xmas Countdown: Day 5+2

Dirt Wise with Shane Watts Advanced Instruction Volume Two:

How do you think you are going to improve as a rider? Do you think that you can just keep doing the same things wrong and somehow, magically, you will get faster? That is crazy talk. You need someone to help show you the right way to do things. Shane Watts can go through trees faster than a wood chipper and if you are smart you'll listen to what he has to say.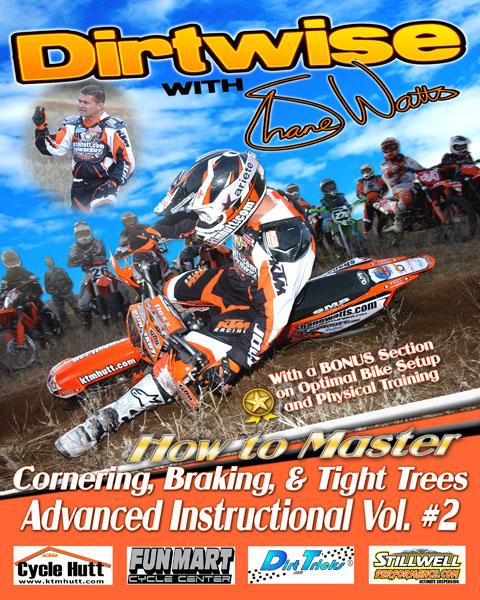 Description:

Shane Watts was known as the wild man of the off-road racing world. He didn't just win races, he did it in spectacular style. When he won the 2000 GNCC Championship, for example, he raced (and won) on something like six different sized KTM bikes, from 200 two-strokes to 400 four-strokes, and each one was bone stock right out of a crate. Then he sleep under his box van instead of paying for a hotel, start last, and still grab wins. Shane also won the 1998 ISDE overall, and even scored a national number in AMA Motocross in 2001.

Shane was a madman as a racer--many called him the Travis Pastrana of off-road. But now he's on to teaching riding schools, and wouldn't you know it, there are methods to his madness. His latest DVD, Advanced Instruction Volume 2, focuses on cornering, braking and tight trees. Shane throws in a lot of drills that can logically and completely take your skills to another level. It may say advanced instruction, but this is the back-to-basics stuff that any rider can benefit from, even beginners, and even those who never ride in the woods. It's amazing to see Shane turn from class clown to ace teacher, but then again, he didn't win all of those races and championships without knowing how to ride.

The DVD costs only $24.95 and can be purchased right HERE.