Deft Family Releases 2011 Catalyst 2 Glove Collection
Temecula, CA DEFT Family, a united family of athletes, artists and creative Individuals, is proud to announce the much anticipated release of the 2011 Catalyst 2 glove collection.
This release includes the already popular 'BRUSH' collection in three colorways as well a special artist edition glove called the 'EZ Robot'. Designed and inspired by DEFT tattoo artist/illustrator Erik Campbell. " Were really excited to drop the new line, a lot of work went into this years line and improving our debut glove from 2010. We knew we had to up our game even more than last year and I honestly can't wait to hear the response!" said Nate Adams, cofounder of DEFT Family. After a very successful debut year DEFT Family is ready and motivated to expand the brand into 2011 and beyond! "We really just want to thank everyone in the industry for the support, our friends, families, and most of all our athletes for believing in us!" closes Nate.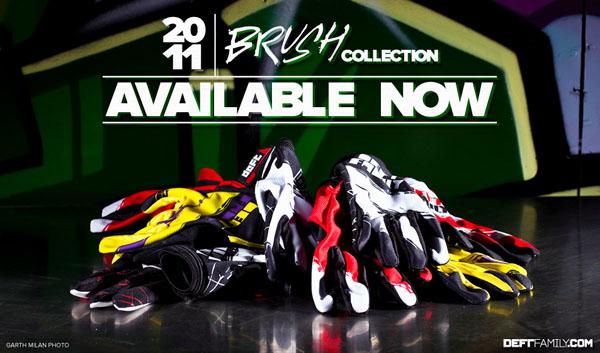 This is the first of three product releases to come just in time for the new year. Check it out at
ABOUT DEFT FAMILY
The DEFT Family represents a united family of athletes, artists and creative individuals inspired by the underground lifestyle to define our futures. Founded by a core crew of friends influenced by music, arts, culture, sport, faith and fashion. DEFT Family provides the essentials for a modern day movement to transcend barriers through a vision of a free flowing culture. Formed by motivation and a necessity for change through passionate minds while remaining ahead of mainstream, common and popular beliefs, DEFT family is not just a brand it's a lifestyle…
We are Deft Family