Welcome to Xmas Countdown: Day 8+2

David Pingree's Motocross 101:

How will you improve if you don't know the right way to do things? You won't. Ping's new video covers all of the core aspects of motocross racing and shows you ways to apply new techniques and practice those techniques in specific drills. In his traditional dry wit, Ping reaches out to audiences of all ages and skill levels in Motocross 101. There is something for everyone and some very behind the scenes entertainment as well. And, conveniently enough, this DVD fits PERFECTLY in a stocking. Man, if only it was getting close to Christmas. Oh, wait…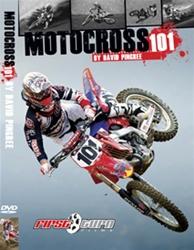 Description:
Perspective. It's something that often takes time to attain and former factory motocross rider David Pingree has it in spades. "Ping" spent ten years competing in the national AMA motocross and supercross tours, winning four supercross main events and landing on the motocross podium on multiple occasions during his career. After hanging up his boots in 2003 he became a journalist, studying the sport he loves from the outside. David continued to race unique events of varying disciplines around the globe, including Supermoto. He found success there as well, winning six 250 finals and earning a bronze medal at the Summer X Games in 2007. At the end of the 2008 season David slid into a team manager position with the squad he rode for – the Troy Lee Designs/Lucas Oil/ Honda team. Ping's experience helped guide the team's young riders to have banner seasons. It is that same experience that makes Motocross 101 one of the best new learning tools in the sport. Riders of all skill levels and ages will benefit from the tips and tricks David learned during his long career. So, sit back and get ready to take your riding to the next level.

Click right HERE to purchase.