Welcome to Xmas Countdown: Day 9+2

Fellowship of Christian Athletes Motocross Ministry Description:

Fellowship of Christian Athletes Motocross Ministry is offering 10 camps around the country featuring some of the biggest names in the motocross industry.  Could you imagine getting trained by Andrew Short?  He also joins in the activities throughout the week so you would get to eat with him, swim with him and hang out with him!  Other past instructors include Ryan and Justin Sipes, Kenny Bartram, Ronnie Faisst, Tim Ferry, Sarah Whitmore, Kevin Windham, Nathan Ramsey, James Povolny, Mike LaRocco, Kevin Johnson, Gavin Graycek, Travis Preston, Jeff Gibson, Kelly Smith, Bob Moore, Josh Grant and many more.

MX camp is the place for you to improve your race skills, meet new friends and hear Gods challenge for your life. "This is the camp you have been waiting for!" You or your camper will experience unbelievable fun, outstanding motocross training and incredible friendships.  Camper age needs to be 6 years old to adults (there are always a handful of adults who sign up as campers too).  Campers are split into groups of 6-8 according to their age, bike size and skill level.  Each group has two leaders with them at all times.  For mx training, the groups move from station to station working on different techniques.  This way each camper will have a chance to be trained by each instructor as well.

Cost is $695 for a week-long, residential camp and $395 for a Trackside camp.  We treat our camps like a mission trip and encourage campers to raise their registration fee through family, friends and church.  We have tools on our website to help campers with this process.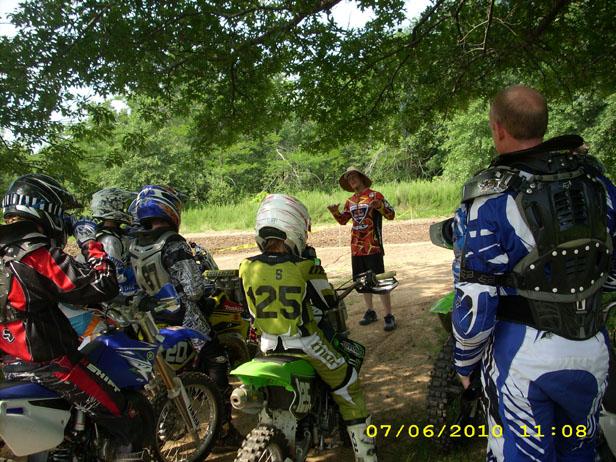 Daily schedule:
8am  Breakfast
9am Training
Noon Lunch
1pm Training
3:30 Free Ride
4pm Swim/Free time
6pm Dinner
7pm Chapel
8pm Awards/Activities
FCA MX partners with a campground for most of our camps for lodging, food and activities.  We either bus back/forth to the track or the track is located on the property.  We do have 2 Trackside camps where the campers/families provide their own lodging (hotel or motorhome) and 1 Sports Camp where campers just come for the day over a 4 day period.
2011 Camp Schedule
Henryville, Indiana:  June 6-11
Providence, North Carolina:  June 13-17
Highlands, Texas (Trackside):  June 20-23
Taylorville, Illinois:  July 4-8
Coker Creek, Tennessee:  July 4-8
Pine River, Minnesota:  July 18-22
TBA, Oklahoma (Trackside):  TBA
Luddington, Michigan (Sports camp): August TBA
Murrieta, California:  August 1-5
Lakeville, Ohio:  August 8-12
Check the website
www.FCAMX.com
for more information, dates of camps and how to register.
Questions?  Call Donita at 812-590-2076 or email DPovolny@fca.org