Support for Stephan Barrington
December 13, 2010 10:40am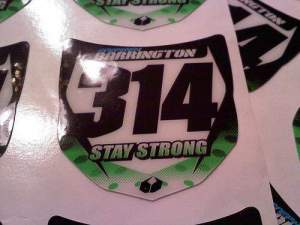 My name is Justin Hoyack and I'm contacting you in regard to getting some promotional help for a friend of mine. Ill keep it short and pretty.
A buddy of mine, Stephan Barrington, was riding at a local track recently when he got loose in a section of the track and crashed. He was then unable to feel anything from his nipples down. He was life flighted to Cleveland and had emergency surgery. He is in a wheel chair currently and says he can feel some sensation in his feet and legs, which is really good news. He is going to be moving to Cincinnati temporarily for intense therapy; he is going to the same place that Justin Weeks is going to.
Anyway, luckily he did have insurance, but it's more thana likely going to run out. So Bryar over at 180 Decals has helped me out and made me some mini plates that I am selling to raise money to give to Stephan.
I'm asking for a minimum of $2.00 a sticker, but people can donate as much as they want. I'm just asking that when someone does make a donation, that they let me know through email or in the pay-pal transaction how many stickers they want.
I have attached links to two forums that I have this posted on. There is a picture of the sticker on both sites, if you want another email with it attached let me know.
Pay-pal account: hrdmotosports@gmail.com
www.pitracer.com/ubbthreads/showflat.php?Cat=0&Number=203638&an=0&page=0#Post203638
www.vitalmx.com/forums/MotoRelated,20/HELP-This-Vital-member-the-best-Xmas-gift-youll-give,1144150
Thank you.