Risk Racing Introduces Three New Products
December 10, 2010 10:40am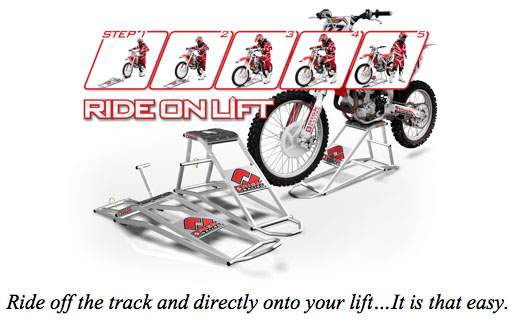 Mooresville, NC – No more lifting and grunting, or trying to kick a motorcycle lift under your bike. Simply push or ride the bike onto the lowered lift. As the front tire touches the front plate, the lift goes into action rising to the bottom of the motorcycle frame. Step on the foot pedal and your bike will rise effortlessly into a secure position. Getting your bike down is just as effortless and simple. Just lift the release lever with your toe and roll the bike off the lift.

Weighing only 15lbs, the RR1 is lightweight, portable and stable in the pits. Each lift comes with a locking pin and is lockable in the up and down position for ease of transport and safety. The RR1 lifts both tires off the ground. The front and rear tires and suspension can be serviced while on the lift. The framework is made of high-strength, powder-coated steel and is extremely durable.  The top of the Risk Racing RR1 Ride-On Lift has a molded rubber pad designed to hold the bike securely in place.  Additionally, the bottom side of the lift is large and stable in the pits.  There is also a hole in the top of the lift for quick and easy oil changes.  Finally, there is a graphic area on the lift.  Riders can order custom graphics from Risk Racing. These custom graphics can feature their name, number and sponsors. 

A rider will see the benefits of this revolutionary lift after a long and draining moto.  The last thing a tired rider wants to do when his or her tongue is hanging in the spokes is lift a 200lb motorcycle onto a glorified foot stool.  Especially if the bike has an additional +20lbs of mud packed on it.  After using the RR1 just once you will realize the benefits.

The RR1 Ride-on Lift works with full size, motocross specific bikes.  It is available now at an MSRP of $149.99. For additional information, pictures, and demo videos please visit www.riskracing.com or call 704-658-9332. It is distributed by Tucker Rocky and Marshall Distributing.

Researched, designed and tested by professionals, Risk Racing® products provide users with functional, innovative solutions. They are engineered for reliability and performance in demanding environments.  Risk Racing® is a registered trademark of Mooresville, North Carolina-based BISS Product Development.





Mooresville, NC – Risk Racing is proud to announce one of the most unique and innovative task lights ever created. Imagine having a light you could bend like a sheet of paper to focus or spread light all around. A light that would be able to wrap around tubes, bend into tight corners, and magnetically fasten securely to metal objects.  A slim work light that could easily slip into a tight engine compartment.  A gooseneck task light that can easily be positioned to flood light across your motorcycle, or pinpoint a specific area for detailed repairs.  A magnetic light that can attach to metal surfaces in a work shop or race trailer.  A camping light that can wrap around a tent pole to light up the site or be tucked into your front backpack strap to light up the dark trail ahead. A directional light that can illuminate an entire room. A hands-free light that can aid in fixing a tire on the side of the road.  Risk Racing is proud to announce the release of this light and they call it the FLEXiT.

Fix it with FLEXiT, Find it with FLEXiT, Freedom with FLEXiT
The FLEXiT Light is a hands free flexible LED task light. It's ultra-thin, flexible silicone body allows an unlimited amount of light projections.  The durable Shape-Loc™ frame makes it easy for users to bend, fold, wrap, stick or hook the FLEXiT around objects to position and aim the light. FLEXiT uses 16 Lumen Tech™ LEDs with three light functions (low, med, and high) than can be bent into positions to create a focused spot or a broad flood light. The durable ABS base holds 3 AA batteries (included), the electronic switch and circuit, two large neodymium (rare earth) magnets, and a loop to hang or mount the light. The FLEXiT is 0.85" thick, 7" wide, and 13" tall.

The FLEXiT Light is available now at an MSRP of $29.99. For additional information, pictures, and demo videos please visit www.riskracing.com or call 704-658-9332.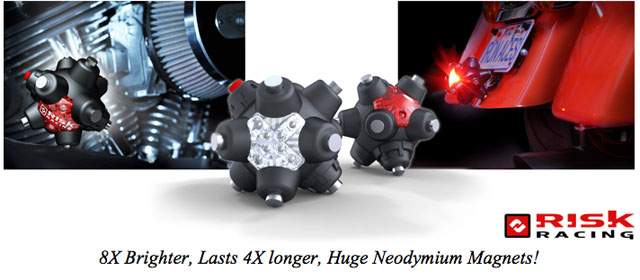 Mooresville, NC – Risk Racing is proud to announce the next phase in the evolution of innovative task lighting. Based of the hugely successful original, the Magnetic Light Mine, Risk Racing has created a bigger, brighter, and more powerful version called the Light Mine Professional. About the size of a baseball with the same underwater naval mine appearance, the new Light Mine Professional is 8 times brighter, lasts 4 times longer, includes a signal beacon, and red night vision light.

The functionally designed protruding posts can be used as tripods or quad-pods creating a 360 degree freestanding light. Eleven powerful neodymium (rare earth) magnets are located the end of each post allowing the user to attach and aim the light accurately and securely in any direction. Powerful Lumen Tech™ LEDs are used in the front white lens (8 LEDs) and back red lens (4 LEDs). The Light Mine Professional has four electronic light functions; low power spot, high output flood, red night vision, and a high visibility hazard light.

Motorcycle enthusiast including street and dirt bike riders will also find hundreds of uses for the Risk Racing® Light Mine Professional on the road, track, trails, or in the garage.  Toss one in your saddle bag for road side repairs or to use as a hazard light on the side of the road.  Stick it to your tool box in the race trailer, or stick it to the fridge and make it the go-to flashlight for the whole family.  Hook a lanyard on it and use it as a magnetic pickup tool.  Use it when working on an engine, changing a tire, wiring a home theater, switching on a breaker, crawling around under a counter or sink. It's even great to have on camping trips. The potential uses are endless.

The Light Mine Professional is powered by 3 easily replaceable AAA batteries (included) and will is available now at a MSRP of $19.99. For additional information, pictures, and demo videos please visit www.riskracing.com or call 704-658-9332.