Welcome to Xmas Countdown: Day 15+2
Falken WildPeak A/T Tires:
With the winter season approaching, and same with Monster Energy AMA Supercross, it's not a bad idea to give the gift of tires this holiday season. You can't go wrong with the official truck tire of Supercross either, so we present to you the Falken WildPeak A/T tires. Take a look: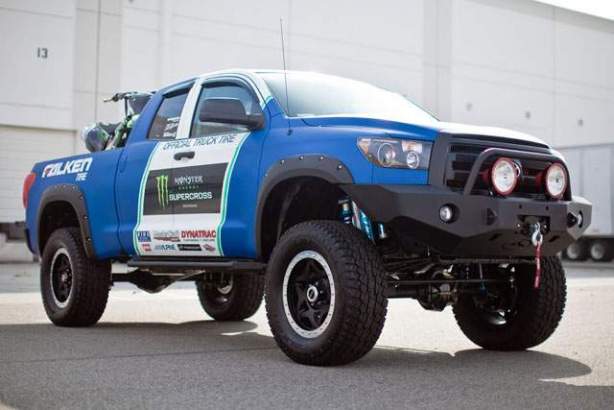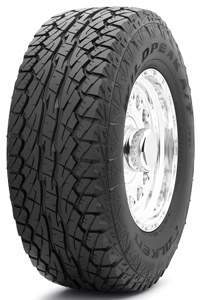 Description:
When consumers continue to push the envelope and demand new versions of their favorite off-road tire, Falken Tire, a leader in high performance tire technology, is quick to answer the call.  Falken will introduce in January 2011 the new 37-inch WildPeak A/T, designed by enthusiasts for enthusiasts.
Fresh from a rigorous test in conjunction with the JK Experience, a week-long extreme off-road event focused on the Jeep Wrangler JK vehicle, the new Falken WildPeak A/T, sized 37x 12.50R17 performed superbly and proved that the tire is ready for the punishment of running off-road, yet equally comfortable in terms of delivering a great ride on smooth surfaces.
"The WildPeak A/T is a strong tire, ready to take on the challenges drivers throw at it," added Nick Fousekis, Falken Senior Manager of Consumer Marketing.  "When Falken launches a new tire it does so with authentication as its foundation, and we used this aggressive environment – slick boulders, sharp rocks, sand and even mud as our testbed and came through with flying colors.  I think our customers will really see Falken is taking off-road very seriously with the new 37-inch tire."
Specifications:
Tire: Falken WildPeak A/T
Size: 37x12.50R17
Type: Radial
Load Range: D/8
Max load (lb @ psi):3525
Sidewall construction: 3 Ply Polyester
Tread construction:8 PLY CASING (SYM)
Approved rim width (in): 8.5-11.0
Tread depth (in):18/32
Tread width (in):9.3
Section width (in):13.0
Overall diameter (in):36.6
Static loaded radius (in):N/A
Revolutions per mile:579
Weight (lb): 81.4
Official Truck Tire of Monster Energy AMA Supercross
Falken Tire, a leader in high performance tire technology for both cars and trucks, has increased its marketing efforts surrounding its expanded truck tire line and has become the Official Truck Tire of Monster Energy AMA Supercross.
In collaboration with Feld Motor Sports, the promoter of the series, Falken Tire and in particular, its highly regarded WildPeak All-Terrain tire, will have a large presence at each track through signage, while the company will support the series through television spots on CBS, which carries the race events, and increase its advertising in motocross magazine titles.  In addition, Falken will utilize on-site fan activation through its specially modified tractor trailer, along with several display vehicles featuring its lifted Toyota Tundra.
"Like fans of many motorsports series, the people in the stands and in the paddock are loyal to the brands that support their racing," stated Andrew Hoit, Falken's Director of Marketing, "and Falken has discovered that not only do these fans and racers have a higher percentage of truck and SUV ownership, they want a tough tire that responds well to their on and off road needs.  That's where our WildPeak A/T comes in."
WildPeak A/T has reinvigorated the all-performance sport utility and light truck tire market through its aggressive stance for maximum traction, and its rigid block design allows for exceptional on road response and optimized off road handling.  WildPeak is currently available in 15-inch to 20-inch diameters in metric and LT metric with many plus-sized applications.  In January 2011, Falken will add an additional 17 Large Overall Diameter (LOD) sizes from 33- to 37-inch tall tires for 17", 18", and 20" wheel fitments.
"We're extremely proud to bring Falken Tire into the Supercross family," said David Prater, Director of Supercross, Feld Motor Sports. "Falken's dedication to excellence and highly interactive on-site activation will continue to enhance the overall fan experience at Monster Energy Supercross."
For more information about Falken Tire or to locate a dealer, log onto www.falkentire.com