Road 2 Recovery Offers Support to Doug Henry
Scottsdale, AZ – The Road 2 Recovery Foundation is accepting donations in support of Doug Henry and his family to help with their home rebuild process after a devastating fire captured their home and personal treasures over Thanksgiving weekend. R2R is collecting donations in Henry's name at the Road 2 Recovery website and benefits from sales of the Doug Henry Legends posters and bands on the Road 2 Recovery website will go towards this cause. 100% of all donations and proceeds from the posters and bands will be given to Doug and his family.

Show your support for Doug Henry by wearing the Doug Henry 19 – What's Stopping You arm band and by posting your Doug Henry Dunlop Legends poster.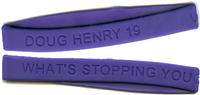 About Road 2 Recovery:
The Road 2 Recovery Foundation is a 501 (c) 3 non-profit organization that was founded by Bob Moore, Bob Walker, and Jimmy Button in the fall of 2000, and is dedicated to helping AMA licensed professional motocross/supercross riders with financial assistance if they sustain career-ending injuries as well as providing motivational, emotional, and spiritual support to these individuals and their families. To make a donation click here. For more information on Road 2 Recovery and upcoming events visit www.road2recovery.com or contact Anita Button at (480) 276-1131.