Privateer Profile: Sean Borkenhagen
Photos by Simon Cudby
Sean Borkenhagen has had good ride in the past with the Troy Lee Designs Honda team, but this year he is a full blown privateer paying his own way. Fresh off a win at the Hart & Huntington Privateer Challenge, "Borky" is preparing for the 2011 Monster Energy Supercross series on a privateer Kawasaki KX450F. He has very little support right now and only has one bike. But that isn't going to stop him from racing. We caught up with him recently to find out about his 2011 plans.
Racer X: Tell the readers about yourself, Sean.
Sean Borkenhagen
: I'm 23 years old and I live in Huntington Beach, California. I started riding when I was 5 years old on a Yamaha PW50 that my dad bought me from this little shop called Beach Yamaha. I grew up riding and racing, and I like to surf when I'm not riding. That's like my side hobby. We used to go to the desert a lot and my dad got me into riding dirt bikes. He's always been into them, but I'm the only one in my family who rides and races.
Talk about your amateur career.
I raced World Mini for the first time when I was 12 and didn't do very well. But my dad and I kept going each year and I got better. As I got faster, we started to go to all the amateur races. We never had a motorhome or anything, we would just go in our van and sleep in a hotel with Andrew Silverstein and his dad. He's an up-and-coming amateur that we are friends with.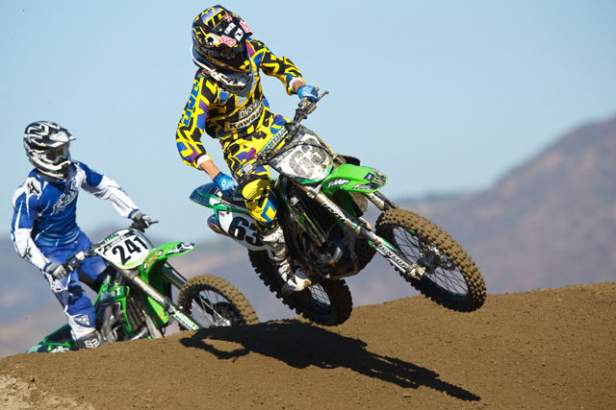 So then you turned pro and what happened?
My last year racing amateurs I got hurt pretty bad and messed up my arm and had nerve damage in it. When I was able to start riding again from that, I decided to get my pro license and wanted to try some nationals. I didn't think I would ever ride again when I messed up my arm, so I told myself when I was hurt if I regained my arm, I wanted to race at least the
Glen Helen
National. That year we ended up racing all twelve rounds. I ended up earning number 85 my first year, so I was pretty pumped about that.
The next year you got a ride on the TLD/Honda team. How did that come about?
Yeah, I got on the team through a try out at Competitive Edge.
Jake Moss
had gotten hurt and that opened up a spot. David Pingree got in touch with me for a try-out on the team. They actually gave the spot to
Chris Blose
, but they liked me so much, they made some room for me. I was so happy about how much they did for me they are a really great group of people and a very professional team.
How did your 2009 season go?
2009 was my first season racing supercross. I qualified for all the rounds and was just outside top ten all the time and ended up fifteenth overall in the points. That was a big learning experience racing supercross for the first time. I had a SX-only deal with TLD because that year they only did supercross. So when outdoors rolled around, my dad and I took the race bike and raced a good amount of nationals. I got top fifteen a lot, but my best finish was 13-13 for thirteenth overall at
Millville
. I did way better outdoors that year, compared to my rookie year where I'd finish eighteenth or so a lot. Racing the 250 Class outdoors made me realize how important it is to have a fast engine!
Moving on to the 2010 season, you were no longer on the TLD Honda team. How much harder was it to race SX?
I had nothing going for me coming into 2010.
Mike Sleeter
set me up with some KTM 250Fs from a dealership. It was actually pretty cool because as the season started, I got to ride at the KTM Supercross track, so that helped. I got fifteenth overall in Supercross Lites. I felt like my confidence was a little low, I don't know why. I put a lot of pressure on myself to do good and I didn't make things happen the way I wanted.
For outdoors I had to return my KTMs. I borrowed bikes from friends for a while, just riding when I had a bike to ride. It sucked having no bike to ride and watching results and not being able to race. Mid Cities Kawasaki helped me with a KX450F near the end of the summer. I felt real good on it. It was like a breath of fresh air to have a bike again, and I was racing a lot of local races around California. My dad and I again packed up the van and raced
Steel City
and
Pala
. I got 19-14 at Steel City and then got sick on the drive home and got 19th or something at
Pala
. I felt like crap.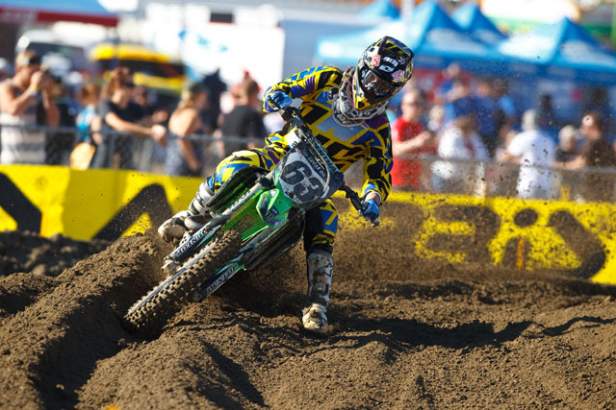 Now that the 2011 Supercross series is coming up, what do you have lined up for support?
I don't have a ride or anything for the upcoming 2011 season. I have been riding a lot of supercross on my KX450, though. I'm really amped to go racing. I can't wait to get out there. It's just my dad and I, and this badass stock Kawi 450. It's all I have and I know the 450 class is stacked, but I don't care. It's always going to be hard, so I'm going to give it my all and figure it out.
Who have you been riding with?

[Laughs] I ride with
Broc Tickle
sometimes when he's not testing with his team. We go to some of the local SX tracks we have here. I've been putting in my laps with him and
Ian Trettel
, who lives with Broc now. I go to the gym and do my training that I have learned from my past trainers. I couldn't afford a trainer anymore so I train on my own now. I have been focusing a lot on my riding this year. I feel I was training myself into the ground for a while and I feel fresh now. I've found a balance with my riding and training that I think is really going to help me this year.
Congrats on your recent win at the Hart and Huntington Privateer Challenge.
That was awesome for me! I like to get out there and see where I'm at with my riding. The track was pretty cool, but it was windy. I felt really confident with myself and it worked out well for me. I walked away with a sweet Rockwell Watch and three grand cash. I thought it was really cool to have a race like that. We need more of those and it was really cool that Hart and Huntington stepped up and supported a race like this. I didn't even know I was racing it until a couple days before. My dad signed me up and we went really last minute.
Sounds like they really did it right, with no factory-supported riders allowed to race and only real privateers. How was the competition?
So now what's your plan leading up to the supercross series?
I'm going to keep riding and training. I'm going to practice starts and try my best as long as I have a dirt bike to race. It's tough with there being hardly any teams, and if there is a spot it seems you have to have money to be on it.
What do you mean "have money to be on it?"
Some of the teams want you to have a certain amount of money to supply to the team. It secures you a spot on the team to help pay for motors and suspension, or even a bike or two for the season.
So what is your plan for the supercross series?
I'm going to race the West Coast rounds in the 450 Class. I'll have to work on scraping up money to race and practice, but I will get it done. I really believe this year I can put in my best results and turn some heads.
Sounds rough! Well, I hope you can open up some eyes and land a ride or some support. Is there anyone you would like to thank?
Yeah, it will be tough, but I'll try my best. I'd like to thank my dad first and foremost. He's pretty badass for helping me and keeping me going. I also want to thank Mid Cities Kawasaki, One Industries, FMF, DVS Shoes, ODI grips, Rockwell Watches, Asterisk knee braces, Maxima Oils, Dunlop, Skull Candy, and if there is anybody out there who is interested in sponsoring me or helping with my racing, email me at
hbmxer87@yahoo.com
.