Welcome to day 22+2 of our 30+2 Days of Christmas.

There are lots of things to carry. You can carry a grudge, a burden, guilt or a whole slew of other psychological issues. Or you can drop all that junk and go riding! And when you go riding you might need to carry some snacks, drinks, tools or gas and the Moose Racing Backback is perfect for that. Or, if you can't ride, you can carry your kid's diapers and your wife's makeup around in it.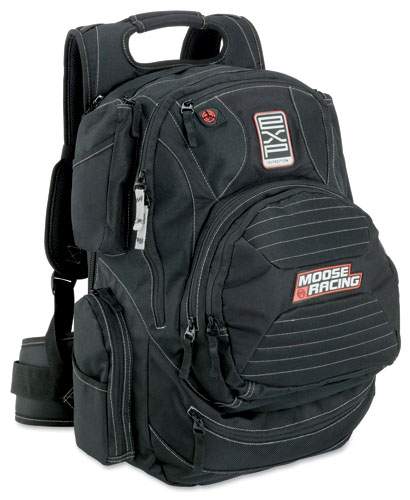 Moose Racing Product: 2011 Expedition Backpack
Style and function are two prominent elements in the 2011 Expedition Backpack from Moose Racing. This backpack features heavy-duty nylon construction, numerous pockets, loops and clips to hold everything from a laptop to a hydration pack, and the multiple mesh panels allows for increased ventilation throughout.
2011 Expedition Backpack
·
Made with heavy duty ballistic nylon, polyester & ripstop nylon
·
Both front pockets feature elastic tool loops, zippered internal pockets & a key clip
·
Side pockets designed to carry miscellaneous accessories
·
Fleece liner, padded laptop pocket (fits most 17 in. laptops)
·
Fleece lined pocket with headphone out port
·
Hydration ready, water resistant pocket (Can fit up to a 3-liter bladder. Moose Racing 3-liter bladder sold separately, 9501-0037)
·
Hide or ride, flow-mesh padded waist straps
·
Adjustable sternum strap
·
Ventilated flow-mesh shoulder straps
·
Elevated bio-foam back panel increases air movement while in use