Chase Sexton Delivers Cobra's First-Ever 65cc Title at Florida's Mini Os
November 30, 2010 11:25am
Cobra photos courtesy of Alan Jones
HILLSDALE, Mich. – Big news out of Gainesville's (Fla.) Gatorback MX Park this past week was Illinois' Chase Sexton racing the brand new 2011 Cobra CX65 to victory in the 10-11 65cc Stock class at the 39th annual Thor Winter National Olympics, presented by Pro Circuit, Nov. 22-27.
Sexton's win – the first-ever for the Cobra CX65 at the Mini Os – highlighted a week of great racing for the Cobra factory at the year's last major amateur competition motocross get together.
"Can't say enough about Chase's effort - he was only a couple spots away from winning the 65cc Olympiad title," said Cobra President Sean Hilbert. "Chase made the 2011 Cobra 65 look really, really good in its debut race." Also running well in the 65cc 7-9 classes was the UK's Dylan Woodcock, who placed 5th in the Stock class and 4th in the Modified class.
Hilbert continued: "Plus, our little guys did great in the 4-6 classes - Michigan's Jaiden Taylor, Pennsylvania's Corey Passieu and Georgia's Gage Linville. And though we were a little bit light in the 7-8 50 class (in terms of Cobra factory racers making the trip to Gainesville), Jack Rogers (Missouri) and Parker Mashburn (Texas) really came together in the MX division."
In the 51cc 7-8 Stock MX class, Jack The ('Lil) Ripper Rogers was on a tear, making up for a 3rd place finish in the SX class by dominating MX field on his King Cobra for the win – Jack's first-ever major 50cc national title. Mashburn then made it a 1-2 effort for Cobra to close out the 51cc competition on the weekend. And the 4-6 classes, both 51cc Oil Inject and Stock, were all Cobra as the 50JR bikes swept all 12 1st through 3rd podium finishes available.
SX 4-6 Stock Oil Inject SX 4-6 Stock
1st – Jaiden Taylor 1st – Gage Linville
2nd – Gage Linville 2nd – Jaiden Taylor
3rd – Corey Passieu 3rd - Corey Passieu
MX 4-6 Stock Oil Inject MX 4-6 Stock
1st – Corey Passieu 1st – Gage Linville
2nd - Callin Kaufman (Pa.) 2nd – Corey Passieu
3rd – Nathan Merricks (Va.) 3rd – Colby Gatlin (Tenn.)
"Again, congrats to all the Cobra Kids that participated in the 39th annual Mini Os. Cobras were out in full force and we were pumped to have the Cobra factory hauler on hand to assist with all of our Cobra racers," said Hilbert. "Enjoy the holidays, get caught up on your schoolwork and we'll see you in a few short months at Mill Creek, Alabama, for the new home of the Spring Classic.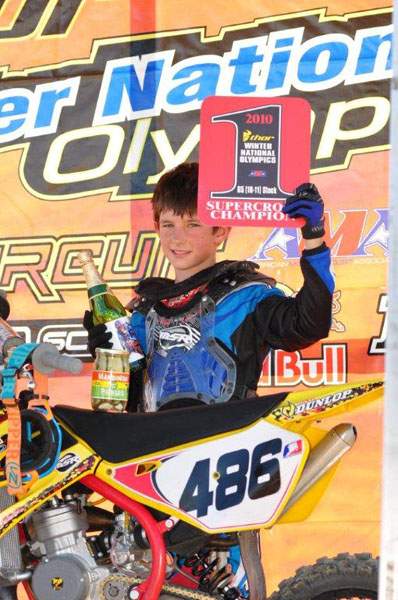 Cobra, founded in 1993, produces the most successful line of competition mini cycles and mini quads in the United States with more than 200 national titles in the last decade. Based out of Hillsdale, Mich., Cobra's mission is to build premium products for the serious racer. For more information on Cobra products, please visit our website at
www.cobramotorcycle.com
.
High Profile Public Relations (HPPR), LLC, is a multi-faceted communications agency specializing in strategic media relations – both industry and mainstream – for the powersports and action sports communities. Dialed in with all forms of power and action sports, its participants, manufacturers and live event promoters, HPPR's Pat Schutte can be reached at (734) 369-2170 and
pat@highprofilepr.com
.