ARMA Energy SNX Announces "Win a Trip to The Winter X Games in Aspen" Sweepstakes
November 30, 2010 10:11am
Carlsbad, CA – ARMA Energy SNX is proud to announce the ARMA "WIN A TRIP TO THE WINTER X GAMES IN ASPEN" sweepstakes awarding one lucky winner and a guest a once in a lifetime experience at the famed Winter X Games held in Aspen, Colorado from January 27th – January 30th. The Grand Prize package includes: airfare, hotel, ground transportation, and tickets to the Winter X Games 15.

ARMA Energy SNX is an official sponsor of the world's premier winter action sports event – the 2011 Winter X Games 15. Winter X Games 15 will be taking place at Buttermilk Mountain from January 27 – January 30, 2011.

The ARMA Energy SNX "WIN A TRIP TO THE WINTER X GAMES IN ASPEN" sweepstakes begins on November 22nd and ends December 22nd, 2010. Consumers may enter the sweepstakes online by visiting: www.armaenergysnx.com/sweeps.

In addition to the Grand Prize trip to Aspen, Colorado, ARMA will be giving consumers the opportunity to take home the Winter X Games lifestyle by awarding five 1st prize winners custom ARMA snowboards, ten 2nd prize winners will also be selected to win ARMA custom winter apparel and accessories.

For more details and to enter, please visit www.armaenergysnx.com/sweeps.

ARMA Energy SNX can be found on Facebook and on Twitter. Stay tuned for the launch of the new ARMA website very soon.

ARMA
ARMA Energy SNX are revolutionary new energy snacks that deliver the same amount of energy as a premium energy drink. Our great tasting line of snacks includes trail mixes, fruit and nut blends, candy mixes and the first ever morning energy mix consisting of granola and chocolate –all intended to replace similar everyday snacks. ARMA Energy SNX are full of protein, nutrients, and energy-infused with caffeine, taurine, and B-vitamins. ARMA is the coolest way to get energy – to "EAT YOUR ENERGY".

ARMA Energy SNX supplies your body with ammunition to fight the battle of fatigue. From motocross tracks and skateparks to school, work, sporting events and nightlife, an ARMA Energy SNX is ideal for your daily routine and fuels your active lifestyle. You can find ARMA at your local California convenience store.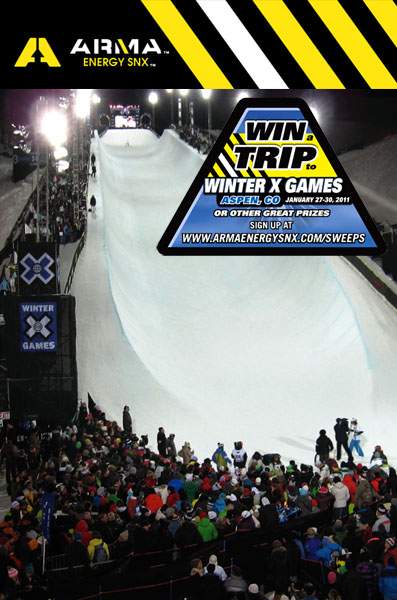 Crown AMG
Crown AMG is a full-service marketing strategy, athlete and activation group headquartered in Carlsbad, California. Please contact Crown AMG for all marketing and sponsorship inquiries.
Email: Info@CrownAMG.com
Phone: 760.918.9382

ARMA™ "WIN A TRIP TO THE WINTER X GAMES IN ASPEN" SWEEPSTAKES
NOVEMBER 22, 2010 THROUGH DECEMBER 22, 2010
OFFICIAL RULES AND REGULATIONS
NO PURCHASE NECESSARY.

NO PURCHASE NECESSARY. A PURCHASE WILL NOT INCREASE YOUR CHANCES OF WINNING. NON-PURCHASE ENTRIES AND PURCHASE ENTRIES HAVE AN EQUAL CHANCE OF WINNING. Sweepstakes open only to current legal residents of the Continental United States (excluding the state of Florida), Alaska, Hawaii and the District of Columbia. VOID IN FLORIDA.

• ELIGIBILITY: To enter the ARMA "Win a Trip to the Winter X Games in Aspen" Sweepstakes (the "Sweepstakes"), as of the entry date you must be eighteen (18) years of age or older and a legal resident of one of the Continental United States (excluding Florida), Alaska, Hawaii or the District of Columbia. This Sweepstakes is void in Florida and to Florida residents. No purchase necessary to enter or win. Employees of John B. Sanfilippo & Son, Inc. ("JBSS" or "Sponsor") and its parent company, subsidiaries, affiliates, and agents and any agencies or other companies involved in the development or execution of the Sweepstakes and/or the prizes (collectively "Sponsor Affiliates") are not eligible to participate in this Sweepstakes, nor are the immediate family members (defined as parent, spouse, sibling or child; whether natural, adopted, step or in-law) and household members (whether related or not) of such employees. Void where prohibited by law. All federal, state and local laws apply. Sweepstakes begins on November 22, 2010 and ends December 22, 2010 ("Sweepstakes Period").

• TO ENTER: You may enter the Sweepstakes online by visiting www.armaenergysnx.com/sweeps (the "Sweepstakes Website") and completing an official online entry form. To enter, you must include on your online entry form your name, complete street address, phone number, email address, and age validation. Online entries must be completed, transmitted and received between 12:00:01 a.m. Eastern Time ("ET") on November 22, 2010 and 11:59:59 p.m. ET on December 22, 2010. Only one (1) entry is allowed per person and per email address per day. If more than one entry is received from the same person or from the same email address on the same day, all but the first entry received from that person or email address that day will be disqualified. Entrants must fully complete and submit all non-optional data requested on the online entry form to be eligible. Incomplete entries are void. Entrants to the Sweepstakes will be given the option to receive commercial communication from Sponsor; however, eligibility to participate in the Sweepstakes is not dependent upon entrant's consent to receive such communication. Entries generated by a script, macro or other mechanical or automated means will be disqualified. Neither the Sponsor nor the Sponsor Affiliates are responsible for entries that do not comply with these Official Rules or that are lost, late, damaged, delayed, destroyed, misdirected or incomplete,; and such entries will be automatically disqualified. All entries become the property of the Sponsor and will not be acknowledged or returned. Proof of submission is not proof of receipt by Sponsor. In the event of a dispute as to the identity of an online entry, identity will be determined by the name on the entry form. Only one name may be stated on the entry form.

• PRIZES AND APPROXIMATE RETAIL VALUE (ARV): Prize structure is as follows (and drawings will take place in the order that prizes are listed): One (1) Grand Prize winner, Five (5) First Prize Winners and Ten (10) Second Prize Winners will be selected at the end of the Sweepstakes from all eligible entries received during the Sweepstakes Period. The Grand prize ("Grand Prize") consists of a trip for the Grand Prize winner and one (1) guest to Aspen, Colorado from January 27-January 30, 2011, and tickets to the 2011 Winter X Games being held in Aspen. Each Grand Prize winner and his/her guest must be able to travel during the specified dates, or prize will be forfeited and may be awarded to an alternate (time permitting). Grand Prize includes round trip coach airfare for the Grand Prize winner and guest from a major airport near winner's home to/from Aspen, Colorado, double occupancy hotel accommodations for three (3) nights, $400 spending money, ground transportation to/from certain Winter X Games events (as determined by Sponsor) while in Aspen (including ground transportation to/from the hotel and airport upon arrival and departure in Aspen), lift tickets for winner and guest for three (3) days (location to be determined by Sponsor), and tickets to the 2011 Winter X Games (which will include access to all Winter X Games events for each of the four days of the trip). Any other expenses not specified in this prize description including without limitation extra baggage fees, additional ground transportation, meals, tips, hotel incidentals, room charges, taxes and gratuities, are the sole responsibility of the winner and his/her guest. Winner and guest must travel on the same itinerary. If an event or any portion of an event included in the Grand Prize is canceled, postponed or suspended, that portion of prize will be forfeited and nothing will be awarded in lieu thereof. Grand Prize winner's travel companion may not be a minor unless the winner is such minor's parent or legal guardian. Winner's travel companion will be required to sign and return a liability/publicity release to Sponsor prior to ticketing. Valid government-issued identification is required for air travel. If the Grand Prize winner's residence is within approximately 150 miles of Aspen (as determined by Sponsor in its sole discretion), winner will receive ground transportation between his/her residence and hotel in lieu of air transportation and will not receive any compensation in conjunction with such substitution. Exact travel arrangements are subject to availability. ARV of Grand Prize: $6,000. Each first prize ("First Prize") consists of one (1) ARMA Custom Snowboard. ARV: $400. Each second prize ("Second Prize") consists of Custom ARMA winter apparel and/or accessories (Sponsor's choice). ARV: $200. Total ARV for all prizes: $10,000. Unclaimed prizes will not be awarded. No more than the advertised number of Prizes will be awarded. Prizes are non-transferable, and no prize substitutions or cash redemptions are allowed, except Sponsor reserves the right to substitute any listed prize for one of equal or lesser value if the designated prize should become unavailable. Sponsor is not responsible for circumstances or limitations that prevent acceptance or use of any prize. All federal, state and local taxes are the sole responsibility of the prize recipient.

• WINNER SELECTION: Winners will be selected in individual random drawings from among all eligible entries received. The drawings will be held on or about December 29, 2010. Drawings will be conducted by Blue Chip Marketing Worldwide, an independent judging organization, whose decisions are final and binding on all matters relating to this Sweepstakes. Odds of winning are dependent upon the number of eligible entries received. Limit one prize per household. Winners must comply with all Sweepstakes rules as published. Potential winners will be notified by phone and/or mail, and will be required to complete, sign and return, a notarized Affidavit of Eligibility/Release of Liability and, where legal, Publicity Release (together the "Documents"), in a form as provided by or on behalf of Sponsor. Potential winners are required to return Documents within ten (10) days of the date on the prize notification. If prize or prize notification is returned as undeliverable, or if a potential winner fails to comply with these requirements, prize will be forfeited and an alternate winner may be selected, time permitting. If winner is considered a minor in his/her state of residence, all required Documents must be completed by winner's parent/legal guardian on winner's behalf (and in the event a Grand Prize winner is considered a minor in his/her state of residence, such Grand Prize winner's travel companion must be his/her parent or legal guardian).

• CONDITIONS OF PARTICIPATION: By entering and or accepting a prize, each entrant/winner agrees to be bound by these Official Rules and the decisions of the judges and Sponsor, and further releases and agrees to hold harmless the Sponsor, Sponsor Affiliates, and each of their respective directors, officers, shareholders, employees, agents, licensees, retailers, professional advisors, and representatives (collectively, the "Released Parties") from any and all claims, demands, losses, promises, causes of action and liabilities for any injuries, loss or damage of any kind, whether actual, incidental or consequential, arising in whole or in part, directly or indirectly, from acceptance, possession, use or misuse of any prize, or preparation for, or participation in, this Sweepstakes.

Released Parties are not responsible for and are hereby released from liability with respect to: (i) electronic transmissions/entries that are lost, late, stolen, incomplete, illegible, damaged, garbled, destroyed, misdirected, or not received by the Sponsor or its agents for any reason; (ii) any problems or technical malfunctions, errors, omissions, interruptions, deletions, defects, delays in operation or transmission, communication failures or human error that may occur in the transmission, receipt or processing of entries, or for destruction of or unauthorized access to, or alteration of, entries, (iii) failed or unavailable hardware, network, software or telephone, cable or satellite transmissions, damage to entrants' or any persons' computer and/or its contents, or causes beyond Sponsor's reasonable control that jeopardize the administration, security, fairness, integrity or proper conduct of this Sweepstakes; or (iv) any entries submitted in a manner that is not expressly allowed under these Official Rules. If for any reason this Sweepstakes is not capable of running as planned, or if this Sweepstakes or any web site associated therewith (or any portion thereof) becomes corrupted or does not allow the proper playing of the Sweepstakes and processing of entries per these Official Rules, or if infection by computer virus, bugs, tampering, unauthorized intervention, actions by entrants, fraud, technical failures or any other causes, in Sponsor's sole opinion, corrupt or affect the administration, security, fairness, integrity, or proper play of this Sweepstakes, Sponsor reserves the right, at its sole discretion, to disqualify any individual implicated in such actions, and/or to cancel, terminate, modify or suspend the Sweepstakes. In the event this Sweepstakes is cancelled, Sponsor reserves the right to conduct a random drawing to award the prizes from among all eligible, non-suspect entries received prior to the time of the action or event warranting such cancellation.
ANY ATTEMPT TO DELIBERATELY DAMAGE ANY WEB SITE OR UNDERMINE THE LEGITIMATE OPERATION OF THE SWEEPSTAKES MAY BE A VIOLATION OF CRIMINAL AND CIVIL LAWS, AND SHOULD SUCH AN ATTEMPT BE MADE, THE SPONSOR RESERVES THE RIGHT TO DISQUALIFY ANY SUCH PERSON AND SEEK DAMAGES FROM HIM/HER TO THE FULLEST EXTENT PERMITTED BY LAW.

• DISPUTE RESOLUTION/CHOICE OF LAW: Except where prohibited, participants agree that: (i) any and all disputes, claims, and causes of action arising out of or connected with this Sweepstakes shall be resolved individually, without resort to any form of class action, and exclusively by an action in state or federal court located in the State of Illinois; (ii) any and all claims, judgments and awards shall be limited to actual out-of-pocket costs incurred, including costs associated with participating in this Sweepstakes but in no event attorneys' fees; and (iii) under no circumstances will a participant be permitted to obtain awards for, and participants hereby waive all rights to claim, punitive, incidental and consequential damages and any other damages, other than for actual out-of-pocket expenses, and any and all rights to have damages multiplied or otherwise increased. All issues and questions concerning the construction, validity, interpretation and enforceability of these Official Rules, or the rights and obligations of a participant in connection with this Sweepstakes, shall be governed by, and construed in accordance with, the laws of the State of Illinois, without regard to the conflicts of law doctrine of any jurisdiction.

• Each winner, by accepting his/her prize, grants to Sponsor, the right to use and/or publicize winner's name, address (city and state of residence), photograph, voice, quote(s), and/or other likeness and prize information in any media now known or hereafter devised, throughout the world, in perpetuity without additional compensation or consideration, notification or permission, unless prohibited by law.
• To receive a Winners' List, mail a self-addressed, stamped envelope, by January 22, 2011 to: ?"ARMA Win a Trip to the Winter X Games in Aspen Winners' List", P.O. Box 1162, Northbrook, IL 60065-1474.

9 Please see the website of Sponsor (www.armaenergysnx.com/sweeps ) for details on Sponsor's privacy policy regarding the use of personal information collected in connection with this Sweepstakes.


10. The Sponsor of this Sweepstakes is John B. Sanfilippo & Son, Inc., 1703 N. Randall Rd., Elgin, IL 60123.