Monday Conversation: Kyle Chisholm
By Dave Deringer; Photos by Sarah Gutierrez


Finishing tenth overall in supercross, Moto Concepts Yamaha's Kyle Chisholm took sixth overall in AMA Motocross. As he prepared for Anaheim, he believed that getting a race under his belt would be the best practice possible, so he and his new wife, along with Moto Concepts owner Mike Genova and new team manager David Vuillemin, made he trek to Paris for the Bercy Supercross. With two thirds and a second over the three-night event, Chisholm said he gave it his all and came up just a bit short, but he was happy with second overall.
Racer X
: Second overall at Bercy—you have to be happy with that. It seemed like you got better each time out.

Kyle Chisholm
: I am. The first night was tough for me because I've been out in California for the last month or so testing for supercross and the tracks out there are all hard-packed and blue-grooved. When got here, the track was like riding on Play-Doh, really soft and really rutty, so it took me a while to get comfortable out there. I got cross-rutted in the SuperPole and went down that night, but that's only for gate pick, so I wasn't too worried about that. The main was fifteen laps that night, and each lap out there I got more comfortable and made it on the podium.
How about Saturday's race?

I got a horrible start on Saturday in the final and just plugged away and was catching the guys up ahead of me but ran out of time and got third at the finish. I was happy with that also. With Justin getting fifth Saturday, that tied us up in points and I knew it would come down to me and Justin on Sunday.
So what went down Sunday?

I wanted to just start with Barcia and run with him, but he ripped a holeshot and I started fourth or fifth and it took me a couple of laps to get into second. By the time I did that, he had opened a few-second lead. It was just a battle of lap times from there. I'd catch up a little one lap and then lost a little the next. The track was tight and actually a little slippery tonight. The lap times were actually longer than I expected with the tunnels and all and the times are just like a real supercross in the high 40s, so it was great practice here. There isn't much time to rest, even in the tunnels, because you're going wide-open in there. I wish I could have started with him, because our times were close but he put himself in a better position with that start he got.
What do you think of the SuperPole qualifying they do here?

I had a lot of fun with it, actually. It's kind of nerve-racking because you only have one lap to set a good time, and you sit down there waiting for your turn and get to watch each guy try. It's cool and not a lot of pressure, but at the same time, it is pressure because you want to do well. The fans absolutely love it and I would like to see that done back at home.
Did you get a chance to visit Paris at all?

Yeah, when we got in Thursday midday, we went into town for, like, three hours and saw some of the famous stuff like the Eiffel Tower and Arc de Triomphe and stuff like that. DV showed us around because he's from here and knows where everything is. It was fun.
So the weekend was a success?

Oh, yeah. We were here to practice for A1, and we got some testing done with the bike. David has been helping me at the track a lot lately, but this was our first race working together. I think with all of his racing experience and strategy that we will work well together. It was good progress for the weekend. I wanted to win, but it's not because I didn't try or someone was real faster. We were close, and now I know what I need to work on.
You have a little over a month before Anaheim. What's next?

Just the little stuff and fine-tuning things. I believe I have a good base and the bike is the same as I rode on last year and I'm on the same team, so I will continue to work on my fitness and fine tuning. In supercross it's the little stuff that's so important, so maybe some starts and putting myself in a little better position in the beginning. The start here was weird with the six-foot drop, so I'm not basing this weekend's starts as my problem to work on. I won't stress on those, but I will work on starts for sure.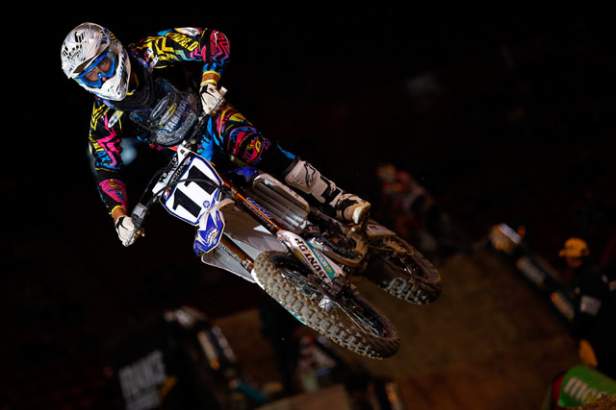 What's the goal for A1?
Just to do my best. As long as I go there and get a solid finish and learn from the top guys, I'll be happy with that. You can't win it all at the opener, but you sure can lose it. There are a lot of races, and I just don't want to be in tenth and not be able to see the leaders. I want to get good starts and be in the battle and learn from the Dungeys and the Villopotos and all the top guys and just do my best.

Last thoughts?
I really had a lot of fun here, and I'm still a little sleep-deprived too. I'm pretty tired and have no idea what time it is here, but I did good and we're happy. I want to thank the people who helped us here also. I'd like to come back again!