Racer X Race Report: Bercy Night 2
By Adam Wheeler
2010 European SX Champion Bud Racing's Greg Aranda profited from a bright start to win the second of three nights at Bercy ahead of fellow Frenchman Cedric Soubeyras while Motoconcepts Yamaha's
Kyle Chisholm
again breached the top three and is now favourite for the King of Bercy title.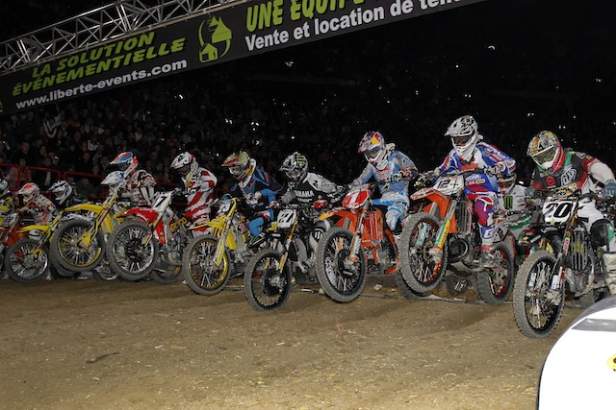 The second night of racing gets underway.
Photo: Ray Archer
If the Palais
Omnisports
stadium was busy on Friday then there wasn't a seat in the house for Saturday. Even MotoGP rider and France's sole tarmac star Randy De Puniet was spotted squeezing for space on the arena staircases. The atmosphere was even more electric thanks to a dramatic main event in which Geico Honda's
Justin Barcia
started badly and blew across the narrow and soft course like a tornado, clipping at least four riders, the last being Fabien Izoird and the collision resulted in him running off the track and losing places to eventually classify in fifth position.
A hole-shotting Marvin Musquin landed heavily out of the first rhythm section and pulled off after the finish line barely able to put his right foot on the ground. According to his factory Red Bull KTM team the Frenchman and MX2 World Champion felt something was 'not quite right' with his knee and went immediately for an MRI to gauge the damage.
Musquin was the latest victim of a ruthless cull at the 28
th
Bercy.
Grant Langston
had briefly dislocated his hip in the blameless accident caused by Aranda on Friday and although he attempted practice he described hitting the whoops as knife jabs in the back.
Max Anstie
had hurt his right wrist but also broke his right kneecap and was given an estimated recovery period of four weeks. Yamaha Monster Energy's Gautier Paulin was unharmed after his tangle with a trackside inflatable on Friday but a stiff neck meant that he was no match for Barcia in the 'L'Americaine' eliminator heat as the youngster won all three stages. Supercross continues to be like an uncomfortable shoe for MX1 World Champion Tony Cairoli but the Sicilian was luckless in the eliminator heat when a puncture forced him out. The Main Event provided further mileage but the KTM rider will need a severe increase in speed to even consider a trip across the Atlantic.
Barcia had the crowd animated with his gladiatorial tactics: "The start is everything here and it was really hard to pass. I made some really aggressive moves and someone's bike got stuck to mine and I went off the track. I made some mistakes and just got too excited. I came out fifth and I'm glad to be off the track safely; we need holeshots for sure. At least I put on a show and that's what we are here for, to have fun."
Another Bercy debutant, Chisholm, now stands on the threshold of the Bercy crown with Musquin (second on Friday) and Aranda (non-classified on Friday) taking DNFs and Barcia likely to be the potential victim of payback from some quarters in Sunday's decider.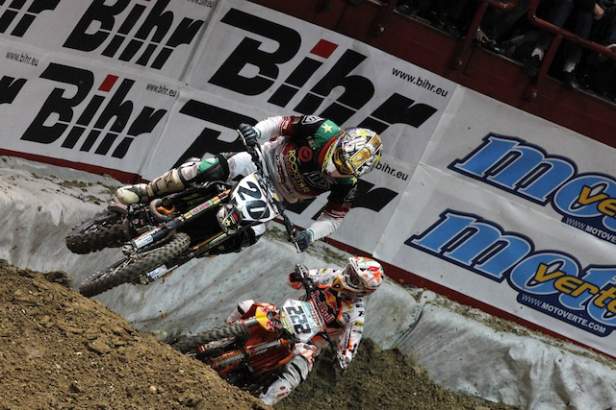 2010 European SX Champion Bud Racing's Greg Aranda places atop the podium on Saturday.
Photo: Ray Archer
1) ARANDA Greg, Kawasaki
2) SOUBEYRAS Cedric, KTM
3) CHISHOLM Kyle, Yamaha
4) PAULIN Gautier, Yamaha
5) BARCIA Justin, Honda
6) MORAIS Ryan, Suzuki
7) COULON Cyrille, Suzuki
8) WHARTON Blake, Honda
9) ROUIS Alexandre, Honda
10) DE DYCKER Ken, Honda
11) TONUS Arnaud, Suzuki
12) IZOIRD Fabien, Suzuki
13) CAIROLI Antonio, KTM