Tonight in Las Vegas, some of the real titans of the motocross industry will be introduced into the AMA Motorcycle Hall of Fame. Among them is Eyvind Boyesen, the Norwegian-born racer, engineer, entrepreneur, and all-around all-star of a man. But yesterday, on the eve of this long-overdue honor, we all heard stunning news: Eyvind Boyesen had passed away. He was 68 years old.

The namesake of his own engineering company, Boyesen was a genius—literally a rocket scientist—who just happened to live, ride, and love motocross. He moved to America to study engineering in the sixties, met the girl of his dreams, and began working on a series of projects that would change the way two-stroke engines perform forever. He set up shop in Lenhartsville, Pennsylvania, and from there he would have great success as an engineer, a businessman, and a father. He built extraordinary motorcycles for riders like Bob Hannah that were ahead of their time, and he even sent out a small motocross team, led by his son Dag, in the early nineties to compete with all of the factory teams and beat them all in a pair of AMA Motocross 250 Nationals with John Dowd—still a privateer at the time—at the controls of a Boyesen Yamaha YZ250.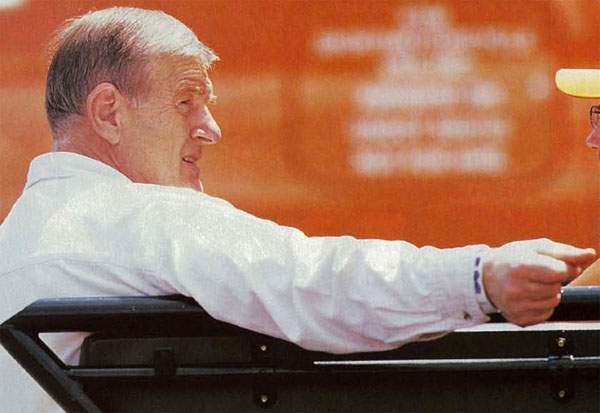 Eyvind Boyesen, you will be missed.

In recent years Eyvind became ill with a stubborn, cruel disease—leukemia—and he approached his bout with it like he did everything else: with great willpower, pragmatism, and dignity. He educated himself on his illness, studying the disease's strengths and weaknesses, and then challenged it at every level by thinking outside the box. There were times when he seemed to have the upper hand and times when he did not. Leukemia is an evil, persistent monster of a malady. I know because my dad battled it for years too, giving it hell until he had nothing left to give, and he had support the whole time from his friend Eyvind Boyesen.

My mom, Rita, Tim Cotter of MX Sports, and myself were driving on the way to the Pittsburgh airport yesterday, headed for our flight to Las Vegas and tonight's AMA Motorcycle Hall of Fame Induction Ceremony to see our friend Eyvind honored, as well as some other exceptional men and women who meant a great deal to motorcycling, when we got the call that Boyesen had passed away. No one said a word for several minutes; we were just trying to process the passing of one of the few truly great men any of us will ever know.

Godspeed, Eyvind. And thank you.

Obviously, there really is no easy way to follow such hard news as the passing of a titan. Forgive my awkward transition, but time marches on for the rest of us. Among the inductees tonight is fellow master engineer Mitch Payton, who has built his Pro Circuit company into a global force, and John and Rita Gregory, who did not invent motocross in the seventies and eighties, but they sure dressed it well through their gear company, JT Racing. Later on today, myself and Simon Cudby and Matt Francis will get a preview of the "rebirth of cool," as a new incarnation of JT Racing brings he brand back to our sport. Take a look at the pictures right HERE.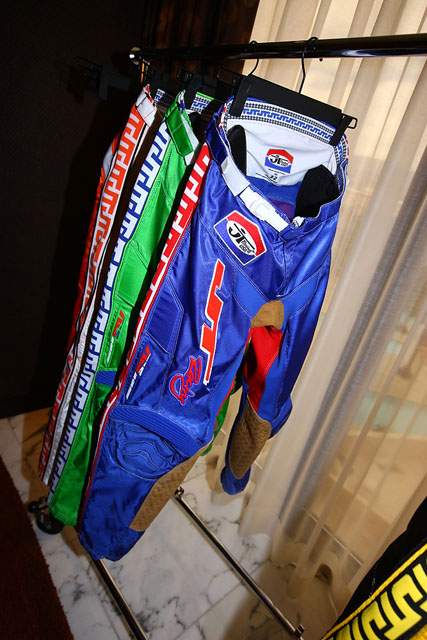 Tomorrow afternoon, there is another AMA shindig for amateur racing awards, and then it's the EnduroCross finale at the Orleans Casino. And somewhere in the middle, Carey Hart is hosting a Privateer Supercross Challenge, offering a $10,000 prize.

Add it all up, and it's still not the old U.S. Open weekend. Here's hoping it comes back next year, with all of these other events somehow surrounding it.

Also, happy birthday to Jeremy McGrath. The King of Supercross turned 39 today.

And speaking of supercross, the 28th Annual Bercy Supercross is going off right now at the Palais Omnisport outside Paris. HERE'S a link to all of the live timing and scoring.

If you've noticed a French slant to all we've been doing this week, it's because we decided to get in the spirit of the Bercy SX by focusing on the French greats. Go back check out all of the "Le Racer X" French pieces if you missed it, and thanks to friends like Xavier Audouard, Pascal Hadiquert, MX Max, and the Las Vegas-based uber-journalist Stephan Legrand for helping out.

It's time for me to get a suit on and head downstairs to enjoy the banquet and the whole motorcycle industry that's here—I just ran into Jody Weisel coming off the elevator, so you know this is a pretty big deal! – and get into some bench racing. Look for the JT Racing preview here shortly and a Matt Francis film on Gareth Swanepoel, a full-timer on the AMA circuit in 2011 with Star Racing Yamaha. And tomorrow morning, Simon will post photos of the ceremony and Matt will have a Racer X Film on the festivities. Let me turn it over to the rest of the gang.

Here's Jason Weigandt:

We've had fun putting FrenchWeek together here on Racerxonline.com, and by the way, I urge you to check out my essay on the history of French riders emigrating into the U.S., which I posted yesterday. HERE.

Jean-Michel Bayle and Mickael Pichon opened the doors for riders from around the globe to make a living racing in the U.S., but like many who are far ahead of their time, they never got to bask in the glory of this accomplishment. Fans just never warmed to JMB and MP like they did to the French riders who came here next, like David Vuillemin, Sebastien Tortelli, and Stephane Roncada. And beyond France, any rider born outside the U.S. who found success here, like Chad Reed or Grant Langston, still owes a small debt of gratitude to JMB, who proved this was all possible.

Plus I worked hard on the article, so I want someone, anyone, to read it. Again, read it HERE.

I'd love to conclude this FrenchWeek by actually being in France for the Bercy SX, but it wasn't in the cards this year. I last went in 2005, and I only wish we had some reality-TV cameras around. That weekend included the Alessis fighting the French, Andrew Short dominating the racing, and a very foreign ending when the Sunday night after-party ended up accidentally taking place at gay bar in Paris. At least we think it was an accident. Maybe our hosts were playing a trick on us? That night, our little supercross contingent stayed very close. But not as close as some of the other dudes in the club.

Ah yes, we'll always have Paris. But since I can't be there, I'm going to try to start a new tradition this weekend. A few staff members and I are going to grab some of the ATVs used by the GNCC crew and tear up the woods behind my house. When we're done, we'll unwind with a case of special-edition Busch beer that they sell here in Wal-Mart, camo cans with a hunter orange logo. We're calling it QuadFest 2010, and perhaps in honor of the French, we'll be riding Can-Am quads, which are made in Quebec. If things go well we may just ride the Can-Ams up to the local watering hole by my house (it's actually legal to ride ATVs on rural roads here in West Virginia), the one that says "Welcome Hunters." Yeah, it will be so much like being back in Paris!

Finally, I'm really pumped on the reemergence of JT Racing in motocross. So pumped that I actually wrote this text while wearing a JT paintball mask.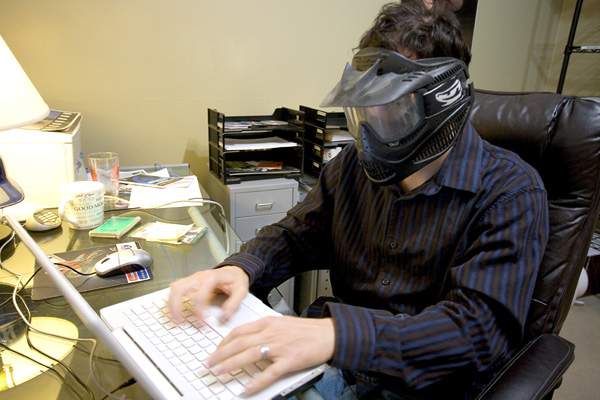 Photo: Matt Ware


Now we'll swing it over to Steve Cox:

Sebastien Tortelli is sporting some (new) old JT Racing gear in Bercy. The company has been brought back to life by Ed Hardy, and from what I hear, the plan is to bring back new takes on the designs that made JT the biggest name in motocross riding gear in the '80s, including the Dogger gear (which is mainly what I care about!).

The rumor is that Chad Reed will be wearing the new JT stuff in 2011, which would be cool. It was pretty puzzling when JT just left the sport so suddenly in the '90s to concentrate on paintball, and to have an icon like that return to the fray, regardless of which company owns it, should be really cool. And Ed Hardy should have plenty of money to pay Reedy if the rumor is correct, with T-shirts that cost almost 60 bucks to start. We know TwoTwo Motorsports needs money to make the racing thing happen, so if all of this is true, it should be good for everyone – Reed, Ed Hardy, the JT brand, and the fans.

I spent some time out at the Kawasaki track again on Thursday this week working on some photos and video stuff with new Monster Energy Kawasaki rider Jake Weimer, who finally got his Monster Thor helmet and the rest of his official gear. He still looks really good, although there must have been some sort of sprinkler malfunction because it was really wet when he and most of the Pro Circuit team were out there testing.

I then headed over to the Honda track to get a photo of Chad Reed for the SX program we're working on here at Racer X, and I got to see (although not officially) Honda's Trey Canard putting in some laps. Damn, he looks good. Rumor from the track is that he and Reed are really close on times out at the test track, and Josh Grant is doing good but is still getting back into the swing of supercross right now, so he's just a tick off their pace.

I also stopped by the KTM track on Wednesday to get some shots KTM needed and that we needed for the supercross program (it's a daunting affair, this SX program), and young German speedster Ken Roczen was out there. While I wasn't able to stick around and see him ride (and I wasn't allowed to photograph him yet, as his contract with Suzuki is still active and it would cause problems for me to put out photos of him on a KTM right now), he seemed to be in a good mood and seemed to be happy to be riding with Andrew Short. And speaking of Short, I've only seen him once on his KTM 350 SX/F, and it was his first day ever on the bike. And by the end of the day that day, he looked really comfortable and fast. Well, according to him and some of the other guys at KTM, he and his bike have both come a long way since then, and he's going really, really fast right now. And Roczen isn't that far off of Short's pace, either.

If Short can get starts on his KTM like he was getting on his Honda this year, we may be in for something big.

I also saw Kyle Regal again out at the Yamaha track, and he looks amazing. I definitely wouldn't have expected him to look this good considering how his 2010 SX season (what little of it he took part in) went, and considering how much of a natural he seems to be outdoors. Of course, to be fair, riding at the test track by yourself is much different from racing with nineteen other dudes under the lights at Anaheim 1, but I can't reiterate enough how good the guy looks. He flat-out looks smooth and fast and seems to be able to ride where he wants to on the track. His teammate James Stewart was out here this week in SoCal, too, because the team was getting some key testing in for the 2011 season, including tire testing with Dunlop earlier in the week. I didn't see James ride, but it's not like I have to report back that James is fast or something. That's a given. I did see him at the track with new trainer Johnny O'Mara and he seemed to be in good spirits, along with his guy Rado, who looks to have trimmed down. Looks like Rado has been training as hard as James has!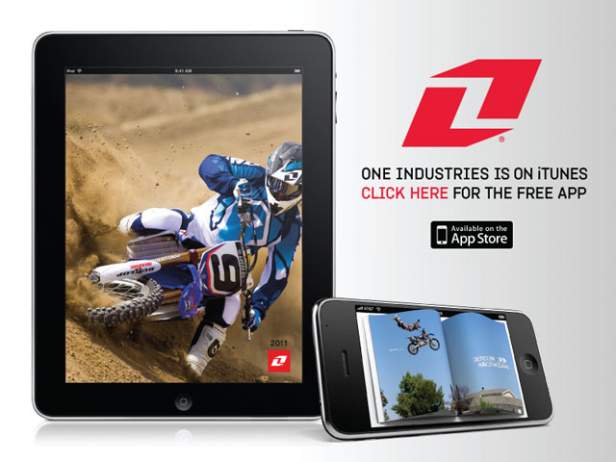 On the front track at Yamaha, I saw Nick Wey putting in some laps on a Valli Yamaha, which seems like it's close to being a deal for 2011 where he will be teammates with Austin Stroupe, ten years his junior. He looked solid, but he's waiting to get the rest of his deal worked out for 2011, so he couldn't have photos taken just yet. I also saw Kyle Cunningham getting ready on his Star Racing Yamaha YZ250F. I've seen Kyle all over the place this off-season. It looks like he's really putting in the laps to get ready for A1, and his new team manager, Alan Brown (of Moto XXX fame) seems to be pretty pumped on how Cunningham is coming along. Vince Friese was out there on his Moto Concepts Yamaha YZ450F as well. Looks like he will be the third rider on the Moto Concepts team, although rumor has it that Jimmy Albertson was pretty upset when he came out to California for a tryout and was the fastest guy, yet the team still picked Friese. It sounds like Albertson will be riding on the Merge Racing Honda privateer outfit that Michael Holigan has helped put together, which the aforementioned Regal rode for last year during the nationals.

And it wasn't just the L&M team testing tires with Dunlop this week, as at least Honda was doing so as well (on Thursday) along with Reed this week, which seems weird to me because everyone is running Dunlops, basically, so why all the testing? Maybe Dunlop has some new tricks up their sleeve for 2011....

That's it from SoCal for this week. I hope everyone has a nice Thanksgiving next week, and maybe I'll see some of you out at the track as I continue to ride myself back into riding shape. Although I don't plan on racing much (we can do that on the west coast – just ride MX and not race) on two wheels, I have been hitting up the R/C tracks like OCRC in Huntington Beach to hang out with and race against GuyB from VitalMX.com and plenty of other industry folks, including Dano from DVS, P-Lo from Transworld MX, Matt Chapman from Etnies, and more. Paul Perebijnos from Pro Circuit reportedly spends a lot of time there, but I haven't seen him there yet. It's amazing how expensive R/C racing can be, even racing the Stock Short Course Truck class, but man is it worth it! Thankfully, the guys at Team Associated are moto folks, so that helps a bit, as they hooked me up with a 2.4 GHz radio for my SC10 and things like that so that I would be race-ready. It's good times, for sure. And someday, I'm going to beat GuyB....

Oh, and one last thing: For the record, I really like Chris Pourcel, and I think that has been pretty clear in what I've written over the last couple of years here and in Racer X Illustrated. Don't know why I feel the need to point that out, but there it is. Hurry back out to the track, Crafty Frenchman!

Here's Ping:

The folks at Panic Rev Christian Ministries had their grand opening this week at their new location in Temecula. Their ministry is geared toward people in the motocross industry, and they hold a service every Sunday evening. It was an awesome event and I got to talk to a lot of guys I hadn't seen in a while. One group included David Bailey, Mike Young, and Brian Manley. All three of them were great motorcycle racers that had career-ending injuries. They are all racing again - in a different sport now - and it was cool to listen to them talk about the training they were doing and events they had coming up. This is an ad that Asics did with Mike Young recently that I thought was incredible.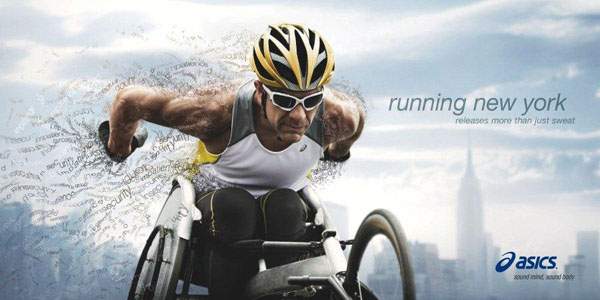 Bailey had this to say regarding their new racing classes:

"Imagine if you went to Anaheim and Chad Reed rolled down to the line with only one footpeg on his bike and a questionable clutch. Then James Stewart comes down but he doesn't have a rear brake or grips on his bike. Then Kevin Windham shows up with a flat tire and only one boot on. And so on all the way through the field. That's the way it is with our events because each guy has a different deficiency based on the location and severity of their spinal injury."

Bailey always has a great way of telling stories. I could listen to that guy talk all day. Why isn't he still doing TV again?

Anyway, if you live anywhere near the Temecula/Murrieta hub of motocross, be sure to check out the industry bible study that takes place on Sundays. Ryan Sipes will be the guest speaker this week. You can find all the info at www.panicrev.org.

We posted the Racer X Tested "Battle of the Brands" this week. Matt Francis shot a video with commentary from some of our shootout test riders, including Jeff Ward, Carey Hart, and Micky Dymond. The actual results were posted in a separate feature, which you can get to by clicking right HERE if you missed it. If you are looking at new bikes, or you will be any time in the near future, this is a great tool to use. All of our test riders give you the positive and negative characteristics of every 2011 450 (KTM 350 included) and 250F and pick the one bike they would go down and buy if they were pulling out their credit cards.

There are still a few spots available in my motocross school next Friday, November 26, at Canyon Raceway in Phoenix. If you are interested, send me an email at ping@racerxonline.com.

Finally, don't forget that this weekend is the final round of Competitive Edge Motocross Park's four-round amateur supercross series under the lights. Go to www.ridecemx.com for all the details.

One last nod to French week: U.S.-based Moto Verte contributor Stephan Legrand had a newly redesigned website. It's a work-in-progress, but keep in mind as the 2011 races start lining up: www.lebigproductions.com.

Awhile back, one of our readers wrote in looking for video footage of Team USA's win at the 1996 Motocross des Nations in Jerez, Spain. We received a note this week from a former racer from Spain named David Arroyo, who has footage of the race. His compatriot David Aviles Sanchez ran the race on a 500 Kawasaki, riding for Spain. We put the two in touch.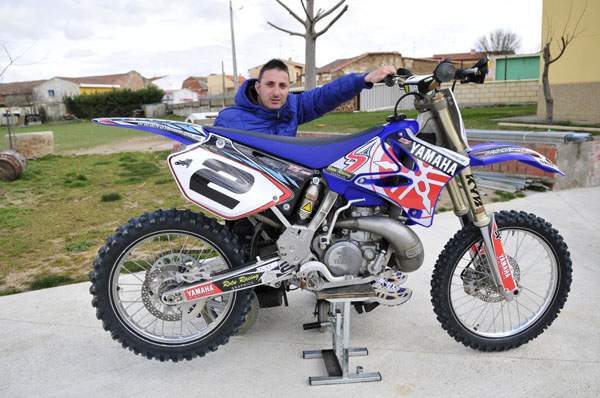 Here's David Arroyo from Spain -- thanks for helping us out!


In Other News:

Last week we mentioned Ray McCarty, the obscure American pioneer who raced in Europe two generations ago and appeared in a few old-school listings of Grand Prix race results. Turns out motorcycling scholar Larry Lawrence was on the case all along. Lawrence penned a piece on McCarty, who first race in Europe when the 250cc Grand Prix tour was not yet recognized as a world title, for the back pages of Cycle News. Racer X reader Jack Martin remember and sent this one along. Read the article HERE.

More on Ray McCarty, this time the VMX story: HERE

Jack Martin also added this note: "Serge Bacou, a Bultaco rider, deserves an honorable mention in your list of fast Frenchman. He was the only one carrying the tricolors in the Trans-AMAs in the '70s."

And our longtime friend and colleague Pacal Haudiquert offered this:

"Maybe I would put Vimond up (in fourth of fifth). Okay, his results were not as great as other riders, but Jacky was the first Frenchman to ever win regularly GPs and a world title. He shows to the other Frenchies that it was possible to get a title, and proved to the Japanese brands that they can sign a French rider and he was an example for many." Excellent point. Vimond was exceptional in not only the way he approached racing, but even in how he dressed--like Broc Glover, he somehow made the pink JT Racing gear work!"

Here's a note from MX for Children's Rex Backman:

"As you know our 4th Annual Giving Thanks auction is up and running on eBay and runs until Thanksgiving. This year we are featuring autographed helmets from over a dozen SX and MX stars. Currently Ryan Dungey's helmet is leading the bids, followed by Trey Canard and Ben Tonwley. The thirteen helmets were all personally donated and signed by the riders. Each one will make an awesome holiday gift for any fan. 100 percent of the proceeds go to local children's hospitals here in the U.S. and Canada. HERE'S the link."

If you're still wondering what the People's Champion, Jamey Grosser, has been up to, look no further than Nashville. He's been working with Hank Williams Jr. (yes, of all my rowdy friends fame), to legally release Popcorn Sutton's whiskey. Sutton was a notorious bootlegger who killed himself at age 62 rather than head to federal prison for an eighteen-month stretch. It's a pretty fascinating story. Take a look HERE.

A note from Dennis Jonon:

We have a new product coming out called Motohead, which is just like FATHEADS in other industries.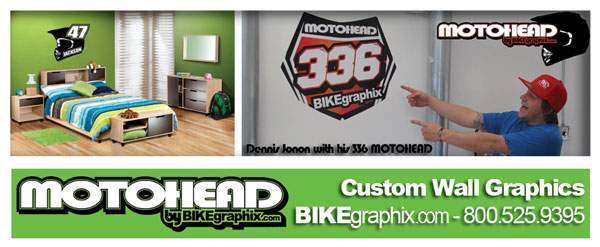 Here's a note from Shasta Johnson:

I'm taking an amazing journey and I'd like you to support this important cause. In just a few hours Team Shasta will join thousands of women and men to walk 60 miles over the course of three days in the Susan G. Komen 3-Day for the Cure to raise money for breast cancer research and community programs.

I formed Team Shasta in support of a cure. There is still one member of my team that has not met his fundraising goal. If you are able, please make a small donation of $5 - $20 to help end breast cancer forever, it would be greatly appreciated. Click HERE.

As you may know, I am a breast cancer survivor and I lost my sister to this terrible disease. I am passionately pink and am committed to this fight until there is a cure. This is very personal to me. Please help if you can.

Because every woman is at risk for breast cancer - a disease that strikes at random and for which the causes and cures are still unknown - I know that every moment counts. One person is diagnosed with breast cancer every three minutes in the United States. We can't wait to make a difference.

Thank you for your concern and thank you for your support!

Killy Rusk got Broc Hepler's #60 for 2011. Learn more about Killy by watching THIS video.

Check out this cool link Matt Ware found on Flickr with old school BMX and MX photos. HERE.

Here's a note from Krystle Watson:

Just wanted to give you guys a heads up on a family project going on in Woodland CA. The family of Gared Steinke (an ama pro rider up and coming) is in the midst of trying to start a track in Woodland. HERE is the article about it.


Here's another cool video we spotted this week: The GoPro HD Hero Cam working the Crossover Challenge at the Pala National.

Okay, that's it for this week. Good luck to everyone in Paris, and please keep the Boyesen family in your thoughts and prayers. See you at the races.