The 10 Best French Riders of All Time (through American eyes)
France has enjoyed wonderful success in the motocross world—particularly in the last twenty years since Jean-Michel Bayle came to America. With this being French Week on Le Racer X, we thought we would take a stab at ranking the ten best French riders of all time. With apologies to the pioneers of French motocross – Daniel Pean, Jean-Jacques Bruno, Patrick Boniface, Yannig Kervella, Patrick Fura, etc. - here's what our U.S. editors came up with.

1. Jean-Michel Bayle. He is the King (Le Roi) of French motocross and supercross. A two-time world champion, JMB moved to America in the fall of 1989, leading the way for the French invasion that would follow. His sweep of all three AMA titles in 1991—AMA Supercross, 250 Motocross, 500 Motocross—is a record that will never be broken. But by the start of his title defenses in '92, he was already focused on a new challenge: Bayle quit motocross to go road racing. Had he not lost interest in SX, the '93 arrival of Jeremy McGrath might have been delayed, but we will never know.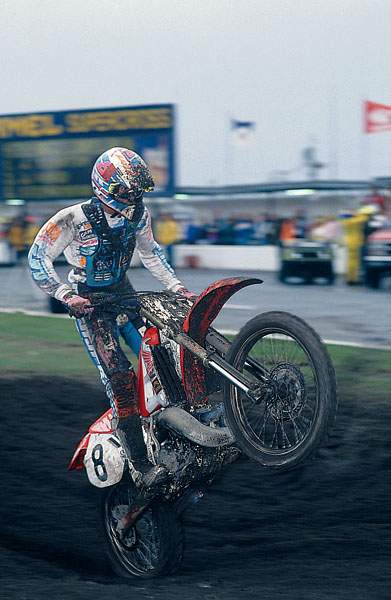 In 1991 Jean-Michel Bayle had a year unlike any other in motocross history.
Photo: Moto Verte

2. Mickael Pichon. Mickael had a curious career. Like David Vuillemin, he left France for America before winning any titles, and he then settled in at Pro Circuit Kawasaki to become one of the most dominant 125cc SX riders of all time. But then he suffered a broken femur as soon as he moved up to the premier class with Suzuki, which slowed his progress. He then went to Team Honda, then back to Suzuki, but he wasn't fitting in well anywhere. So Pichon returned to Europe and became a dominant force, winning two world titles in the then-premier 250 class in '01 and '02. His thirty-six GP wins are the most ever for a Frenchman.
3. David Vuillemin
. DV12 traveled to his first Bercy SX at age 8 on a fan bus. Within a dozen years, he would be winning the King of Bercy title multiple times. Unlike some of the others on this list, Vuillemin never took a world title, because he was focused on racing in America, leaving Europe after winning multiple GPs in the late nineties. As a longtime Yamaha factory rider, Le Cobra battled the likes of Jeremy McGrath and
Ricky Carmichael
in their primes, winning many races but never quite the championship. Next to Bayle, he was the most versatile of all French riders.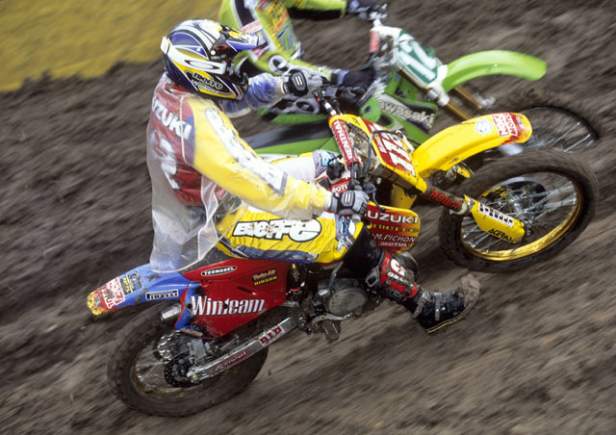 Mickael Pichon actually enjoyed more success once he went back to France, taking two world titles.

4. Sebastien Tortelli
. Tortelli burst onto the world stage at the '95 Motocross des Nations in Slovakia when he topped the 125cc class, the 16-year-old besting Stefan Everts and Steve Lamson. He won two world titles in Europe before moving to America in 1999, but from there, injuries began to slow him. Sebastien won three outdoor nationals, including the first one he ever entered, at
Glen Helen
'99. Like each man in the top five of this list, he left multiple title chances on the table in Europe to spend his best years in America.
5. Christophe Pourcel
. Of all the riders on this list, Pourcel is the hardest to place. His best years should be ahead of him, even though he lost two full years and almost his entire career with a back injury in the fall of 2007. By then he was already a world champ and had his ticket punched to America. Since his return in 2009, he's taken two Lites West SX titles with ease, but lost two AMA 250 Motocross titles with late-season fades while leading comfortably. Now, even though many peg him to be a future AMA Supercross title contender, he's having a hard time finding a seat due to the current economics of the sport. Where he goes from here in anybody's guess, but we're pulling for CP377 to find a spot and get back to work.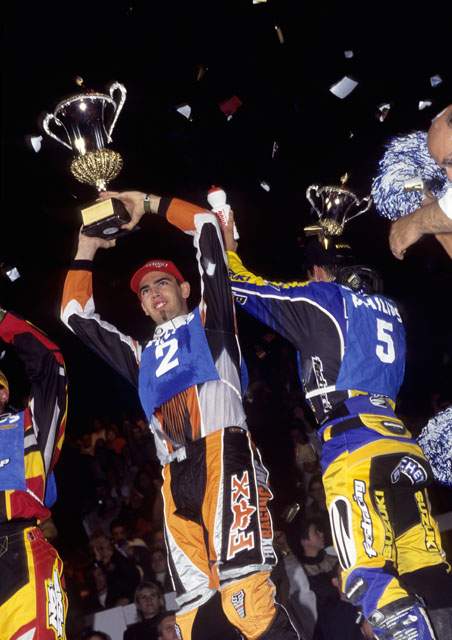 David Vuillemin's versatility indoors and outdoors puts him ahead of others who won motocross titles on this list.
Photo: Ray Archer

6. Jacky Vimond. The first Frenchman to be FIM 250cc World Champion, the pink-JT Racing-clad Vimond was also the first Frenchman to wrap his arms around the American way of supercross, using the nascent Bercy SX in the mid-eighties to sharpen his skills. But then Vimond suffered one of the most bizarre injuries in motocross when he fell off a bike hanging from the ceiling of a Paris nightclub as his team celebrated its 1986 250cc world title. That ended his best racing days, though he has trained and coached many of the others on this list.

7. Frederic Bolley. He was a two-time 250cc World MX Champion, winning titles in '99 and 2000, as well as thirteen Grand Prix races. Bolley was a popular, well-liked racer who stayed back in Europe at a time when the likes of Greg Albertyn, Tortelli, and Vuillemin all left for America. He did try his hand from time to time at AMA Supercross, but his career successes came almost entirely in Europe, and outdoors.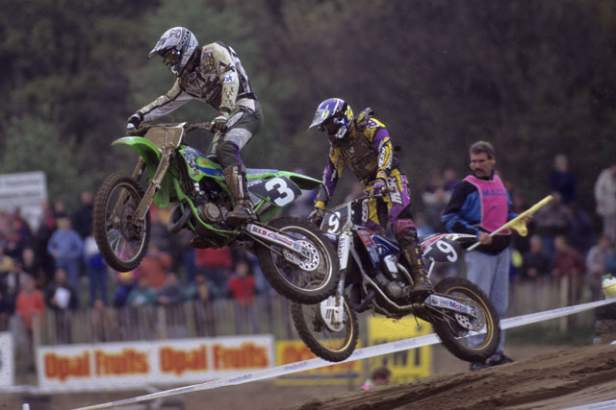 Sebastien Tortelli was amazing outdoors, but injuries while trying to learn Supercross hindered his output.
8. Marvin Musquin
. The latest French hero to embark on an American adventure, Marvin Musquin is KTM's best bet for an AMA Motocross title in the 250 Class since
Grant Langston
won the brand its only title in 2003 (or maybe
Mike Alessi
's near-miss in '05). Musquin was a mid-pack Honda privateer when the 2009 MX2 Grand Prix tour began, a KTM factory rider and world champion when it ended. He won again in 2010 and now joins Roger DeCoster here in America for KTM's revived campaign to replicate their European success Stateside.
9. Yves Demaria
. He's the one that stayed behind. Demaria came along in the late eighties and showed great promise on all sizes of motorcycle, but he never really took a liking to stadium motocross and thus stayed away from America. He won seventeen GPs in his career, including the '94 250cc U.S. Grand Prix at
Budds Creek
, Maryland—on his best days, he was hard to beat! Demaria did enjoy a long career and took three MX3 titles in the last decade.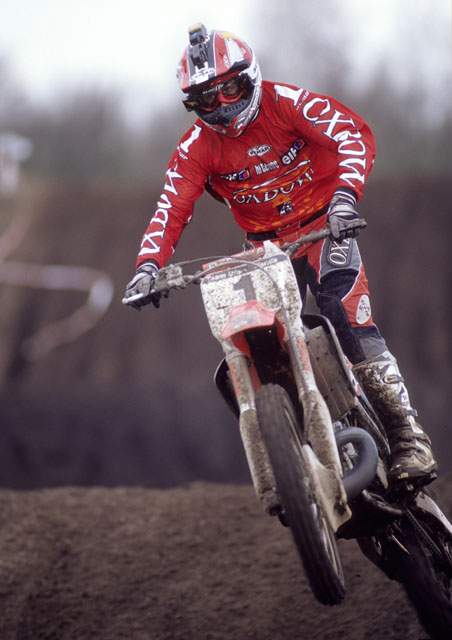 Frederic Bolley was a solid Grand Prix rider who took home a pair of world titles.
Photo: Max Ludwig

10. Stephane Roncada
. What might have been.... Ronron came to America as a virtual unknown in 1997 and won a pair of 125cc supercrosses for Honda of Troy. Within three years he was battling
Travis Pastrana
for both the East Region 125cc Supercross title (which Roncada won) as well as for the 125cc National Motocross Championship (which Pastrana won). But then Roncada began to struggle with back injuries that would lead to other problems, and he would never win another race. His last flashes of brilliance came in remarkable battles with then-dominant
James Stewart
, but he soon left racing to focus on his health and a successful career as a video-game designer.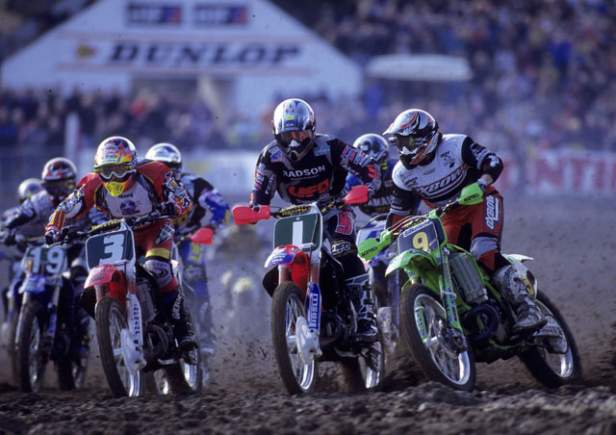 Yves Demaria (9) jostles with Stefan Everts (1) at the '98 Beaucaire MX race.
Photo: F. Pereira