Growing up as a journalist on the East Coast came with a lot of disadvantages. Practically the whole motocross industry was located out West, and so were the magazines. But every now and then I would get lucky when something—or someone—special came along in my neighborhood. Someone like Travis Pastrana.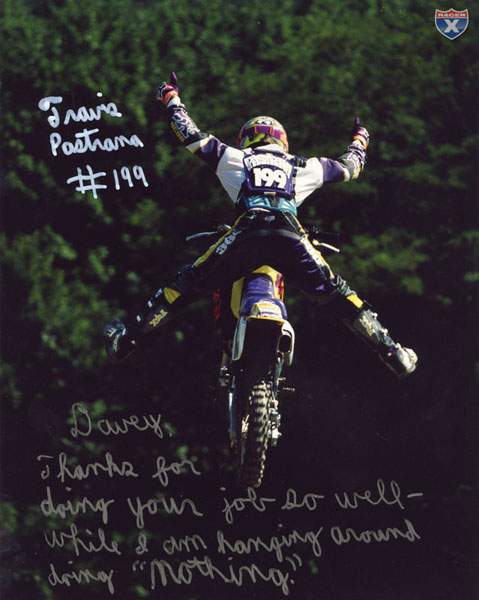 Travis Pastrana at Pleasure Valley, circa 1995.


I remember seeing Pastrana race for the first time at an arenacross. He was on a 50, and he had a stuffed animal attached to the back of his chest protector. It was cute and he was really fast—and kind of wild.

"Kind of wild" turned crazy wild by the time Travis was racing RM80s for our mutual pal Jeff Cernic and Suzuki Support. In the middle of any race he was likely to try to pull of some kind of trick, like the one he called "Nothing" where he took both hands off the bars and both feet off the pegs. That may not seem like a big deal now, but in 1995, when he was about 12 years old, it was a very big deal!

When Travis jumped into San Francisco Bay at the first X Games FMX deal, basically putting himself on the radar of mainstream America, I knew it was going to happen and had a chance to get Eric Johnson into a great spot to get the shot.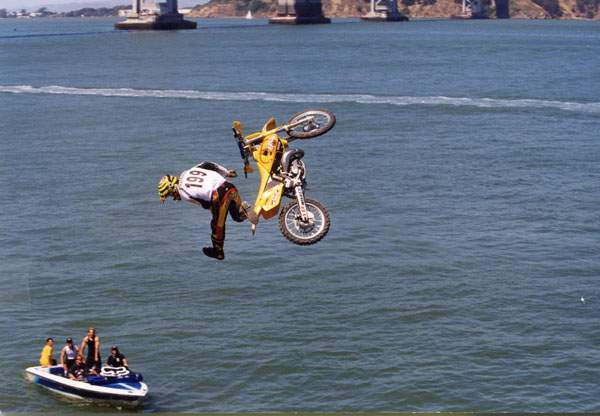 Travis gets ready to splash into the mainstream.


When Travis entered his first real AMA Supercross at Indianapolis in 2000, he almost landed on me when he decided to do an Indian Air scissor kick on the parade lap and crashed. And back in 2002 I was the first journalist to see Travis Pastrana perform a backflip. It was at his house in Annapolis, in the woods, with a wood-chip landing. I will always remember it because I was still in my car, following him down a dirt road, as he kept waving me on—I thought we were going to a private little track or something. When he flipped, my jaw literally dropped.

And I got the scoop a few years later when I learned from a very reliable source that Travis would no longer be racing full-time—it was "the bombshell" of the moment.

I bring all this up now because yesterday, when the world learned that Pastrana was teaming up with Michael Waltrip Racing to do seven Nationwide car races next year, and as many as 20 in 2012, I did not get the scoop, nor did any other journalist. That's because Pastrana dropped the news himself on Speed Freaks. And then Twitter. And Facebook. And ESPN. Conan O'Brien will probably have him soon as well. And Leno. Or Letterman...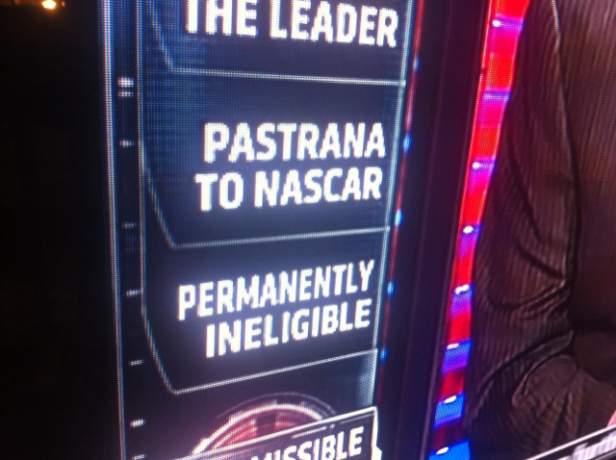 Pastrana's move towards a NASCAR career was big news on ESPN.


The world has changed a great deal since Travis first landed (and then later crashed) in front of me doing "nothing," but I remain absolutely impressed by how popular he has become, as well as how little he has changed. He's still the same great kid—albeit a late twenties' man now—and he's still shocking the world. Hell, he's still got the same AOL email address he started out with! The more things change....

Another scoop we all missed was Christophe Pourcel's situation. He has yet to sign a deal, and like Chad Reed, he's running out of time. Both have been the target of criticism, including a very interesting take by the King of Supercross himself, Jeremy McGrath, in a recent Racer X Film by Simon Cudby: HERE

Pourcel decided to answer by updating the world himself with a release about where he's at right now, as far as his shoulder injury and his employment goes, scooping all of us journalists: HERE

In his defense, if this were any other year and the economy wasn't still so bad, Christophe Pourcel would be the subject of a bidding war. He can—and will—win races on the 450, but the market is not there right now for athletes. Teams are taking the best riders they can afford, not necessarily the best riders available. A similar situation happened with free agency in the NFL, where the coming labor dispute cast a dark cloud over the market. The economy will right itself soon—I hope—and when it does, I hope Christophe ends up on a program where he can be comfortable and very competitive.

German import Ken Roczen has landed in California, according to his Twitter, and is beginning to make a home for himself as he shapes his future here in the states. He will ride West Region SX and then return to Europe for the MX2; look for more on the new Red Bull KTM rider here in the weeks ahead.

Once again, Ashley Fiolek is getting star treatment, this time on CBS Sports' Courageous Athletes Awards. The WMX rider will be featured on an hourlong program which airs Sunday, November 14, from 5-6 p.m. ET.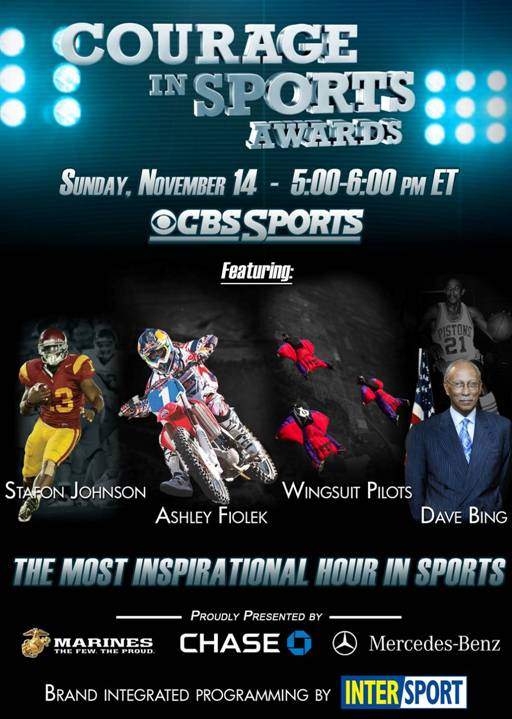 MXLarge's Geoff Meyer caught up with Stefan Everts to discuss KTM's growing presence in supercross, and Everts explained that it doesn't look like anyone will be racing the KTM 450 SX anytime soon from a factory level. Here's the exchange on the 350-versus-450:

MXlarge: So nobody will be racing the 450cc for KTM? Is that good for the promotion of the 450?

Everts: Not from us, not from the factory team. At the moment the 350 is everything but the 450 won't die for sure not. The production line continues for the 450 for Enduro and Paris Dakar, but the 350 is such a big success now and we will continue with two riders on the 350. Maybe in 2012 we will look at the 450 again.

Everts is the man who pushed hardest for the 350, and now it sounds like KTM is ready to hang their helmet on the bike as their go-to model for premier-class racing.

If Everts and Musquin want to get a better idea of what they will be up against next summer, the latest edition of the award-winning Great Outdoors series is about to be released. The Great Outdoors: Man and Machine will cover the 2010 Lucas Oil AMA Pro Motocross Championship like only Troy Adamitis and his cinematic team of all-stars can do it. These are the DVDs that fans and racers alike watch over and over and over....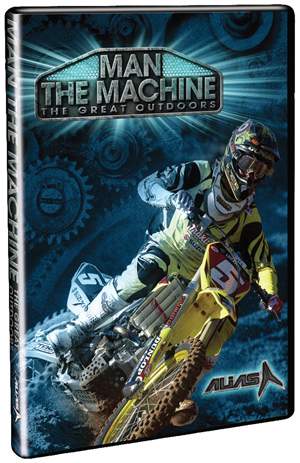 Man and Machine is 90 minutes long and it will ship on November 23. You can order your copy right now: www.tgomx.com.

Keep an eye out for the Bercy and Geneva SX races coming up because Marvin Musquin will be working on his stadium game at those two rounds back in Europe. Like every French rider, Marvin has a good platform of SX training under his belt from his country's national series, and last time I saw him race indoors, he looked pretty darn good. Now, with a couple of weeks of testing in SoCal under his belt, he should start really getting the feel of it all on his KTM.

In case you missed the film that Racer X's Matt Francis posted earlier of Marvin working out on the track, check it out right HERE.

We'll turn it over to Bryan Stealey for a minute, who's working feverishly with Swedish developers Turborilla to complete our upcoming iPhone/iPod/iPad game, Mad Skills Motocross, which launches in the App Store in January.

Beta testing is going great. It's such a fun, arcade-style racing game. We have a fully playable version now, and it feels so much like the desktop version of the game. (You can download a free trial of the game for PC or Mac HERE.

This week I asked our small beta-testing team why they like Mad Skills Motocross so much, and ace tester Peter Sundell gave an excellent explanation: "What I love about the game is that you can never be too good at it or play it too much. I have had the game for over a year [on my Mac] and I still play it regularly. I like to go back and try to beat my old times and try to find new ways to do the courses. I am really looking forward to being able to challenge my friends [on the iPhone version] by sending them my ghosts via OpenFeint. There are so many levels that none of them get old. [Ed. note: There will be around 50 levels on the full version of the game.] The physics on the game are unlike any other. There are other motorcycle games for the iPhone, but none of them are like MSM. They are usually limited in levels or in playability, which makes them lose their luster as time goes by. I can still honestly say that after all of this time, I have certainly not mastered the game, but I have never wanted to stop trying."

I agree with all of those things, and I think the other testers do too. We'll keep working to iron out the remaining bugs so we're ready for our January launch. In the meantime, If you want a preview of what it's going to be like, just download the free demo for PC or Mac at the link above.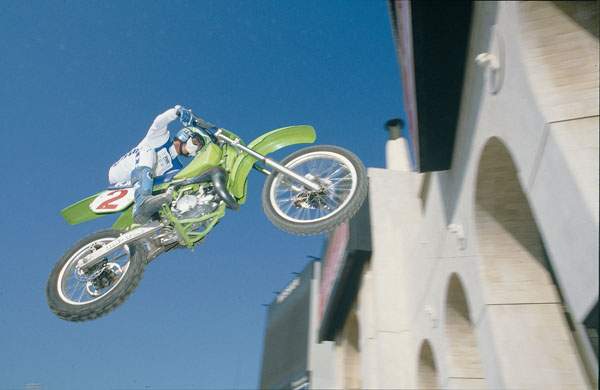 FLASH TRIVIA: You know where this shot was taken, but when, who and the name of the race might earn you a free copy of Taylor Congdon's new film Moto2. Send an e-mail to contests@racerxonline.com. First come, first served!

Here's Ping:

I've got a new favorite website. If you want a good laugh check out www.brotocross.blogspot.com. I'm not sure who this guy is, but I am a big fan. His salute to home-schooling couldn't be more on-the-money—in my humble opinion. To quote little Ralph Wiggum, "Me failed English class? That's unpossible!" The author goes by the handle "Easy" and I hope one day we can exchange emails, because I'm pretty sure we could be best friends, just like me and Anna Scott....

This week we held both the 2011 250 and 450 Racer X Tested Shootouts. We had an awesome testing crew that had a sickening combined total of national championships, X Games medals, and tattoos. There were some big surprises this year and very different results than you might expect. Stay tuned for the results of both of those very soon.

FMX rider Lance Coury has partnered with a few of his buddies and started a cool company called Moto Gate. I know anyone over the age of 40 immediately starts trying to piece together a joke involving Richard Nixon and dirt bikes, but this is actually a really cool product. Rather than buying a bulky bed extender to hold your gas, gear, tools, etc., when you head to the track, Moto Gate incorporates the same function without all the hassle. It has four tie-down straps, two on either side, that can be hooked to foot pegs, linkage, or bed hooks in your truck and tightened down. It's a pretty sweet idea, and it's being funded and promoted by Carey Hart, Cole Seely, and a few more FOLs (Friends of Lance). It retails for $59.95 and aside from a life-changing riding video called Motocross 101 (now available at www.motocross101.com) it is about the best gift you could give to your loved one that loves dirt bikes more than you. You can check them out at www.Moto-Gate.com.

Now let's turn it over to Steve Cox....

First off, congratulations go out to Pro Circuit Racing's Paul Perebijnos on his marriage to longtime girlfriend Erica last Saturday in San Diego. The two made it official in a small, classy ceremony at a mansion, and there were quite a few moto folks on hand (as would be expected) to witness the special day. Congrats again, guys.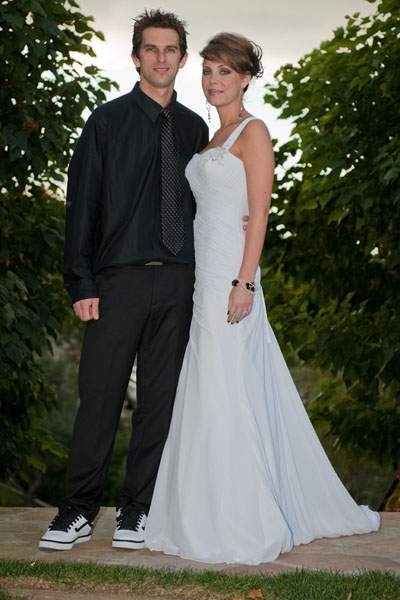 Congrats Paul & Erica!
Photo: Steve Cox

Ping has been a busy boy working on our 250cc and 450cc Shootouts. He put together the 450cc Shootout earlier this week, and yesterday at Cahuilla Creek, Ping got the 250cc Shootout out of the way. I went out there and rode the bikes for the test, and it was a good time. As always, the bikes are very close from first to last, but on Cahuilla, I think the top two bikes stood out quite a bit. Pay attention to the website to get the rundown in the coming days.

Actually, I wasn't going to make it to the 250cc Shootout because of a media day at Cal Speed Karting at the California Motor Speedway, but the wind was crazy in the Inland Empire yesterday and they had to cancel. Lots of houses lost electricity in the region from trees falling on powerlines and things like that, so it was probably smart not to have people attempting to drive karts at ridiculous speeds in those kinds of conditions. It will likely be rescheduled again for sometime soon.

I think Chad Reed is actually enjoying the challenge of building his own team to take on the 2011 AMA Supercross and Motocross championships. He seems downright giddy in my correspondence with him, and like Kevin Windham and many other racers, a happy Reed is a fast Reed. Watch out! If he stays this happy come Anaheim 1, we could be in for something big.

Meanwhile, while he's building his team and just starting to get testing done, Ryan Villopoto, Jake Weimer, Ryan Dungey, Brett Metcalfe, Trey Canard, Josh Grant and the rest of the 2011 450cc field are quietly getting ready. Only one guy is missing at this point.

Yes, Christophe Pourcel.

On Tuesday, I shot some photos out at the Kawasaki test track, and Tyla Rattray looked pretty good in supercross. Rattray is working with Aldon Baker, along with fellow Kawi racers Ryan Villopoto and Jake Weimer. Rattray looked pretty solid out there, but he still needs some refinement.

As for the two 450cc guys, Villopoto already looks way more fit than he did even at Anaheim 1 last year. He's downright trim and looks like he's in great shape. And he's going fast. Weimer looks great, too, and (probably not surprisingly) looks smoother than Villopoto on the 450. A lot of us already expected RV to be a contender this year, as he won more races than anyone in 2010 before breaking his leg, and for sure he will, but a lot of people are talking crap about Weimer. I'd caution you guys to think twice about that. He looks really good and still has two months to get even better. And like I said, he's being trained by Aldon Baker, too, so you know he's going to be fit and ready. Last Saturday, after the Perebijnos wedding, I tried really hard to get Weimer to eat some cheese dip or have a beer, and he flat out wouldn't do it. Hey, when you won't even cheat on your diet for something small when your trainer would never find out about it anyway, that's commitment.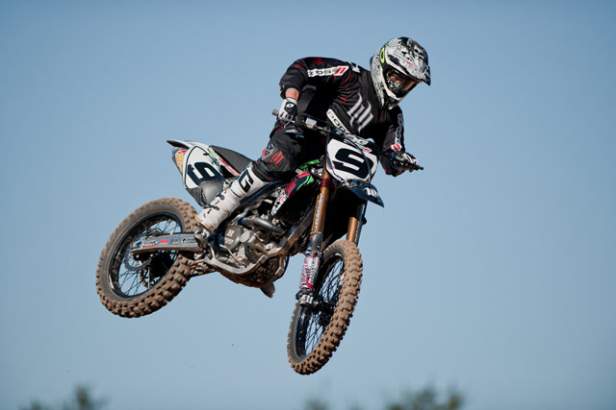 Ivan on his new H&H Kawasaki.
Photo: Steve Cox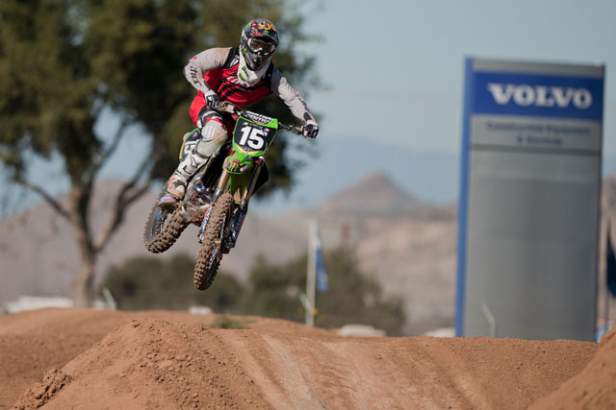 Dean Wilson on his new number 15 ride.
Photo: Steve Cox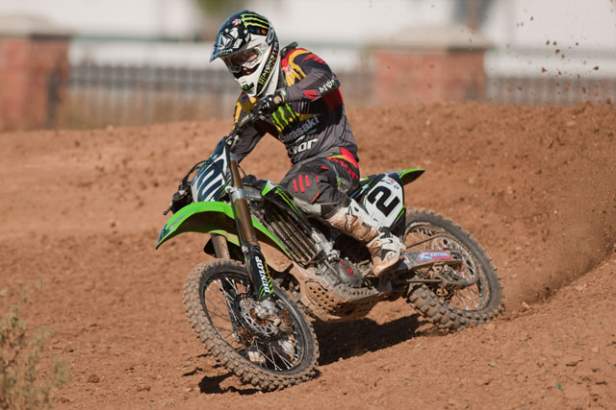 Ryan Villopoto...
Photo: Steve Cox

Speaking of trainers, Eric Johnson had a word with him while he was at the Kawasaki test track working on this revealing Ryan Villopoto interview right HERE.

"We've been working together basically since the beginning of November," said longtime motocross training specialist Aldon Baker (well known for his physical/physiology work with multifold champions Ricky Carmichael and James Stewart) as he poured nutrient powder into bottles of water for his new rider, Ryan Villopoto. "He's in a good place with regards to coming off an injury and probably needing a lot of help. And also, he's in a good place as far as where things are at right now. It's coming along really well. In this sport you always want more time, but considering where things are and the improvements that we're making, it's very good right now."

Here's Jason Weigandt.

One major news bomb dropped this Monday morning, and it happened by accident. A fan, presumably from Australia, sent us a link to an Australian newspaper story on Chad Reed's new team. We were hearing the rumors that Chad was closer and closer to forming his own team, but the newspaper story became the first in-print (or at least, printable media, online) story with any sort of details. Click HERE for the story.

Anyway, I read it and just basically absorbed the obvious pro-Australian sentiment within. Hey, it's an Australian paper—they're going to get a little crazy on the Australia-versus-U.S. thing. Plus, this isn't a media outlet that follows supercross that closely. I could see them getting a few details wrong. No big deal, I thought, as this is just to be expected from a mainstream news outlet on the other side of the world, and surely Chad and his team had a U.S. flavored announcement coming soon.

So I texted Chad to ask if he had something else to share, like a press release, or if he wanted to do an interview, because I'm sure he wouldn't have wanted that Australian newspaper story to be the only source of info. After all, it wasn't long before American fans were starting to get fired up about all that pro-Australia posturing within the article. C'mon, guys, it's an Australian newspaper. You have to expect this.

When I texted Chad, he was all confused because he was not expecting that newspaper story to be out yet. And then once he read it, he was even more confused, because he did not plan on building this team as an Australia-versus-the-U.S. outfit. That was pure hype on the part of the newspaper author. My guess is that international date lines caused some of this, because the newspaper story was dated Tuesday, November 9, but when it's Tuesday in Australia it's still Monday, November 8 here in the U.S.

So Chad did some interviews here for the U.S. press and on Monday night his official press release came out. That seemed to call the dogs off, and the Australian haters quieted down. So now we get to talk about the real news—Chad Reed is definitely going racing in 2011. Just a few weeks ago, it looked pretty grim, which would really have been a shame since the hype could be off the charts with a Stewart-Reed-Villopoto-Dungey gate this season. So the hype is back on.

This is a pretty exciting time of year. When the season is over, everyone wants to take a break, but we're two months removed from the AMA Pro Motocross finale at Pala, and now people are starting to feel it again. Reports from the test tracks are all about riding and testing and training—we even have Twitter to follow for proof. I really wish I lived in California during times like this. And not just because I already had snow in my yard last weekend.

Thanks, Weege. Let's round out the week with some additional news:

This last weekend was the annual Turkey Race held at the Owyhee Motorcycle Club track in Boise. Winners earn turkeys instead of trophies. Lots of hot talent were entered including Ben Evans and Cole Siebler plus all of Fly Racing's sponsored riders.

Saturday the weather was perfect but Sunday it poured. Here is a fantastic video from Mark Oliver on the rain day that shows just how much fun it is to race Motocross rain or shine. Check out this video:

Nico Izzi has a new ride, and Wes Williams of Vurbmoto.com saw him riding it at Pala recently. HERE's the evidence.

Here's a cool video: Brent Presnell, Trey Canard's mechanic, talking about the setup of his championship-winning Honda CRF250. It's up on www.allisports.com, and you can watch it right HERE.

Also, Weege penned THIS update on our sport for the folks over at Allisports.com: Ten Things That Have Changed in the Motocross World (Since Pala).

Pink is preggo! LINK.

Want to see some amazing old-school photos? How about the 1962 Austrian Grand Prix at Sittendorf? Scott Wallenberg found THESE gems.

Anyone wanting to identify the riders in that 1962 race, HERE is a link to the PDF of the program.

In those 1962 photos, there is a photo of #29, who the program lists as Ray McCarty from the USA! If you look closely you can see what looks like an American flag on the back of his rider bib. Does anyone out there know who Ray McCarty is?

Since winter is just around the corner, HERE's a video to get you pumped up for the white stuff:

Racer X reader Ben Giese sent us a link to THIS very cool and different MX video that he made.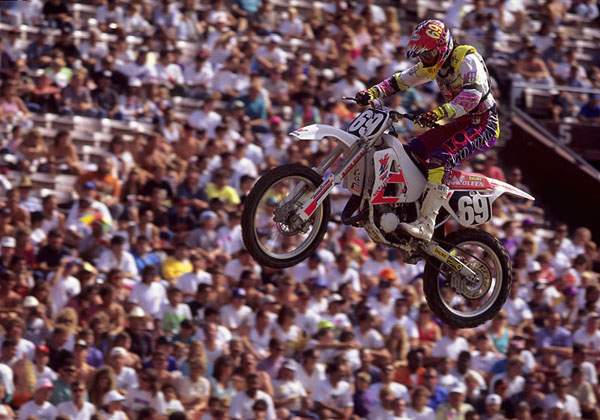 Earlier this week we posted a Flash Trivia question asking you to identify the rider in the photo running #69 on a Noleen Yamaha in '92. Well, that rider was Kyle Lewis. Congratulations to the lucky winner, Rocklin, California's Brian Chakedis. Your Moto2 DVD is in the mail!

Also, make sure to check out what's going on over at http://www.offroadproracing.it/home.htm this weekend for the Genoa SX information. Like this McGrath interiew: HERE.

Okay, that's it for Racerhead this week, and here's a heads-up on something cool we're planning for next week, since the annual Bercy SX is coming up. Stay tuned. See you at the races.