Privateer Profile: Tevin Tapia
Tevin Tapia is a privateer born in Washington State, but now resides out of Menifee, California. He had a good amateur career, then turned pro and raced the whole 2010 series in the 250 Class aboard a KTM. In the Lites East Supercross series, Tapia qualified for three main events with his best finish being a tenth in the last round. Outdoors he logged his best finish at Washougal with a fifteenth in the second moto and earned national number 70 for the 2011 season. Tomorrow, Tapia is flying to Germany to race supercross, then he plans to head back to SoCal to start training for the East Coast Lites Series. We caught up with him while he was packing for his trip abroad.
Tevin Tapia
:
Well, I'm from originally from Bonney Lake, Washington. I started racing when I was four through my dad. He was a pro just doing local arenacross and I went from there.
How was your amateur career? Did you do the big races?
Yes, I did all the big races from the get go. I never was the one to win national titles, but I was always right there. I rode for Team Green for a couple years and I ended up winning five amateur tittles before I went pro.
Where did you get your titles and in what classes?
I got two titles at Oak Hill in the C class and one at the World Minis. Then I got two at the Amateur Open in Schoolboy and Four Stroke. I was pumped on those because I had Dean Wilson, Blake Wharton, Ben Lamay and Ben Evans in those classes.
You raced all of last season in the 250 Class. How would you say your year went?
I think the year went okay. I wasn't to pumped on supercross because I only made three mains and outdoors I didn't really come on strong till the end of the year. But I learned a lot and I'm looking forward to the 2011 season.
Speaking of supercross, you had some problems in the qualifiers with other riders. What was that all about?
[laughs] I wouldn't call it problems, just racing! I'm out there to win and do my best. This isn't a team sport, it's every man for himself. This is my job and my dream and I'm not gonna let anyone get in my way of that.
How would you say your outdoor season went? Did you expect better results?
Outdoors went okay because I came out healthy. But, yes, I expected to do a lot better. I got really sick at Budds Creek and I think that messed with me for a while. Then at Millville I started to turn things around with top twenties every moto. This year was all about gaining experience and my results improved once I got some races under my belt. I'm really looking forward to this coming year. I earned National number 70 for 2011 so I'm excited about that.
What do you do for training? Do you have a trainer or program that you use?
No, I don't have a trainer, but I wish I did. I have my own program that I do with a lot of riding, running and gym work.
How do you get to the races? Do you have a mechanic?
Last year we drove to every round of supercross and nationals in our motor home. I had a mechanic for supercross, but then my dad wrenched for me in the nationals.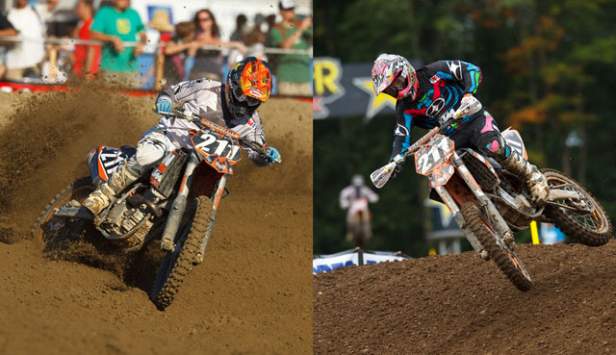 photos: Simon Cudby
Wow, that's a lot of driving. Do you have sponsors that help with fuel costs?
Yeah, every once in a while Cycle Nation Powersports would help us. Mostly though all my winnings goes right back into my racing and gets us from race to race.
Do you have support with bikes and parts?
Yes, I had support from Munn Racing in Waco, Texas, and that was a big help.
So how are things going now? Have you started training for supercross yet?
Tomorrow I'm leaving for Germany for a supercross race. It's a kind of mellow race so that's been my focus right now and I really want a good result.
What is the plan for when you get back from Germany?
That's when I will get on a supercross track full time and get ready for the East coast series. I will be in SoCal training and hitting up the supercross tracks around here.
What do you have lined up for support for next year?
All that is in the works right now, but it looks like we have something lined up with KTMs again. I can't really say too much more about it until it's finalized.
What are your goals and expectations for next year, Tevin?
My goals are to be in the top ten in both supercross and the nationals. Plain and simple. I don't expect anything less from myself and believe in myself.
Is there anyone you would like to give a shout out too?
Yes, for sure. I'd like to thank God, Mom and Dad, Spy, TCX boots, Munn Racing, Cycle Nation Powersports, Kicker, FMF, Dunlop and all my supporters.
Good luck in Germany. See you when the East Series starts!
Thank you and yes, see you soon.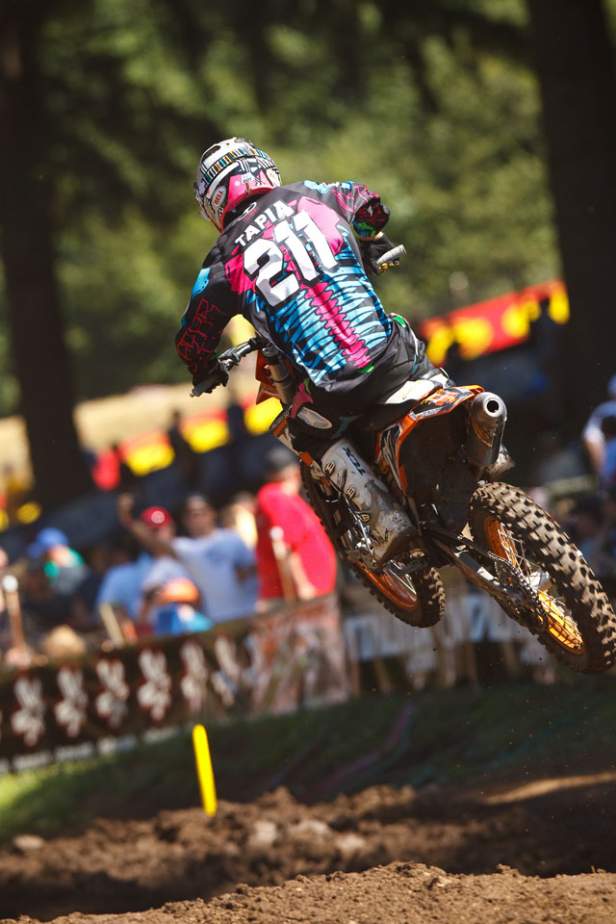 photo: Simon Cudby