Hello, everyone, and welcome to the Rev Up. It was an easy decision for the title of this week's column, what with the San Francisco Giants winning the World Series and my family getting to enjoy a big, big win of our own. I lived in NorCal for five years and have a lot of friends in the nearby Bay Area. They were pretty much out of their heads when the Giants won the series, especially my man Matt Story, whose name you surely recognize from
Terrafirma, Air Raid, and Frezno Smooth fame. Most of you reading this are competitors in some way, and you can appreciate the reward of winning. And if you are a true competitor, you know there isn't anything better than putting both arms in the air and claiming victory. That said, I wanted to go back into the history books and write about some of the more memorable motocross victories.


Let's start back in 1989, the year Jeff Stanton earned his first supercross win, at Atlanta. Stanton had just climbed aboard a factory Honda and was a relative unknown, especially around the supercross podium. I always thought that was a big win because he came out of nowhere to not only win main events, but the 1989 supercross crown. Damon Bradshaw and Mike Kiedrowski would earn their first victories during the 125 East campaign. My personal favorite victory in 1989 came at Loretta Lynn's when I watched Billy Fosnock defeat Mike Brown for the 250 A Stock championship. I was able to grab the biggest win of my life at the same race in the 65cc Stock class.


The following season saw a bunch of huge wins as well. Larry "Big Bird" Ward won a duel with Jeff Matiasevich to win the Seattle Supercross in front of his hometown fans. The Seattle Kingdome went bananas as Larry celebrated by standing on his seat and riding around the track. Later in the season, Guy "Airtime" Cooper nailed down the 1990 125 Outdoor National Championship. I grew up watching Coop at the local tracks in Oklahoma and remember the win being super special. If I remember correctly, the mayor of Oklahoma City gave him the key to the city.


Let's fast-forward to 1993, when Jeremy McGrath won his first of seventy-two supercross victories at his hometown race in Anaheim. "Showtime" would change the sport forever from that point. Another huge victory came at the final round of the series as local Las Vegas native, Jimmy Gaddis, won the 1993 West Region SX title. I remember him jumping up and down and screaming in his little dwarf voice, "Yeah! Yeah! Yeah!" The final race of the 1993 season saw a memorable win as a young Robbie Reynard won his first outdoor win at the season-ending Steel City National.


One of the coolest wins ever came in 1997 when Damon Bradshaw rode like a wild beast to victory in the High Point mud. It would be the last of his career but one most folks will never forget.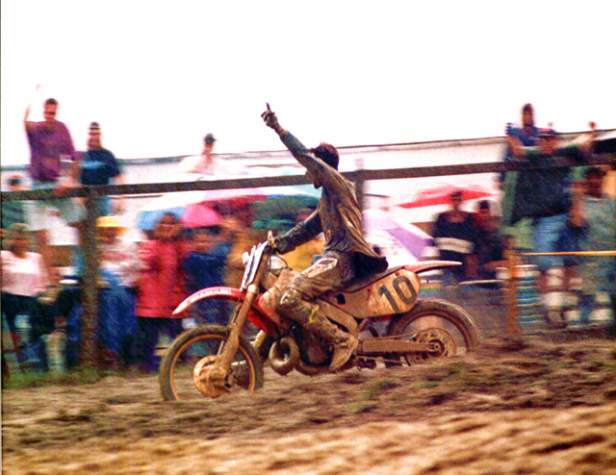 Damon Bradshaw in '97.
photo: Racer X archive

Moving through the years a bit, the 1999 season saw two very special championship victories. Derrick Shae Bentley won one of the tightest title fights in supercross history when he edged out David Pingree for the crown. He didn't even know he won as he came off the track when his mechanic came running toward him with both arms up. I remember Shae screaming, "I stinking won the thing?!?" Then Greg Albertyn earned a very popular victory, winning the 250 outdoor title. Albertyn owns some of the gnarliest highlight-reel crashes of all time, one of which came at the Washougal round when he went off the track, then absolutely drilled a fence trying to get back into the fight. Those were two big wins by relative underdogs.


On to the 2001 Anaheim Supercross, when Ricky Carmichael took over control of the sport with a single whip over McGrath's head during opening ceremonies. If that didn't do it, RC's charge from thirteenth place to the win certainly did.


Okay, I'm going to stop and you guys can take it from here in the comments section.


Before I go, I want to share what it was like to watch my little brother win Talladega last Sunday afternoon. My parents went to the Talladega 500 in 1985 for a vacation, and my pops still has the T-shirt and tells the story about when he watched Bill Elliot come from two laps down to win. Clint won his first pole at Talladega in 2004 in the Nationwide series. In spring of 2009 he suffered the worst crash of his career, breaking his tailbone after smacking the 'dega safety barrier at over 200 mph. That place has always scared the hell out of me, and I almost don't like watching. As he led the draft around on the last lap, I had my face in my hands, and only when I heard the announcer yell out his name as the winner did I take off in a dead sprint to victory lane. I think I set a 4.5/40 pace at least. The best way I can describe the feeling is: "It's the effing Catalina Wine Mixer! Pow!" I kept screaming "POW!" until about 5:00 Monday morning.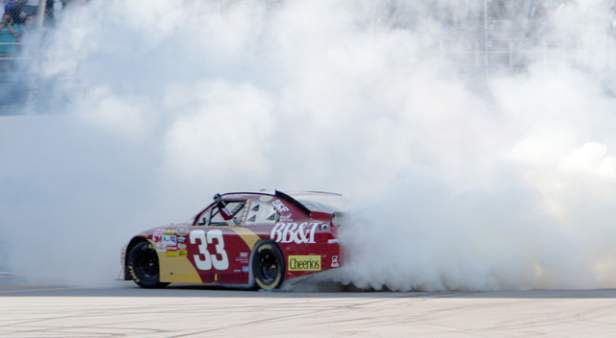 Clint Bowyer celebrates at Talladega.
photo: Courtesy
ClintBowyer.com

Victory is what makes racing and all forms of competition so sweet. Some racers and sports teams get to experience victory a lot, but the racers like Shae Bentley and teams like the San Francisco Giants, they know the true essence of the term. There isn't anything better than victory.

Thanks for reading, see you next week.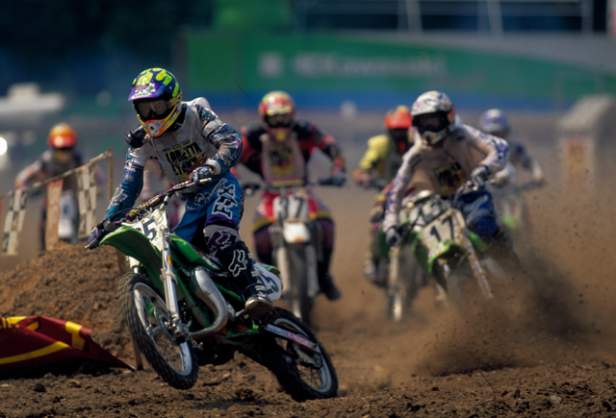 That's Shae Bentley pulling a holey at Loretta's.
photo: Racer X Archive