Kawasaki Idle Chat: Broc Tickle
Here's the latest edition of Kawasaki's Idle Chat:

Kawasaki Idle Chat: Broc Tickle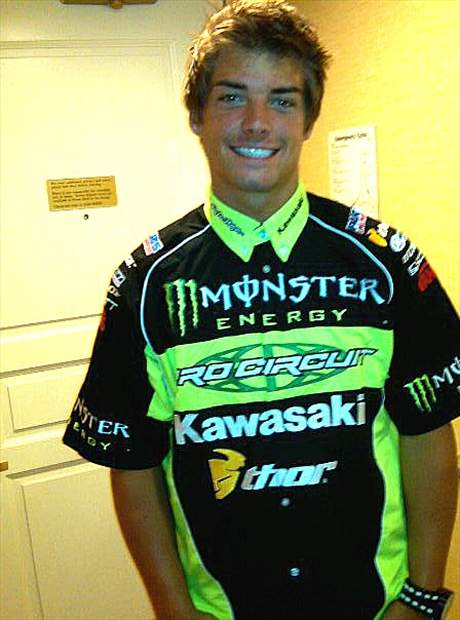 New to the team for 2011, Monster Energy/ Pro Circuit/ Kawasaki rider Broc Tickle took time between riding and training to talk about the transition to Kawasaki, his goals for the season and what he did in his time off.

Q: How has your transition over to the Monster Energy/ Pro Circuit/ Kawasaki team been so far?
Broc Tickle: Everything is just really organized. Everyone works together as a team and I really like that. I'm enjoying the change because I felt like I kind of needed one. It was great to make the change over to the best team in the lites class in my opinion. It's definitely been cool.

Q: You've already achieved a certain amount of success in the lites class with a win in Seattle last year. What are your goals for 2011 with the new team?
B.T.: I just want to go out and race as good as I can. I know I can win and have the potential. If a championship comes a long with riding well, then that would be great. That is one of my goals before I head to the 450 class in a few years, so I do expect good things whether they come this year or next year. I think it could be done with everything I have and the team that supports me 100 percent to win championships.

Q: Since Mitch (Payton, team owner) doesn't decide which region you are riding until it gets very close to Anaheim 1, do you get stressed out because of the uncertainty?
B.T.: No not at all. I actually like it that way. Everyone has to work hard all the way up to that point and no one has the option to slack off. When a rider knows they are riding the East, not saying that everyone does it, but it doesn't give the chance to slack off. I think it's good that everyone has to be ready for the West and Anaheim 1. If someone is signed up for the East and slacks off, then a West Coast person gets hurt, it doesn't help out the team at all when they aren't as ready for Anaheim as they could be.

Q: Do you have any pre-race rituals or anything you do at each race?
B.T.: I definitely pray. I mean I do that everyday so it's not an odd pre-race ritual. There isn't anything out of the ordinary that I do. I don't put gear on one side first or anything like that. Just pray before each race.

Q: You just attended the Kawasaki dealer meeting. How was that?
B.T.: It was really fun. I had been to one (a dealer meeting) before when I was an amateur, but this was my first one where I had to go up on stage. It was definitely cool. It was really cool to see all the dealers when I was on stage, even though I get a little stage fright.

Q: Did you take a break at all and do anything fun during the off-season?
B.T.: My fiancé Jessica and I went on a cruise in the Caribbean. It was fun, but we were both ready to get back and spend time with family. It was good we got sometime off though. I think we will make that a yearly thing we do because it's really good to take time off and recharge before getting back on the bike and prepare for another long year. We go non-stop from January to September so it's good to get motocross out of my mind for a little bit.

Q: Lastly, do you have anything you do for fun during the season to keep from getting burnt out?
B.T.: Well, I actually enjoy training. It's fun for me. But to get away from moto completely, I did start surfing a little bit. During the outdoor season, I had a friend, Sean Borkenhagen, bring me out to go surfing with him and I fell in love with it. I bought a surfboard and go out early in the morning to surf. It's nice to get up early and be back my noon. I'm having fun with it.