Thursday Rev Up: A Riding Tale
by
Andy Bowyer
Hello, everyone, and welcome to the Rev Up. I'm going to switch it up a little this week and talk about a great day I had riding today. I talk about riding moto most of the time, but today I took off on the Harley on a journey from North Carolina to Talladega. I realize most moto fanatics are mostly sport bike enthusiasts, but there is a pretty stout cruiser crowd as well. In my mind, riding is riding, so please bear with me this week.
The weather around this area has been tumultuous to say the least, but we leathered up and hit the highway nonetheless. We sat out on I-40 West and were met with a golden and auburn array of trees juxtaposed against partly sunny skies and fierce thunder clouds. Those who have braved a ride in the rain know how gnarly it is, but they also know if you keep moving, you can usually escape the rain patches. This scenario plays well in the mountains as the clouds and the sun drift in and out of the rolling peaks and valleys. That said, we went through a good 10 miles of razor-stinging rain that had me gritting my teeth. The reward is worth the hurt, though. When you finally feel the sun hit your face, the air smells so clean that you just take a few deep breaths and smile.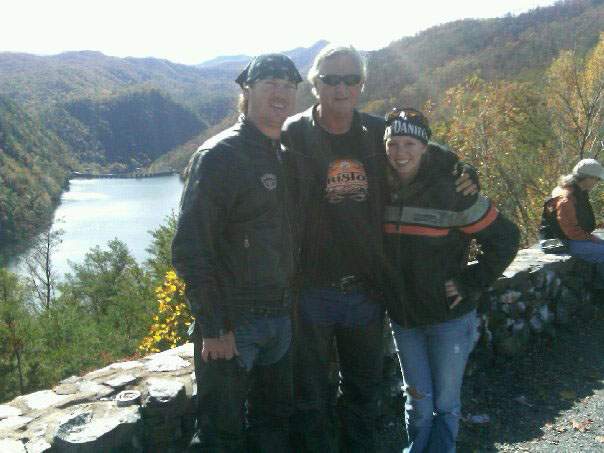 You can take the motocrosser away from the track, but the motocrosser always sees jumps. As the sun and the wind were gradually warming and drying me out, I glanced over to a vast space of mountains and quickly scouted a huge natural supercross rhythm section. I took my left hand off the grip and made gestures like I was scrubbing, panning, and preloading myself over the ragged landscape. I know all of you guys have done this in your car or riding a street bike.
I glanced down at the chrome on my gas tank and saw my silhouette pitted against the billowing white clouds. It was surreal. It felt awesome.
We made a stop at the Biltmore House, the largest house in America, which was constructed by the Vanderbilt family in the 1890s. It's nothing short of astonishing that they built something like this that long ago. If you are ever near Asheville, North Carolina, I highly recommend making a stop, as it is one of the most beautiful estates in the world. Google it.
From there we made our way to the heart of the Smoky Mountains and landed in Cherokee, North Carolina. In the morning we trek to the Tail of the Dragon and will ride its world famous 318 turns in 11 miles. I've ridden it west to east, and let me tell you it really is something else. If you're a sport bike or cruiser rider, it's a must on the bucket list.
Then on to the high banks of Talladega Superspeedway.
Its just been an amazing day, my friends. As I prepare to call it a day, all I can think about are the the trees and how their colors sprinkled out across the mountains. Some were so vibrant they appeared to be engulfed in some kind of benevolent inferno.
I hope you guys enjoyed this ride tale, and I urge all of you to go make one of your own this weekend. On the dirt, in the desert, or on the road. Riding is riding, and it's the best way to live if you ask me. Throttle's on the right side, folks. Go twist one.
Have a fun and safe Halloween! Thanks for reading see, you next week.