Privateer Profile: Topher Ingalls
Topher Ingalls got a late start in motocross and didn't really get serious until the end of this year. Last year, he raced only a couple Nationals and earned National number 99. This year, he raced two Nationals, broke the top 15 and earned National number 73. Now 100 percent dedicated to racing at the professional level, Topher has new bikes and started training for the West Coast Supercross Series. His goal is to make all the Lites Main Events and gain some support for the Nationals.


Racer X: So I don't know much about you except seeing your name in the results. Where are you from and what's your background?
Topher Ingalls
: I'm from Templeton, California, and I just turned 21 years old. I skateboarded growing up but always wanted to ride; just hadn't had the chance. Then, one day, my Dad said he'd pay half for a bike, so I saved up and got a bike. I started pretty late and just kind of worked my way up from the bottom.
How old were you when you started riding and what did you do as an amateur?

I got my first bike when I was ten. My first race was the same year. I started doing amateur nationals when I was 13. I did all right - top fives and stuff - but was just never really that dedicated.
When did you start getting serious about riding?

I was pretty serious about it all through amateurs, but I just never gave it enough effort. I was interested in other stuff and just wanted to be a kid. It wasn't really till this year, after the
Hangtown
National. It really hit me that this was all I want to do and I've really been giving it my all since.
Did you do any big amateur races growing up?

I did Loretta's one year, Lake Whitney a couple times and we'd do Mammoth every year. I was always around top-five, and I think I got sixth at Loretta's and a couple fourths at Texas.
How did this year go for you at the Nationals?

Hangtown
was tough, but it was kind of good for me to get worked and I just put my head down after that and came into
Washougal
a lot stronger. I got 13th in the first moto and DNF'd the second moto at
Washougal
.
Pala
went all right; I really wanted a top-ten, but had some crashes and ended up going 15-15. I was pretty happy with how I did. It was a step in the right direction and hopefully next year I will get to race more Nationals.
What do you do for training?

I do a lot of road-biking! Usually, I go to the gym three days a week and ride three days a week. I mix some running and swimming in there, too, depending on how I feel that day.
Do you have a trainer, or do you do it on your own?

Yeah, Randy Redburg at
Experts-Exchange.com
got me training with Cortese performance for a while. I worked with him for a while and now he writes me up programs that I do at the gym by myself. They're progressive and he writes me up a new one every six weeks or so.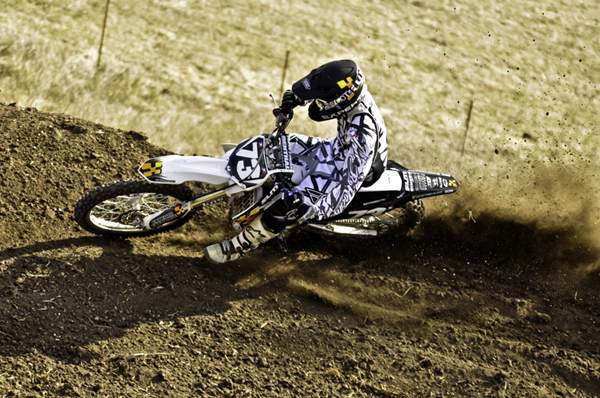 photo: Todd Gutierrez

This year at the Nationals, how did you get to the races?
I just raced a lot of little fair races after supercross and I made enough money to get me to the nationals. I only did the three closest ones so it didn't cost me too much. My brother helps me out with pretty much all my racing stuff, so he came to all of them and pretty much did everything. He's a huge help and keeps my bikes clean!

What did you travel in?
We have an 2005 350 van, I think! [Laughs] So we take that and pull this box trailer I've had since my 85cc days. It's not exactly a big rig! [Laughs] But we make it work the best we can.

At the Nationals this year, how did you afford to race them? Did you have sponsors helping you out?
I had a bunch of help for supercross. Experts Exchange got me to all of them and helped with bikes. The Pernstiener family helped a lot, too, but by the time outdoors came around, I'd pretty much spent everything. So, I just spend my race earnings and the money I'd make at the Nationals to make it to the next race.

What is your plan for 2011?
Kill it! [Laughs] No, I'm definitely doing all the West Coast Lites races and as many outdoors as possible. This year, I'm 100 percent focused and hungry to get solid results. I'm very serious about racing now and think I will hopefully make all the main events in supercross.

Have you started training for the supercross series yet?
Yeah, I got Hondas three weeks ago after like six years on Yamahas and got right on the supercross track. I did a bunch of suspension testing with KPS suspension and have been putting in a lot of motos out at Castillo Ranch. I feel really good and comfortable already.

How do you feel so far riding supercross on the new bikes?
I really like the bike, it's just a whole lot different, so I'm just starting to feel really comfortable. I'm really stoked on the changes and for the whole year.

Well, good luck, and hope to see your name in the main events! Anyone you would like to thank?
Thanks man! Yes, I really want to thank Randy Redburg and everyone at Experts-Exchange.com, Fly Racing, Bryar at 180Decals, TCR Hubs, Applied Clamps, KPS Suspension, C4MX, Sunstar, SDG Seats, the Pernsteiner family, Hinson, Works Connection, Deep Blue Tattoo, Cortese Performance, No-Toil and San Luis Motorsports! I wouldn't be able to do any of this without everyone's support.

Keep up-to-date with Topher by reading his blog entries and watching his practice videos at www.topheringalls.com.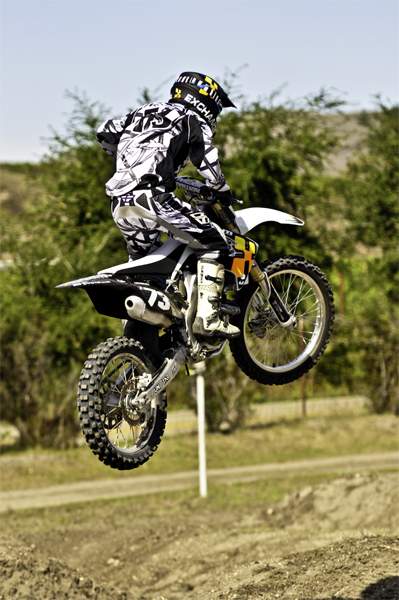 photo: Todd Gutierrez