Thursday Rev Up: Season in the Abyss
by Andy Bowyer

Hello, everyone, and welcome to the special Monday edition of Rev Up. This week I wanted to take a look back at the 2010 supercross and outdoor national seasons. It goes without saying that this was a season to remember. It was a season of change, and with regards to the title of this week's column, it was just a huge gulf of drama, surprises, and a great space of incredible action. ("Seasons in the Abyss" is also one of my favorite Slayer songs.)

Think all the way back to Anaheim 1. Wow, seems like a ways back, huh? As far and away as it may be, the trick of our sport is that it's already on the way again. It'll be here before you can say "KTM 350." Speculation for the 2011 season has already began, but I wanted to make sure the events of 2010 remain planted in your moto memories. I broke down 2010 into four categories, so let's get revved up as we go back and recall one of the heaviest seasons ever.

FALLEN GIANTS

As much as everyone wanted to think the season opener at Anaheim was up in the air, James Stewart came out and got the job done. It wasn't shocked to see Ryan Dungey chase him to the checkered flag, but I was left mouth agape when Chad Reed posted a DNF thanks to a broken front wheel.

The real poop hit the fan the following week at Phoenix when Stewart collided with Kyle Partridge over a triple jump. As lucky as he was to escape serious injury, his season was over at that point. The ensuing main event saw the bottom completely drop out as James and Reed came together in a right-handed bowl corner. I'm still shaking my head like Lee Trevino as I vision the two biggest names in the sport lying in a pile. Reedy broke his hand in the ordeal and the rest of the world waited to see if Stewart could rebound. He came back at Anaheim 2, but that would be the last time we saw JBS until Unadilla.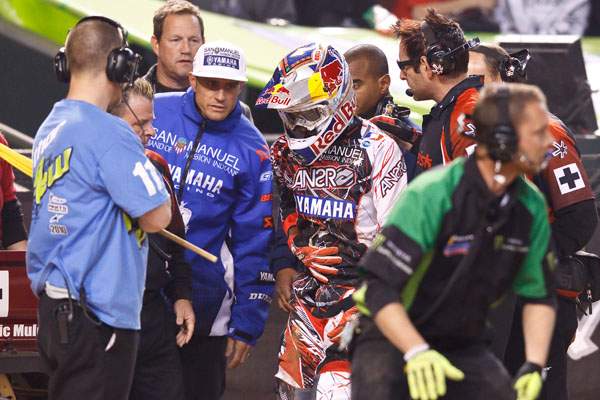 Photo: Simon Cudby


Ryan Villopoto would come on strong in the middle of the season and rattle off some wins, but he was taking some slams. The Atlanta yard sale was soon followed by a horrendous endo at St. Louis. Just like that, three of the heavy hitters were riding the pine.

In order to finish first, you must first finish.

SURPRISE, SURPRISE!

The biggest surprises for me were Kevin Windham, James Decotis, and Dean Wilson. Old man Windham put them on their feet toward the end of the supercross season, reeling off a couple wins and later coming back to win Steel City. I had never even heard of Decotis, but my man was pulling holeshots and giving fits to guys like Christophe Pourcel in heat races all season long. They know who he is now, and I'd look for the Nor'easter to be a force in 2011.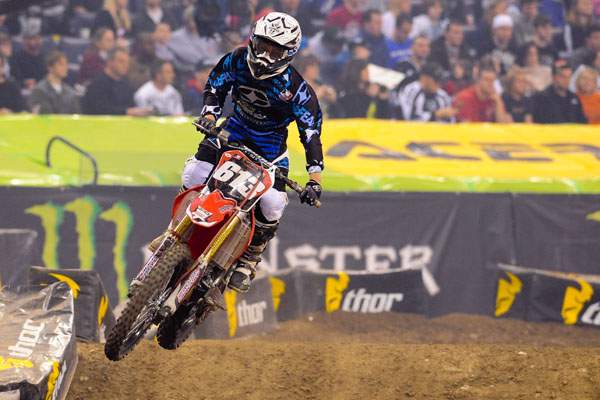 Jimmy Decotis had everyone inside Lucas Oil Stadium scratching their heads asking "Who's 613?"
Photo: Steve Cox


Dean Wilson had a hell of a season. He was blazing fast, reeled off some wins, and even spent some time locked in customs unable to compete! This guy is for real, and he'll be a contender for two titles in his sophomore season.

An honorable mention here belongs to Eli Tomac. He may have been more of a shocker to some of you, but I've long appreciated the "first race" scenario when regarding rookies and their first shot at the big show. Those kids carry a lifetime of hope and adrenaline to the line for their first race. Some guys have pulled a holeshot (Josh Grant 2003) or led for a while or even grabbed a podium (Mike Alessi 2004), but what Tomac did at Hangtown was simply incredible.

Not even Chuck Norris himself could have stopped #243 in his maiden voyage.

"OMG!"

The 2010 season was packed with "OMG" moments. The first one for me was the aforementioned crash of Stewart at Phoenix. The following one was when Ryan Dungey was riding away with the win at San Francisco when he grabbed a handful and looped out. That could have been the end of what would become the most prolific rookie season in history.

How about the first-turn pileup at Houston in the 250 Class? Somewhere around a dozen bikes laid in a pile of factory unobtanium, while Blake Baggett raced to the first win of his career.

I can also remember screaming "OMG!" as I saw Dean Wilson look back and let Tyla Rattray and Broc Tickle go by him at Freestone. Everyone has excuses, but the 100+ heat was a legitimate cause for hallucination, and it was clear young Wilson's vision at that point resembled a kaleidoscope.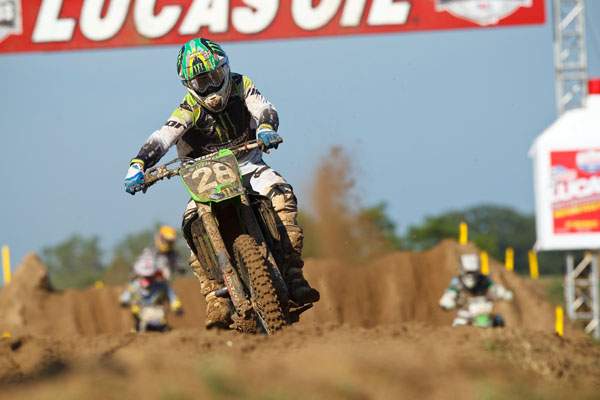 Tyla Rattray got a gift from Dean Wilson at Freestone.
Photo: Simon Cudby


The biggest "OMG!" moment of the season came at the final round as I was watching Pala via the web at Buffalo Wild Wings. I saw Trey Canard make an insane pass on Christophe Pourcel, then promptly hit the bails and stack it up. I threw my hands up and yelled, "OMG!" Just when I thought I couldn't be more out of my head, #377 bailed and I literally stood up on my bar stool and screamed, "OMFG!!!!" at the top of my lungs. Fairly certain I wasn't alone on that one.

THE BATTLES

It was a great year to be a fan in 2010. The Atlanta Supercross has a history of awesome races, and the show we got to see in the Lites class was out of control. Pourcel and Justin Barcia were trading paint back and forth and there was a fright train of five or six riders all in contention for the win, until Christophe dropped the hammer.

The song remains the same for the annual Fourth of July event at RedBud. We always see heavy battles at "REDDDD BUDD!!!" and the first-moto scramble between Chad Reed, Ben Townley, and Ryan Dungey was one for the ages.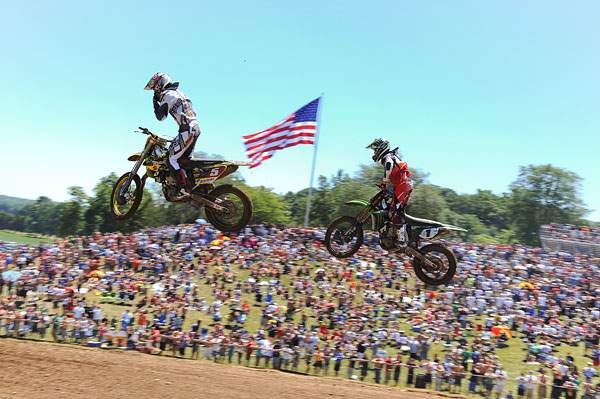 Dungey and Reed really gave the RedBud fans a show this year.
Photo: Steve Cox


Unadilla was one of the biggest races of the year, with Stewart making his comeback and some guy by the name of Clement DeSalle pushing to the line. There isn't anything cooler than watching two guys going for the overall victory and going bar to bar up the face of a 100-foot tabletop. Only thing cooler is when they both throw pan in opposite directions and give each other the "Intimidator" as they stare each other down in the air. That's motocross, folks.

There was so much more, my friends. I could go on and on about more battles, "OMG" moments, and epic happenings that made 2010 one to hold on to for a while. But like I said, 2011 will be here before we know it. It's a strange time in our sport, with a lot of changes in the lineup, and all of it has the tension mounting. We'll have new names and faces and title contenders heading different places. There is so much to think about that I can only rely on some lyrics to "Seasons in the Abyss":

Close your eyes
And forget your name
Step outside yourself
And let your thoughts drain
As you go insane...go insane!

You Slayer fans feel me on this one.
Thank you for reading, see you next week... Err, on Thursday.