Monday Conversation: Kyle Cunningham
Kyle Cunningham had a hectic 2010 season, riding two different brands of bikes and two different classes, but all that effort landed him a ride on the DNA Shred Stix/Star Racing Yamaha team for 2011, where he will be able to concentrate on mastering the Yamaha YZ250F for the entire season. We caught up with him today after it looked to be a rain-out at the Yamaha test track.
Racer X: This past season was pretty hectic for you, starting out on Hondas, then going to Yamahas, then to Yamaha 450s...
Kyle Cunningham: It was crazy. It was a little hectic, but I started off with something and then ended up with a ride at Valli that I did pretty good with. I had a good race in Vegas on the 450, but then struggled a little bit with my bike on outdoor setup. I wasn't used to the big bike and I never really rode one in the amateurs. But I learned a lot and I got to race a lot of different people. Getting back on the Lites bike now, I feel really good on it, and hopefully 2011 will be a good season for me.
When you were a rookie and got that ride at Yamaha of Troy, do you think you were prepared for something like that?
The past is the past, you know? You can't really dwell on any decisions you've made, but they've got me to where I'm at. I've had some ups and downs, and some injuries here and there, like getting hurt this year and missing half the outdoor season, but I can't look back and think that I should've changed this or that because those things got me where I'm at. I have a good opportunity with Star Racing and Bobby Regan and Brad this year, and I think it's going to be a good fit. I finally have the opportunity to stay on the same bike, and Yamaha and Valli helped me out a lot this year, so to be able to go to Yamaha's Lites program at the DNA/Star team, it's really good. I think everything kind of works out the way it needs to. I think I'm finally coming into my own, and I think that has a lot to do with riding the big bike this year and learning a lot there. I just want to work hard and get ready. That's pretty much what everybody's going to be doing from here until we line up at A1.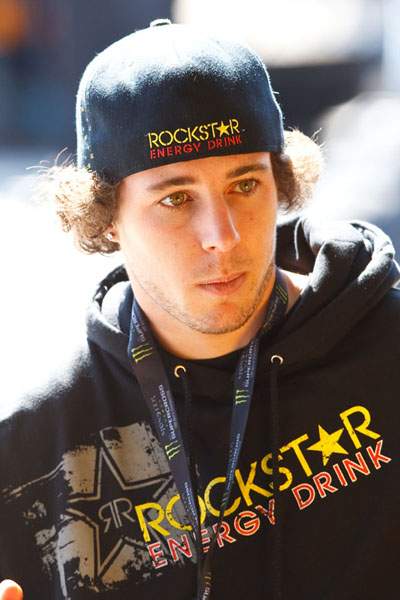 Kyle rode for a few different manufactures in 2010.
Photo: Simon Cudby
Since the gate drops at A1 almost three months from now, is there anything you should do to stop yourself from becoming burnt out riding so much supercross between now and then?
I haven't gotten to ride supercross yet, but I'll be testing and a lot of stuff like that, and once I get really comfortable, I'll be doing a lot of motos and stuff. I'm just going to ease back into it and get comfortable on the bike. I haven't ridden a Lites bike in six or eight months, and I've only been riding this one for the past week or so, so I want to make sure I'm comfortable and ready to go before I start putting in hard laps. I'll be working on the little things that can help me make gains in supercross for 2011.
What did riding a 450 for most of the year do to your style on the 250?
For me, I'm not that big of a guy, so to get back on it after riding the 450, it's a little easier to move around the way you need to and to really get the bike to stick in places. I feel really good on it. I had a little bobble at the Transworld race and crashed, which was my first slide-out in the last week or so of getting back on the thing, but obviously that stuff happens. All I can do is keep preparing, and we'll see how it goes when I get back into supercross.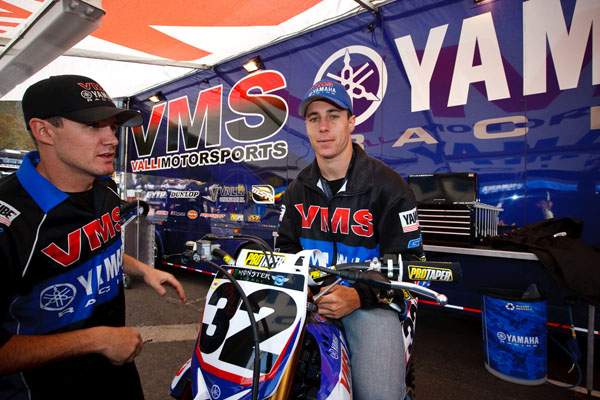 Kyle was on a 450 last year for a period of time, but he'll be back on a 250 for 2011.
Photo: Simon Cudby

What did you learn away from the racetrack riding with the guys this year?
Everyone has their own program and different riding days and stuff, but it was really cool to ride with Ivan Tedesco a lot this past year. Hopefully, I'll be able to ride with him some more this coming year in supercross. I think doing a lot of laps with him this year was really good for me, and hopefully I can do that some more. Everyone kind of does their own thing, though, like I said. I'll just stick with my program and know what works for me so I can do the best I can.
Do you have a goal for this season?
I think it's a little too early to set goals. Obviously, I want to be as prepared as I can be, and at the first race, I want to come out swinging and have a good result to be in the hunt in points right off the bat. That's a good goal to set. But obviously I want to do well. It's my fifth year, and I've learned a lot, so I want to get up there on that podium and really be consistent and try and get some race wins to see where we end up in points at the end of the season. But I think it's a little too early to set goals like, "I'm going to do this and that and this..." I'm just going to get as comfortable as I can and get as ready as I can. I want to be healthy coming into the first round so I can start off on the right foot.
Okay, thanks for your time, Kyle.