Welcome to a foreign edition (at least the intro) of Racerhead. I had the good fortune to be invited over to Europe to go to a World Rally Championship event with my friend Ken Block, the DC Shoes/Monster Energy/Ford-backed driver. He's set up here of the coast of Spain for a few weeks on Ibiza. Before anyone gets too excited about the party scene this place is notorious for, this is actually now the off-season for Europe's trip-hopping nightclubbers—plus the kids are with us, so no foam-filled dance floors for us, unless they have a Chuck E. Cheese here somewhere. But I can hear a distant beat off the balcony down in the town, so someone, somewhere, is guzzling water and twirling glow sticks right now.

I try to go to as many different sporting events as I can to pick up on ideas, so I'm anxious to learn more about rally racing. I'm also hoping to see Barcelona, as I have a huge geek factor when it comes to history, art, and anywhere Ernest Hemingway might have been drunk.

The last chapters of the craziest silly season of all are about to be written—not here in Europe or in America, but rather in Australia, where Chad Reed has announced that he will be racing a VodaFone Honda in at least the first round of the Australian Super-X Series of which he is co-promoter. The music has almost stopped and he still doesn't seem to have a ride lined up for 2011 on the AMA Supercross/Motocross tour, and like a lot of folks, I'm having a hard time figuring out where he might fit in. He has been tweeting a lot of interesting things during the past few months, and it will be interesting to go back and figure out how it's all connected ... or not connected.

And then there is Christophe Pourcel, who to me was the number one free agent going into the off-season. He still could end up on Monster Energy Kawasaki with Ryan Villopoto and Jake Weimer, or maybe on Honda with Trey Canard and Josh Grant—or maybe event KTM—but it's all still up in the air. Your guess is as good as mine!
Having said that, I would not be surprised if he ended up on one of those three teams mentioned above. He's a fantastic rider, and it's strange to me that he's not signed up somewhere. The market is still a mess, even for the best of prospects.
That's it. That's all I've got for this week. I'm headed out to look at an old fortress in the town of Ibiza, then I plan on making sure the beer is cold in a nearby cantina while Shannon and the kids shop. (It's amazing how far you can get the family when cashing in a season's worth of frequent-flier miles—thank you, Mr. U.S. Airways.)
Let me turn it over to the boys back home, who would have been listening to their own loud club music in Vegas, had the U.S. Open not been canceled for 2010.
Here's
Ping
:
The local tracks are busy with riders shaking down their news bikes and getting their supercross legs back under them.
Broc Tickle
has been figuring out his new Pro Circuit Kawasaki and said, "Pssshhhhh… it's like cheating" When I asked him how he liked his new bike.
Ryan Morais
is back with Rockstar/Canidae Suzuki, and he's already testing his new bikes. He just got back from Sweden, where finished third in a makeshift supercross race over there. He said there were parts of the track that went into the stands and were just plywood—no dirt. The moisture in the air made it slick as ice, according to Mo. He also told me the guy who won the race was
Marvin Musquin
's brother. I didn't even know he had a brother! I guess fast French kids come in twos. I think
Steve Cox
got a shot of the trick new Yoshimura exhaust Ryan was testing. It looks like it's right off a works bike in Japan.
Metcalfe was out sporting his new Thor gear this week also. He's looking comfortable on his Suzuki already.
Any Jet Ski fans out there? The pros in the water have been watching the X Games, and they have the backflip nailed. I'm having
Victor Sheldon
come do this (video below) at my next pool party.

I love it when I see a guy with integrity. Have you heard of Bryce Vallee? He's a young pro racer with loads of talent and absolutely no skills on a basketball court. We played together a few weeks back and we gave him the nickname Rainman in the process. Vallee finished third overall in the 450 ProSport class at Loretta's this year before turning pro. He entered his first AMA pro event at Pala in the 450 Class, finishing seventeenth in moto 1 and twentieth in moto 2 for twenty-first overall. Last week Bryce took some time off his training to give surfing lessons to some Make-a-Wish kids in Encinitas, California. The annual event began six years ago when Bryce's local Rotary Club joined with the local chapter of The Make-a-Wish Foundation to give free surfing lessons to kids suffering from cancer and other serious conditions. Bryce volunteered that first year and every year since. This year, Bryce was teamed with 9-year-old Dominic (see photo), who couldn't get enough of the water and the waves.

"He wore me out!" said Vallee, estimating he helped Dominic catch about 100 waves in Dominic's first attempt at surfing. "This is one of the highlights of my year. Their smiles say it all. Dominic reportedly now wants a surfboard for Christmas.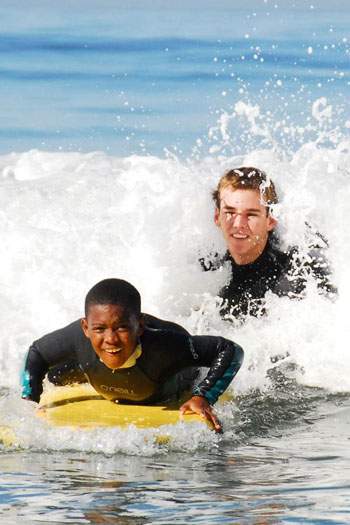 Well done, B-Val. You're good people.

I'm going to be conducting a motocross school in Phoenix on Friday, November 26. If you live in the area, check it out. There are a limited number of spaces, so e-mail me and reserve your place soon!

Ping's MX School:
Canyon Raceway
Phoenix, AZ
Friday, November 26th, 2010
8:00 am to dusk
Learn skills and techniques in all aspects of the sport
Cornering
Starts
Jumps
Line selection
Race and practice strategy
And more
Entries will be very limited!! All entries must be pre-paid. Cost is $275 per rider.

Email rxping@verizon.net for details and application information, or call (951) 907-2451.

Let's go to Cox:

Silly Season:
So there are still two question marks in silly season. First, of course, there's Chad Reed. He's riding a Vodafone Honda this weekend down at his home race in Aussie land. But after that, what's going on? Last I heard, the people at Yamaha actually still like him, despite their parting ways. Guys like Keith McCarty and the like think Chad's a cool dude, so maybe he could end up back on a Yamaha, but for the other two manufacturers he's ridden for in the past couple of years, that's highly unlikely. Suzuki? He loved the bike, from what I understand, but they don't have the budget for a Chad Reed right now. And Kawasaki and him just didn't seem to get along. That leaves either a return to Yamaha, which seems unlikely considering Yamaha no longer has a factory team, or going to Honda or KTM.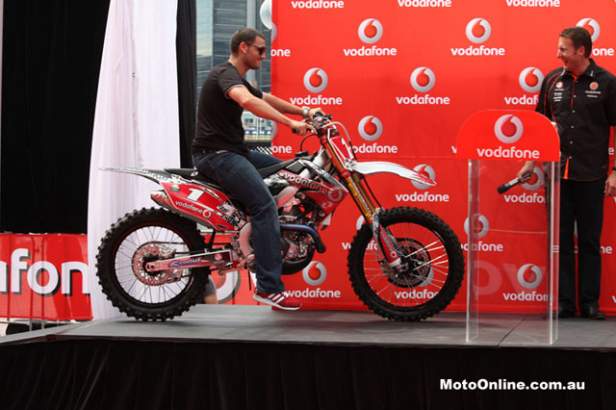 Chad Reed on his Vodafon Honda.
Photo: Alex Gobert

Well, Team Honda is full, although it's not impossible to end up on his own team or some satellite team, like Hart & Huntington if they stay with Honda. And KTM may have room, but who knows if they have that much budget left over for Chad?

I vote for KTM purely for the fact that Reed would have raced a Honda this weekend, then if he goes to KTM, he will have raced all five makes of bikes in less than three years.

Of course, there's always the fourth option, which is that he will retire, which would be a bummer for the sport in general.

I keep hearing that Chris Pourcel is going to be riding Kawasakis in 2011, but I don't know the details of that. He can't race the Lites class indoors anymore, although he can outdoors – not that he'd want to. I do know that he didn't get his asking price, but other than that, it's hard to say what's going on with him. It would make sense for Kawasaki to keep him somehow, but as I understand it, Weimer's deal is nearly done, and I'm sure Ryan Villopoto's deal combined with Weimer's deal pretty much fill up the 2011 Monster Energy Kawasaki team budget. Will Monster kick in something extra? I don't know.

I chatted with Andrew Short via text about his arrival in California and the fact that he's going to start riding his KTMs next week, but Shorty said it isn't decided whether he will race the 350 or the 450, or even some combination thereof during the 2011 racing season. He's going to start figuring that out next week. Keep in mind that Shorty's starts have been amazing, and that he was a great Lites rider. Maybe the 350 for SX and the 450 for outdoors? Could be cool…

I didn't get a photo of it, as my Nikons are in the shop, but I did get video of Ryan Morais' crazy-looking Yoshimura exhaust that David Pingree spoke of above, and that will be up with an interview in video form soon, so make sure you check it out. The exhaust can has two exit holes on it that don't appear to be the same size. My assumption is that it's for sound, but who knows? Morais was out at Milestone testing on the SX track this week while most of the other AMA regulars were still riding MX. Brett Metcalfe, for example, is still adjusting to his new Suzuki and won't hit the SX track until next week – after returning from his first-anniversary celebration with his wife, Sheena. Happy anniversary, Metcalfes.

Broc Tickle is still riding a 2010 Pro Circuit KX250F, but he said 2011 testing starts next week at the Kawi track as well.

Also, I spoke to Weimer a bit this week, and he's all healed up from his back problems this summer. And he really, really likes riding a 450 in SX. Remember what he did to everyone at the East-West Shootout, like, five months ago? It seems people are quick to forget in this sport, but I haven't forgotten. If he stays healthy, he's going to be trouble, even if he was relegated from #12 to #32 (much to the chagrin of his Twitter handle, @jakeweimer12) by missing much of the nationals.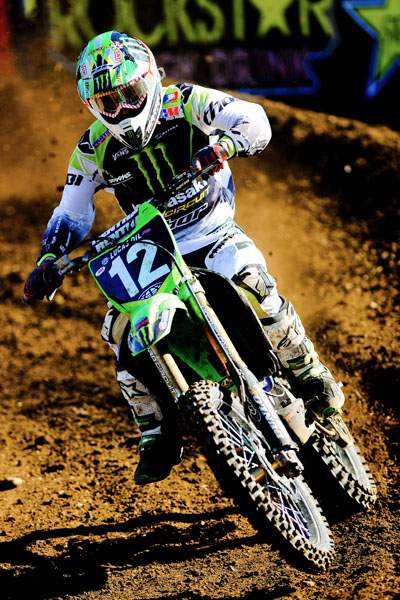 12... Nope, 32.
Photo: Steve Cox


I'll be out getting some more filming done today to benefit the Racer X Films portion of our website over the next week or so, so make sure you tune in to check it out.

And for my last bit, check out THE VIDEO I POSTED this morning from the MX Ride for the Cure that took place a little while ago at Cahuilla Creek MX Park. It's a fundraiser for fighting breast cancer – as this is Breast Cancer Awareness Month – and it's a cool event to boot. There is a lot of MX memorabilia that went up for sale today on the event's website, www.mxrideforthecure.com, through their eBay store, so if you're in the market for some cool swag, or if you have a significant other who would like a cool and unique present this Christmas, go on over there and check out what they've got.

And now we swing it over to The Weege:

Sounds like things are really happening on the silly-season front now. Josh Grant was rumored to be signing with L&M San Manuel Yamaha, and then Valli Motorsports Yamaha, but looks to have ended up at Team Honda. Kyle Regal is now James Stewart's wingman at L&M, and the Valli 450 spot once rumored for Grant should be going to Austin Stroupe (Stroupe tweeted "Valli 450" today). And we all know that Andrew Short has taken a spot at KTM, which I think is a superb move for that brand. When teams are rebuilding and looking to make a splash, they often try to go right after the guy who wins the most races, which puts extreme pressure on them to win immediately. Ricky Carmichael won every moto on a Honda in AMA Motocross back in 2004. If he didn't win a whole bunch of races the next year on a Suzuki, the bike was going to look bad. Luckily for Suzuki, the risk worked out. It didn't work when they had Jeremy McGrath in 1997 (MC won 14 supercross races on a Honda in 1996 and just two on a Suzuki the next year). It also didn't go well when MC signed with KTM for 2003.

That's what makes Short a perfect fit. He's solid and he's consistent, but if we go a few races into the season and he hasn't won, the world isn't going to panic, because Short didn't win a 450 race on a Honda anyway. If you're KTM, it's all upside with Shorty. If he wins, they look great. And he is capable of winning. Rare to find a guy with his skills who hasn't actually won a race yet. Plus Short is loved by the fans and puts in the hard work.

KTM is also introducing MXoN star Ken Roczen to the brand, as he recently took a tour of the Austrian headquarters with Roger DeCoster, Stefan Everts, and Pit Beirer. Roger's already dialing this kid in, even though he'll be racing in the MX2 GPs next year.

One person who isn't going anywhere is Mike Gosselaar. When DeCoster headed to KTM, many wondered who would follow. Longtime technician Ian Harrison is going with Roger to KTM, but Goose is staying with Ryan Dungey at Suzuki. I talked to new Rockstar/Makita team manager Mike Webb this week, and he was out watching new recruit Brett Metcalfe put in laps at Milestone MX. Webb comes from Suzuki's off-road team, so he had new GNCC Champion Josh Strang out riding with Metty. Congrats to Strang on that GNCC crown, by the way. The Australian, continues a trend of foreign dominance in GNCC. Rodney Smith's 2004 title is still the last by an American, as Finland's Juha Salminen (2005-2006), Isle of Man's David Knight (2007-2008) and New Zealand's Paul Whibley (2009) have been collecting the GNCC titles lately.

Webb also wanted to squash all rumors that Suzuki was ever considering getting out of racing or shutting down altogether. "I know, if you read stuff on the internet, there are rumors that we're going out of business or we're quitting racing," says Webb. "We're not. Suzuki will always will be racing. We've signed Metty to a two-year deal, so I think that shows our commitment. No ifs, ands, or buts—we're racing."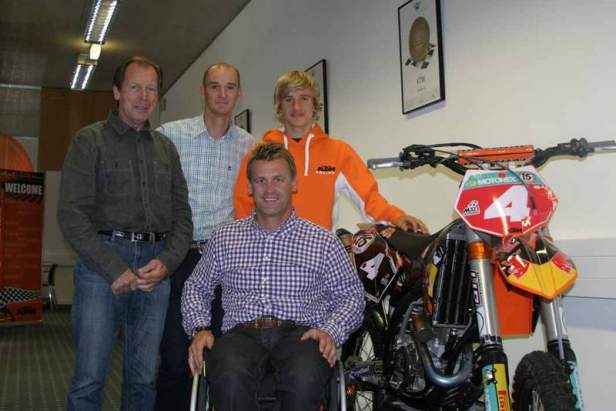 Ken Roczen and his new bosses at KTM.
Photo: Courtesy KTM



In other news:

Tyla Rattray got married last weekend in South Africa to his longtime girlfriend Samantha Noppe. Since the ceremony and all was on the other side of the world from where Tyla now works and lives as a Monster Energy/Pro Circuit Kawasaki rider, they posted some videos from the wedding, including the music dedicated to them by Adam Boyd of the band Wake to Wonder. This one is worth watching no matter what because of the insane photo of a Rattray crash from back at the GPs a few years ago, where he is almost literally straight up and down, and still hanging on the bars, feet on the pegs. It's about 30 seconds in:

Oh, and congratulations to Tyla on his new family and a great 2010 season.

The gang from Lincoln Trail Motosports in Casey, Illinois, are having a rider appreciation/Kohl Guffey benefit weekend October 30-31. Kohl Guffey is young rider who was paralyzed three years ago. He is trying to raise $65,000 to go to India and receive stem-cell transplants. He is currently going to high school and doing various fundraisers. Drew Jackson of Lincoln Trails says they will be having a silent auction October 31 with 100 percent of the proceeds going to Kohl. Stay tuned for more details.

Here's good news, we believe, for riders like Kohl who have been injured: The first embryonic stem-cell injections on human beings with spinal-cord injuries have begun at Shepherd Center in Atlanta, a rehab facility for patients with brain and spinal-cord injuries. A person was injected with the controversial cells in order to see if the stem cells would heal a severed spinal cord by reconnecting the nerves. It's some serious stuff, and if it works, wow....

Good to see Nick Evennou pop up on the cover of the new Dirt Rider. That's him on the KTM 150 SX. The Maryland pro was once a hot prospect on the amateur circuit, but bad luck and few breaks conspired to keep him on the edges of success as a professional. But Nick has always been a good guy, so it's good to see him on page one.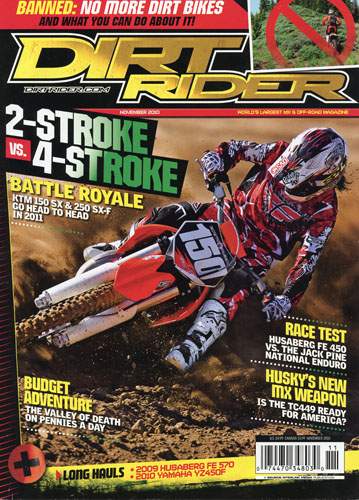 Nick Evennou on the cover of Dirt Rider


If you're a fan of the old school (and really, who's not?), you may want to check out Issue #2 of this new magazine dedicated to motocross before monoshocks: http://www.evotwinshock.com/


That's all for this week. Have a good weekend. See you at the races.