Privateer Profile: Chris Johnson
Washington privateer Chris Johnson was picked up by Rockstar Suzuki for a one race deal at Washougal, where he scored an impressive 14-17 for seventeenth overall and was close to being top privateer. At the end of the Nationals, Ben Lamay and Johnson drove from California to Southwick, Steel City, and then back to Pala. Nothing went their way, but Chris isn't giving up just yet. He earned national #79 for 2011 and hopes to get a plan together very soon for next season.


Racer X:
Chris, tell us a little bit about where you come from and the story behind your racing background.
Chris Johnson: I grew up in Washington state. I started racing when I was 5 years old. In 2001 I did my first WORCS race, and later that year I received support from Team Green. My main focus from then on was off-road racing. I won numerous amateur titles and did a few amateur nationals here and there. In 2006, I got podiums at Lake Whitney and Loretta Lynn's, and in 2007 I rode for the White Brothers Yamaha team. Later that year I signed a deal with Zip-Ty racing and went back to racing off-road. I now ride for SRH/Rockstar Suzuki, which is a privateer team for the WORCS series.
What is your deal for racing motocross nationals?
I currently don't have a deal for outdoor motocross—I'm doing it on my own expense, trying to get experience and put in good finishes to try to get support for 2011. My goal has always been to race supercross and motocross on a respectable team.
I noticed your name in the Washougal results. How did the couple races you did this year go?
This is the first year I've raced any nationals. I have been improving at each round I have competed in and my first round was Lakewood, Colorado. Then I went to Millville and Washougal under the Rockstar Energy Suzuki semi. Bill Keefe and Bobby Hewitt were kind enough to give me a two-round deal, where I had a top-twenty finish at Millville and a top-fifteen finish at Washougal. I've learned a lot at the nationals I raced this year.
What do you do for training and preparation during the week?
I spend a lot of time on a road bike doing recovery rides. I have a guy, Travis Woodmark, that helps me out with different workouts in the gym. My training changes periodically depending on what race I have coming up. I have to make sure my body is recovered before long two-hour WORCS races. Usually my week consists of riding three days a week and being in the gym three days a week.
What's your deal with racing the WORCS series?
At the beginning of the year, I put together a package of sponsors with another guy and started the SRH Suzuki off-road team. That's my primary focus this year, and so far it's been an up-and-down season with mechanicals and small injuries. I'm healthy now and ready to go.
I know Ben Lamay and you drove from California to Southwick, then to Steel City. How was that?
My initial reaction to that question is "Horrible," but it was a good experience. We had nothing but things go wrong. On the way there we had fuel problems with my van, and that carried on the whole trip. We never knew if the van was going to start and if we were even going to be able to make it home. We get to Southwick and both of us had big problems. I went a total of four laps and never got to put in a qualifying time. I ended up wrenching for Ben and taking him to the line holding a pit board and marker! We ended up rebuilding our bikes in a Wal-Mart parking lot and only rode one day before Steel City because we had to wait on parts. We get to Steel City, his transmission went out and my bike was getting really hot and not running right. So between the two of us, we only finished one moto, and it wasn't a good one because I had to nurse my bike in. The drive home wasn't a very happy one, that's for sure!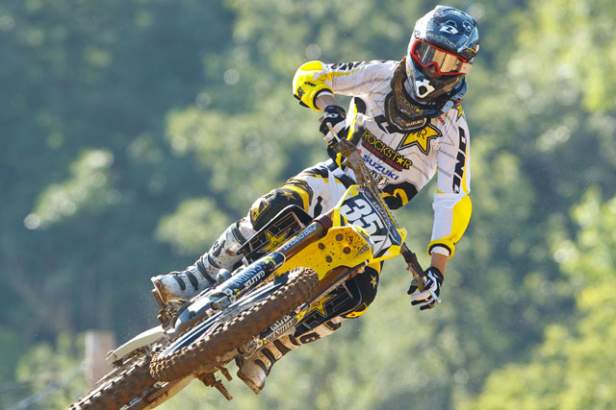 photo: Simon Cudby
I don't regret it, because we learned a lot and it makes us want to work that much harder. We were talking on the way home, and if everyone knew what we actually have to go through during the week, we would have a lot more help. Before Pala, Ben and I split his cases on Tuesday, and we both have never done a bottom end before. Between the two of us, we figured it out and put it back together.
How did you like the track at the Pala National?
I thought the track was actually really good! It got rough and there were different line choices. For being the first year and them preparing everything last-minute, I thought it was pretty good.
How did your weekend go at Pala?
Not so good. I had electrical problems in practice, got one timed lap in, and had to push my bike back. I swapped everything from my practice bike so I could race. The first moto I went down in the second turn and came from fortieth to twentieth. The second moto, I was having problems with my bike overheating and not having any power. It was a frustrating weekend.
So after Pala what did you do?
After Pala, I tore down my 250Fs and went through them and freshened everything up. I flew to Europe a couple weeks ago to do the last round of the British Championship for Samsung Yamaha. The race ended up getting canceled due to nonstop rain.
Do you plan on racing anymore races this year in Europe?
As of right now, I don't have any plans to, but that could change. I'd like to go over there again and do some racing. I've been riding supercross, and I'm hoping to get some phone calls!
How were your results at the WORCS races?
My best finish has been a tenth. I have the speed to be in the top five, but I need to put a whole race together.
Which series would you rather race?
If I could choose what I had to do, I would race WORCS and outdoors. The schedule works out pretty good and they usually don't have conflicting dates. I'm happy just riding a motorcycle. If I can make money doing that, it doesn't matter what series I race.
Who is faster—Ben Lamay or you?
Ben has more horsepower, so it's not fair!
Great job on earning #79 for 2011!
Thanks! It's a honor to earn a spot in the top 100 in America—but next year I plan on it being lower.
Anyone you'd like to thank?
I definitely want to thank my parents for supporting me, the whole Fingerlin family, SRH Clothing, The schmokes at Custom Decals, Rockstar Energy, Suzuki, Dr. D, Race Tech, Thor, Tagger Designs, Kicker, Bionic Evolution, Maxima, Leatt-Brace, ODI, Flexx Handlebars, Devol Engineering, Dunlop, GPR Stabilizers, Smith Optics, Sheehan Construction, Hot Cams, Vertex Pistons, IMS, Acerbis, Zip Ty Racing, Pro Wheel, Primary Drive, Tusk, Galfer Brakes, Hinson, Jim's Auto Sales, San Diego Powder Coating, Brux Racing USA, One11 Ink, and the Rockstar Energy Suzuki team.