The Metal Mulisha & Keeping Up With The Kardashians
Never thought you'd hear the names Bruce Jenner and Metal Mulisha in the same sentence? Well, you're wrong.

The former Olympic gold medalist, Wheaties cover boy and more recently, reality show star, brought his potential son-in-law, Scott Disick out to the Metal Mulishacompound in Temecula, CA for the filming of E! Entertainment's world-famous reality show, "Keeping Up with the Kardashians."

Mulisha founder, X Games champion and freestyle motocross pioneer Brian Deegan, along with teammates Ronnie Faisst, Taka Higashino and Derek Garland hosted Jenner and Disick for a "guy's day," complete with dirt bike and trophy truck racing around the large compound.

Here's a sneak peek and photo of the Kardashian crew mixing with team Mulisha. We're happy to report there were no broken bones, scars or stitches from the outing – only bruised egos after the Jenner vs. Disick truck race.

Find out more when the episode airs this Sunday (10/17/2010) at 10pm on E!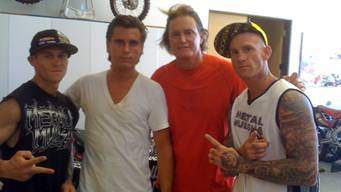 Photo: Shane Ruiz