Racer X December Digital Edition Available with new Interactive Content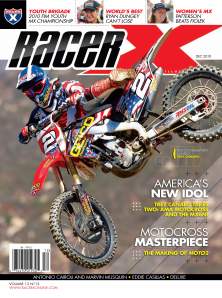 The new Racer X Illustrated is like nothing you've ever experienced. Throughout the December issue, you'll see a number of ToGoTag 2D barcodes. These link your camera-equipped smartphone to different kinds of interactive content: video, audio, photo galleries, and even a motocross quiz. To access the bar codes from your print editions, simply follow the instructions below. To access them from your digital editions, simply click the bar codes. If you subscribe digitally, this issue is ready for you now. Remember, not only can you read it on your computer, but it's also readable on iPhones, iPads, and iPod Touches via the free Zinio app.

Learn more about what's in this issue here.

Subscribe now digitally and read it now here.

Subscribe now via print.

To download the free Zinio iPhone/iPod app, click here.

To download the free Zinio iPad app, click here.
Print-edition Instructions:

1. Go to www.i-nigma.mobi on your smartphone. The website will automatically detect your device type and will download and install the free i-nigma app, which is available on hundreds of different phone models.

2. Open i-nigma on your phone and scan a 2D barcode in the issue using your camera. (Some phones scan without actually snapping the photo; others require you to take a picture of the code.) The one to the right is a good place to start, as it launches a video that explains this issue in more detail. Don't miss the code on the cover, too, plus many more throughout the issue. (While the additional content is free, carrier fees may apply.)

It's that simple. If your mobile phone is not compatible with i-nigma, or if you'd prefer to view the extra content on your computer, just log on to http://togotag.com/rxn and type in the 6-digit string of text below each 2D bar code—that'll bring up the exact same content.

We hope you enjoy the Racer X Illustrated Interactive Issue, which is made possible thanks to our friends at ToGoTag and The Innovation Lab. Let us know you think at letters@racerxonline.com.