Chase Sexton Sweeps Two 65cc Titles
Cobra's Chase Sexton sweeps two 65cc titles at Branson National on the CX65!
Sexton wins the 65 9-11 Modified and Open Through 11; Parker Mashburn dominates 7-8 50s with two titles
HILLSDALE, Mich., (Oct. 12 , 2010) – American-made Cobra Motorcycles' Chase Sexton (Illinois) and Parker Mashburn (Texas) were the big winners at this past week's 16th annual Branson USA National Motocross Championships, one of the country's biggest races of the fall season, drawing a reported 1,100 amateur MX competitors to the banks of the James River in the southwestern corner of Missouri.
Sexton, aboard Cobra's crate-to-podium CX65, was on fire in the 65cc 9-11 Modified and 65cc Open Through 11 classes, winning three out of four motos – including a Mod class sweep on his JMS/MXT-prepped bike - and the all-important second moto in the all-star Open class to secure that overall victory. And Mashburn was equally impressive, racking up two overall championships on his EBR Cobra King 50 in the 50cc Senior PW classes (Stock 7-8 and Mod 7-8).
"It's definitely cause for celebration at Cobra HQ anytime we can pull off a win versus the highly-funded foreign factory bikes," said Sean Hilbert, President of Michigan-based Cobra Motorcycles. "Congrats to Chase, Parker and the rest of the Cobra kids that competed this past week at Branson. Hit the school books hard and we'll see you in just over a month here at the Mini Os."
On the JR50 bikes Cobra was led by Oklahoma's Ramone Rusche, who won the Stock class and Missouri's Brock Lassiter who won the Modified class. Ryan Smith (Okla.) also ran well, bringing home two 2nd place finishes in those classes. Other Cobra riders with standout performances at Branson include: Tennessee's Kruz Sampson (2nd 6-9 Super Pee Wee, 3rd 7-8 50 Modified, 3rd 7-8 65 Modified), Missouri's Michael Hicks (4th 9-11 65 Stock), Washington's Ethan Mann (2nd 7-8 50 Stock) and his brother, Alex Mann (3rd 4-6 50 Modified).
For video on the Branson event link to:
Next up for the Cobra racers on the national circuit are the Mini Os at Gainesville's (Fla.) Gatorback Cycle Park, Nov. 22-27.
Cobra, founded in 1993, produces the most successful line of competition mini cycles and mini quads in the United States with more than 200 national titles in the last decade. Based out of Hillsdale, Mich., Cobra's mission is to build premium products for the serious racer. For more information on Cobra products, please visit our website at
www.cobramotorcycle.com
.
High Profile Public Relations (HPPR), LLC, is a multi-faceted communications agency specializing in strategic media relations – both industry and mainstream – for the powersports and action sports communities. Dialed in with all forms of power and action sports, its participants, manufacturers and live event promoters, HPPR's Pat Schutte can be reached at (734) 369-2170 and
pat@highprofilepr.com
.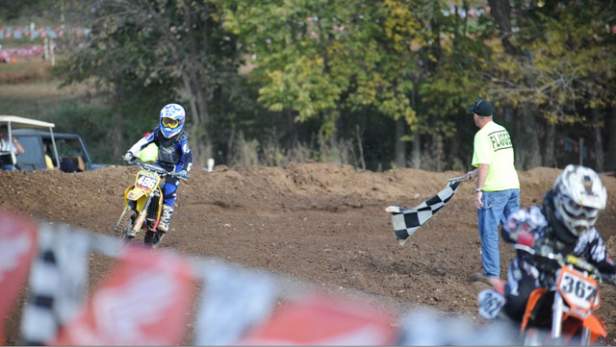 Photo courtesy of Motoplayground