Josh Strang: 2010 Can-Am GNCC Champion
For the first time in his young career, Josh Strang is an AMA National Champion! Strang was able to wrap up the 2010 Can-Am GNCC Series title with one round to spare and earned his eighth podium appearance in the process.

Strang came into the ITP Power Line Park event with a 29-point cushion and after an uncharacteristically poor start, charged his way into the fourth position by the end of the first lap. He would spend the next two hours battling for third place with his championship rival, Charlie Mullins, before taking the position a few turns before the finish.

"This was the toughest race of my life," said Strang. "I didn't get the start I usually get, I couldn't find my rhythm and Charlie was riding really good. I finally just put my head down and rode as hard as I could and I got him just as we came out of the woods before the finish. It was a heck of a race and it's incredible to win the title."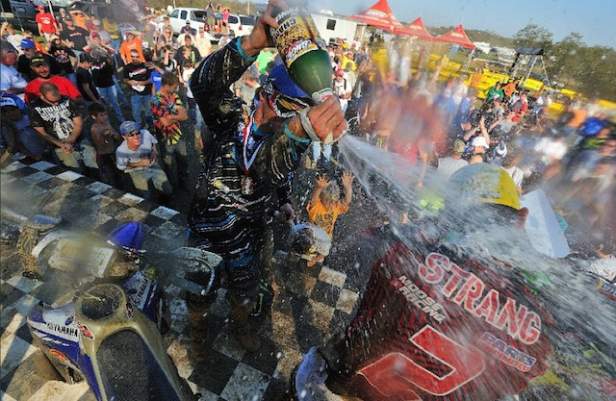 Photo Courtesy Shan Moore


Moose Racing would like to congratulate Josh on his championship winning ride and look forward to seeing him defend his title in 2011.

In XC2-class action, team rider Scotty Watkins earned his sixth podium appearance with a hard-earned second place.

Amateur team rider, Jordan Ashburn, took home yet another Overall Amateur Award and also earned his 10th win in the Open A division.

The 13th and final round of the 2010 Can-Am GNCC Series will take place October 23 – 24, 2010 at the Amsoil Ironman GNCC in Crawfordsville, Ind.

Be sure to stay tuned to MooseRacing.com for the latest race updates, gear and accessories. You can also follow us on Facebook and Twitter for the most up-to-date news from Moose Racing.

About Parts Unlimited
Parts Unlimited is the world's largest distributor of aftermarket accessories in the powersports industry and is owned by LeMans Corporation headquartered in Janesville, Wisconsin. Parts Unlimited sells to over 12,000 dealerships world wide and continues to expand its market penetration with its sister companies, Parts Canada, Parts Europe and Drag Specialties.

Parts Unlimited continues to promote racing through its campaign WE SUPPORT THE SPORT®, helping to drive consumers to dealerships, while entertaining its dealers through hospitalities at the events it sponsors.

About Moose and Moose Utility Division
As the industry leader in motorcycle/ATV parts and accessories, Moose has dedicated itself to providing riders and racers alike with the highest quality and best performing products available. With thousands of items ranging from riding gear, jackets and boots to gaskets, t-handles and fender bags, Moose has you covered. Whether you're trail riding with friends, hunting in the woods or jumping Supercross triples, Moose offers the most comprehensive list of products in the industry to satisfy all your riding needs.