Adams Claims X-Fighters Title For Pro Taper
Corona, CA – For the second year in a row, Pro Taper's Nate Adams laid claim to the Red Bull X-Fighters World Title. Adams secured the championship last weekend with a solid third place finish at the tour's final stop in Rome.
The year's finale took place in front of a capacity crowd of 20,000 in Rome's Stadio Flaminio. A mere five points separated Adams and fellow Pro Taper rider Andre Villa leading in to the last event. At the end of the night, the two would find themselves going head to head for the final podium position in Italy and ultimately the World Title.
Adams emerged victorious and took home third place honors on the weekend and his second Red Bull X-Fighters World Championship in a row.
When pulling tricks like 360s and countless flip variations, Adams relies solely on the same Pro Taper Contour Handlebars, Race Spec Sprockets, PT520MX chains, Twister Throttle tubes and Synergy grips that you can pick up at your favorite Tucker Rocky dealer.
Pro Taper would like to extend a huge congratulations to Nate, as well as the rest of our loyal FMX crew for a great season!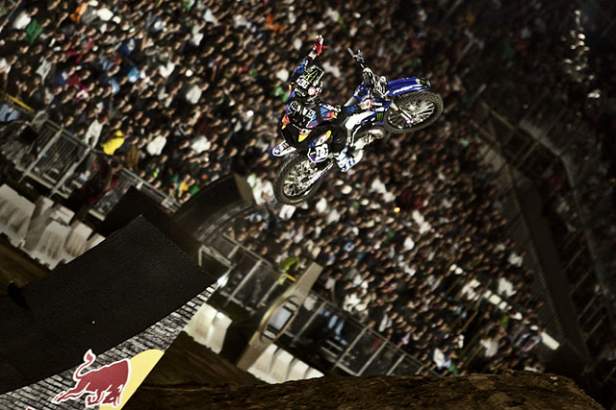 To keep up on all things Pro Taper:
About Pro Taper:
Founded in 1991, Pro Taper revolutionized the motorcycle industry with the introduction of the 1 1/8" Taperwall handlebar. Since it's inception Pro Taper has set the standard in which all other motorcycle handlebars are measured against.
Pro Taper is constantly evolving and pushing innovation to the next level. Now offering a full line of quality product that includes everything from chains and sprockets to billet triple clamps and footpegs. Year after year Pro Taper continues to dominate the off-road motorcycle industry.
The confidence instilled by Factory Race Teams, such as Rockstar Makita Suzuki and AmPro Yamaha, bleeds all the way down to weekend warriors looking for the highest performing and longest lasting products on the market. Pro Taper stands for unsurpassed quality and a perpetual commitment to excellence.
Pro Taper
Take Control