5 Minutes with... Vicki Golden
Although it may not quite be the WMX Championship series that she wanted it to be, Vicki Golden should be proud of what she has accomplished this summer. The 19-year-old from California finished up fourth in points for 2010 – in only her second year as a pro. We recently caught up with Vicki to learn more about her year.
Racer X:
Vicki, you finished the WMX series fourth in points behind the trio of Patterson, Fiolek, and Gieger; talk about your season.
Vicki Golden: My season has gone somewhat differently than it did last year. I did finish a lot more races this year, so that was good. But my race speed has just not been the same as my practice speed, so I've just been struggling some with that. If I could figure out how to turn my practice speed into my race speed I know that I would be doing a lot better. But that's been the "what if" of my year; trying to gradually increase my race speed. I know that it won't happen overnight, but that's what I've been focusing on.
Still, you're just a few clicks off the pace of the top three women, and in fact took a third overall at Pala.
I guess, in that sense, I am doing okay, and getting on the podium at the series finale was great. But I want to always be in front mixing it up, and hopefully that will happen sometime soon! I have been in a comfortable position, but I just want to keep trying to get closer to the front.
I can appreciate that, but still you are only in your second year as a WMX pro. Actually, only last year you were awarded the WMX Rookie of the Year honor's right?
Yes that's right, but actually this has been my first full season as I missed some races due to injury last year. So this year I have been pretty excited to finish out the entire season. It's been great to be healthy this summer, and compete in all the races.
At the beginning of 2009, you were a full on privateer, but later you got to ride Trey Canard's GEICO Powersports Honda when he was injured. This year, you were sponsored by Moto Concepts Yamaha, so what's it like being on an established team?
Riding Trey's bike last year was great! Of course, it was unfortunate for Trey to be injured, but nice for me to get that opportunity, and experience. Coming over to Moto Concepts this year has been such a great experience. I really love being here; everyone on the team has been so great to be around. The professionalism and support that you get here has been amazing.
What's really impressed me with the WMX series this year has been how many of the pro teams have picked up women riders...
That's right! So many of the girls this year have been on awesome teams. It's definitely been a big step forward from last year. Since Ashley Fiolek got her initial factory ride a couple years ago, it has really opened the door for a lot of us. It will be exciting to see how much more support comes to us girls next year.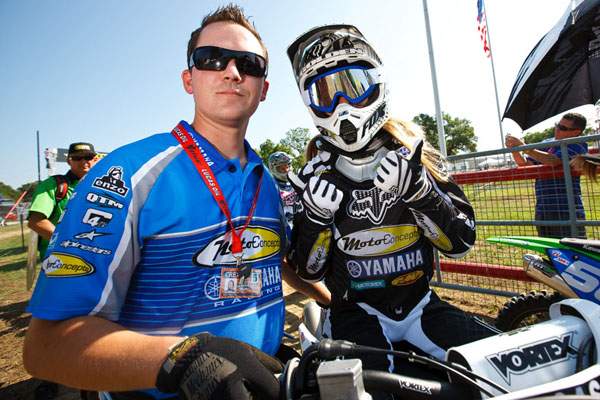 Vicki Golden and her mechanic Ben Hertel getting ready for battle at Freestone.
Photo: Simon Cudby
Since the series is now over, what do you have planned for the rest of 2010?
I'll still stay on the bike, but probably do a lot more fun type of riding, liking going out to the hills and just riding with friends. I know a lot of the freestyle guys, so I'd like to do some ramps and stuff like that. The big thing will be to stay on the bike and just develop more "bike skills".
With that said, let's wrap up with who you want to thank...
I definitely want to thank the entire Moto Concepts Team; they have all been so helpful and given me 100 percent. I've been amazed to see how great this team works together. Also, I'd like to thank DVS, my trainer Rob at X-Factor, my manager Ben Hertle, Miki Keller (who is my agent), my parents and brother, and anyone else that I may have forgotten!