Privateer Profile: Kyle Summers
Things didn't go the way Kyle Summers had hoped in 2010. A combination of crashes and bad luck took him out of contention in the WORCS series, and an admitted lack of preparation prevented him from achieving his potential in the AMA Nationals. Summers has been splitting his time between Colorado and California lately and is hoping for a better 2011. We caught up with him in the pits at Hangtown after the Dodge Amateur Nationals, where he had just trounced the competition in the 450 pro division by winning every moto of the event's three-moto format.
Racer X:
How did 2010 go for you?
Kyle Summers
: Not super good. I was on Valli at the beginning of the year for WORCS. I did a couple WORCS races, and I was kinda up at the front, top-three speed—and a couple of them I was in podium position—and ran out of gas at two of them. Another one I crashed and got hurt at. I took time off from that and went back to Colorado and pretty much chilled out for the summer. Then the owner of Vali called me up before the Lakewood National and asked if I wanted to ride [Michael] Byrne's bike—Byrne had gotten hurt. So I rode Byrne's bike at Lakewood and went 18-18 there, so it wasn't really that good of a finish. The round before that I went down with my dad in his box van and just rode my dad's stock Yamaha 450. I qualified like, twentieth or nineteenth in Texas, then just died from the heat. I was out of the top thirty. I was super out of shape and just tired. The stock bike wasn't good for me. I've just been back in Colorado pretty much just chillin' out doing nothing all summer. I've still been training, running a little bit here and there, and doing stuff back there, but not really riding or anything, just riding for fun here and there. I've been out here [in California] working with this Josh Van Den Heuvel kid, riding his KTMs, his practice bikes. They asked me if I wanted to ride Dodge. They signed me up and I just jumped on his practice bike and came out.
What would you say your highest point of 2010 was?
Definitely this race. To come out here and go 1-1-1 in the 450s was pretty good for me. It was definitely tough—I hadn't had much practice. I've only been training for like a month and only ridden a couple times. I mean, I feel good, I feel strong, and my diet's really good and I've been training. I feel good. Definitely, this was a good race for me, a good confidence booster.
What was your lowest point?
Probably after I quit Valli—I think the fourth round of WORCS—and I wasn't ready for outdoors. I didn't have anything lined up. I borrowed Bobby Bonds' bike, went up to Honey Lake, wadded on the first lap, and knocked myself out. Then I went back to Colorado and did nothing.
You're normally a WORCS rider, but you did some Nationals. Was that contractual or just something you wanted to do?
Just something I wanted to do for fun—I wasn't under contract or anything. I pretty much just rode his bike. It was no big deal.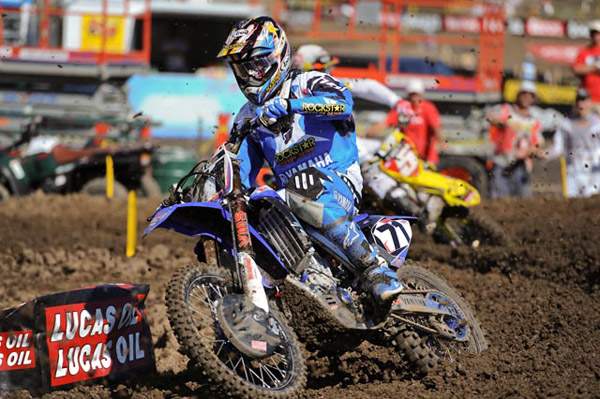 Kyle Summers is sort of a two-sport moto athlete, competing in both motocross and WORCS events.
Photo: Steve Cox
Are you going to race any supercross or motocross in 2011?
No, I don't think so, not any supercross. Hopefully motocross.
Do you know what team you will be on or what kind of support you will have?
They're trying to put something together with me and Josh for arenacross. Hopefully, we get something put together for that somehow.
Who do you want to thank?
Thor, Alpinestars, and Arai.