It was a great weekend at the Red Bull Motocross of Nations—the racing was really good, the presentation really good, and the whole vibe positive. I know it's all been hashed and rehashed to death in the last five days, so I will spare you on all that. But I do want to offer a couple of my personal observations to lead off this week's Racerhead about Team USA's Ryan Dungey, Andrew Short, and Trey Canard, plus The Man and some of the top GP riders.

First of all, Ryan Dungey is the new boss. He's the fastest man on the planet right now. Hell, he's better than all of the MX2 guys too! Seriously, for 2010, the guy won the two major two titles on the AMA circuit, ten AMA Motocross Nationals, eight AMA Supercross mains, and then went 1-1 in the Motocross of Nations for his motos. (I know my bench-racing buddy McCread will say he lost on Saturday to Tony Cairoli, but that's like winning practice. Sorry.) No matter how you slice it, the Rockstar/Makita Suzuki rider was the overall winner of 2010.

All that said, I have no doubt that James Stewart, Chad Reed, and Ryan Villopoto will make it much harder on Dungey in 2011, because they were not able to put in a full year, let alone a healthy full year.

And Tony Cairoli is just ridiculously fast. There have been a lot of excuses, and some are very good points: asthma, altitude, ankle, a minus-100cc.... But he came here to beat Dungey, and Ryan went there to beat him. The bike Dungey rode was not even as trick as the bike Clement Desalle rode all year (remember when he couldn't use his works fork at Unadilla?) and he pulled a massive holeshot in the heat race, so I don't get that the 350 caused him to lose this race.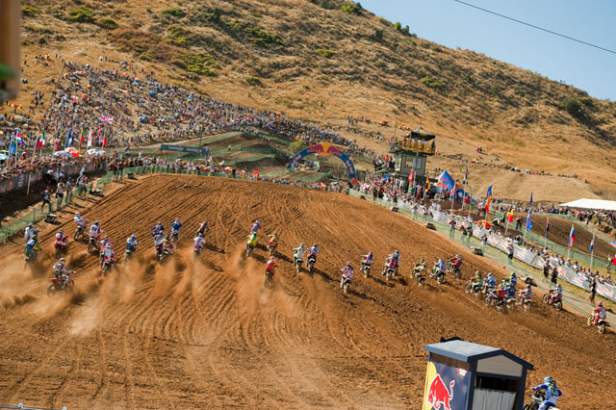 Thunder Valley played host to the 2010 Red Bull Motocross of Nations.
Photo: Steve Cox

But I do get this: Cairoli smashed the top of the quad on the fourth or fifth lap of the first moto and really wasn't the same after that. But he was trying to jump that thing out of the inside jump-turn before it, not railing the outside like the 450s were. He was putting himself at risk with that inside line, and he paid the price in the end. (Of the several changes Youthstream made to the track, that quadruple was the only one I really didn't like.) Cairoli is a warrior, and I have no doubt he could contend for outdoor wins and titles the day he showed up, but I also believe the same can be said for Ryan Dungey going over there, absolutely.

Ben Townley blasted past Andrew Short in the second moto and caused a mini meltdown on the message boards—and even at the race among Team USA fans. I did not see the crash, but I have seen the film and a very good photo sequence of it. Shorty wasn't too happy about it, and what he did to scrap for points after getting drilled and breaking off his clutch lever was downright inspiring. But Ben explained it best with his Racer X Online interview with Steve Cox: LINK.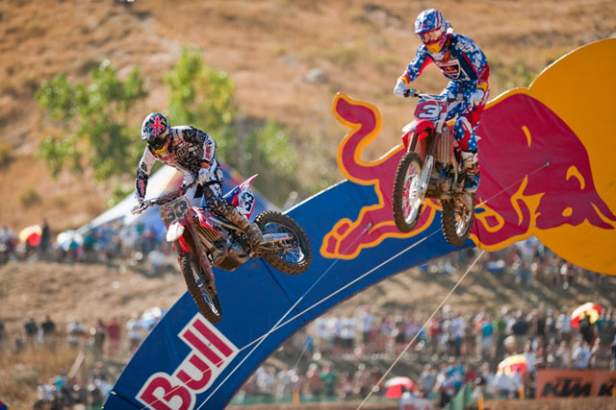 Photo: Steve Cox

"I was going for it. I wanted to win... I thought he would let off, yeah. Maybe he didn't know I was there. I don't know, it's racing. It's motocross. It happens and I don't know what else to say."

I can appreciate that, especially from someone like BT101, who's been through hell and back in the five years since he won the MX2/MX3 moto at Ernee, France, at the '05 MXoN. But I also feel that he should be ready to take it, too, whether its Mike Alessi at the USGP or Andrew Short when the payback happens. Live by the sword, die by the sword....

That said, I was super pumped for Ben to get that moto win, for the whole Lucas Oil/Troy Lee Designs team and for Tyler Keefe and of course David Pingree, who's no longer with the program but got a great, drunken call from the whole team on Sunday night.

One thing about Short: He's not the first guy to be on a winning Team USA, only to end up not re-signing with American Honda (if that's how it all turns out in the end). It also happened in 1982 (Jim Gibson), 1985 (Ron Lechien, though there was more to it than that), 1986 (O'Mara), and just last year with Ivan Tedesco.... Speaking of O'Mara, did anyone else find it interesting that he was the only member of Team USA '81 that did not attend the MXoN reunion? Danny LaPorte, Donnie Hansen, and Chuck Sun were all there to celebrate the Heroes and Legends reunion of the team that turned the motocross world upside down, but no O'Show.... It's not what you think. In fact, I imagine his absence was linked to another big story that may soon break here. Stay tuned.

By the way, what color bike do you think Andrew will end up on? Vote right here in this week's Racer X Online poll.

We got a note from the fine folks at Gear Racewear that the sold-out "Flag" Motocross of Nations T-shirts are now in stock on their website, along with the 2010 Team USA shirts. Check them out. www.GearRacewear.com



Next is Trey Canard. He did not win a moto—not even close—after some early crashes and problems (and sorry, can't count Saturday's qualifier). But he rode his butt off and did all he could to help Team USA win. Everyone left talking about the sensational Ken Roczen, and with good reason. Like Townley said, "That little German @$!%! is a fast one...."

But Canard never had a chance to race with him, nor did Marvin Musquin, who had the worst MXoN day for a top contender since RC in Brazil in 1999. Dean Wilson did, but I think Deano was a little spooked after getting caught up in that netting on Saturday and getting sent over the bars. I was blown away by Roczen's speed like everyone, but don't crown him AMA or GP champion just yet—those titles belong to Canard and Musquin. But he did win the MXoN in his class, both motos, and he was fantastic in the process.

The best part of my weekend bench racing came not at the Marriott hotel lobby on Saturday night with DV12, Johnny O'Hannah, EJ, Cherie Reynard, and more, but rather when RC showed up and we went to the Red Bull Energy Station to say hello to his old friend Stefan Everts. The two sat there and chatted for maybe ten minutes about life, kids, racing, etc. Heinz Kinigadner also came along, as did Pit Beirer. And then RC looked around and said, "Hey, where's my buddy Smets?" Joel soon came along too, and an all-time bench racing session broke out among five of the fastest men in the last thirty years of motocross. It was cool to witness.

I also want to mention what an excellent ride Puerto Texan rider Kyle Regal had at the MXoN. He was just flat-out flying in the second moto and showed that his AMA Motocross results are no fluke. I'm not sure where Regal is going to end up next year, but he could win races outdoors—I truly believe that.

And congratulations to Brett Metcalfe for a great ride leading Team Australia throughout the weekend. Metty was solid, finishing third in that first MX1/MX2 moto. He's only getting better as he goes along, and I really hope some wins come his way in 2011.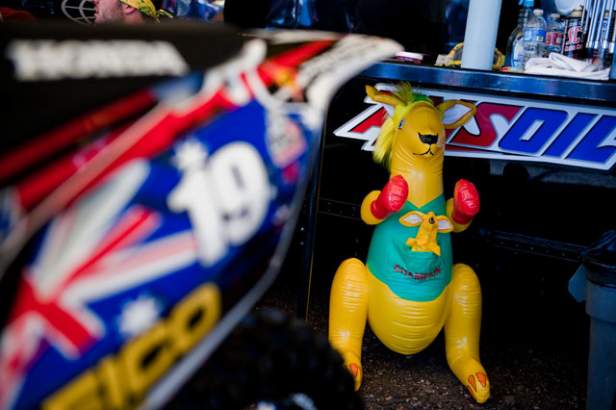 Sheena Metcalfe (Brett's wife) supplied the team with a few mascots...
Photo: Steve Cox

Finally, here's my annual push to get something at the MXoN named after Roger DeCoster. He has won more times in that event as a racer and a team manager than anyone. I know they will never take Peter Chamberlain's name off his own Cup, but there's got to be some individual overall honor or something that can have The Man's name on it. He helped get America back involved in the event way back in 1981, and he did it again in 2005, after Team USA skipped the '04 event and seemed like it might not go back. The Motocross of Nations is about bringing the motocross world together, and DeCoster has made a lifetime out of doing just that—as a racer, a manager, and a motocross ambassador.

Staying on the international stage for one more second, check out this inspiring story about Iranian motocross Nora Naraghi, who was at the MXoN as a spectator. LINK.

Now here's Ping:

Somewhere, Geoff Meyer is crying (knew that was coming). And to him I would like to say, "Ha ha. You owe me five bucks."

Ryan Dungey is the fastest guy on two wheels right now. I'm sure Stewart and Villopoto don't like to hear that, but until they can show up and beat him, they are going to have to deal with it. I've been listening to people all summer say that Dungey isn't going that fast. They suggest that the class is just thinned out from injuries and Ryan is in better shape that the other riders and outlasts them. Well, the last part is true, but they have it all wrong about his speed. Dungey is one bad man on a dirt bike. Congrats to him, Shorty, and Trey for a job well done.

There are a lot of people extra-pissed about the incident between Townley and Short, and they're voicing their opinions on various websites. I haven't seen badmouthing like that since McDonald's took the McRib off their menus. I've been searching for multiple angles of the contact, so if you have something other than what was shown on the internet broadcast, send it over.

This puts me in a tough spot because, as most people know, I bleed red, white, and blue. On the other hand, I know Ben well enough to know he doesn't race dirty—knocking someone down isn't his style. He told me after the race that Short blew past the inside line and Ben dove into it. When Andrew turned back in, he hit Ben's bike right near the footpegs, which means Ben had at least a wheel on him. It was a bummer for Andrew, but something tells me he would have done the same thing if the Alpinestar were on the other foot. Those are just my thoughts; send your hate mail to DC.

In case you missed the press release this week, Travis Baker has signed a two-year deal with the Troy Lee Designs/Lucas Oil/Honda team. I've been keeping an eye on Travis all year and started talking with him in July about joining the TLD squad. A lot of you might be saying, "Wait, Travis who?" Just remember the name, folks. This kid is the real deal, and he's going to surprise everyone in 2011. You heard it here first.

Troy Lee and Travis Baker.
Photo courtesy TLD.

Other silly season news: Moto Concepts is getting their team locked down. Le Cobra is now at the helm after an awkward credit-card debacle the with former team manager. Tommy Hahn is moving over there since his former team will be a Lites-only effort for 2011. And joining Hahn is Kyle Chisholm and 250 West Region AMA Supercross champion Jake Weimer—at least that's what the rumor mill says out here. That would be a great lineup for the relatively new team, which already has a 450 podium to its credit.

Davi Millsaps to JGR is a done deal. Hopefully, Jeremy and the guys back there can get the best out of Davi, because I don't think we've really seen it yet. Justin Brayton will stay and join him there. Still waiting to hear where Reedy will go, what Hart & Huntington is doing, and who L&M will hire. And then there's Pourcel, Shorty.... I thought this silly season would move quicker than last year's, but apparently not. Let the speculation begin.

Lets turn it over to Steve Cox:

This isn't just the end of the week, or the day of Racerhead. At least not to a good buddy of mine. To GuyB, from VitalMX.com, today is his 50th birthday. Doesn't he look amazing for 50? I wouldn't guess him a day over 49 years, 11 months, myself. Congrats on making it this far, GuyB, despite your downright scary motorcycle-riding abilities.

I know it seems surprising that Andrew Short is unemployed for next year (so far), but it's true. And it's not as if he doesn't have offers, but the problem is that the offers going out to some guys like Short, or like Tedesco last year, are for very little to no money. Now, while some of the more cynical fans will sit back and say, "They should do it for the love of it!" Well, yeah, and they do, but that's not all that it's about. They are professionals, so it's their job, and I assume most of you working out there in the real world don't work for free, either, do you? And one thing that is rarely considered for guys at that level is the amount of money it costs for them to go racing out of their own pockets just to start with. These racers have property and tracks to maintain at their own expense, trainers to pay, other team members to pay (agents, lawyers, wives – kidding! Sort of…).... In the end, they could be out 100-150K just to go racing in a year, so if a team offers less than that, racing is a money-losing proposition, and if a team offers the same amount or barely more, it's a very small amount of money to be risking serious injury for.

So, fans, keep this in mind before you decide to come down on the racers, huh?


Trey Canard
should be out in SoCal getting in some seat time on his new CRF450R. Hopefully, I'll have some film for you guys next week. It should be good.
I was on the PulpMX show this week for the second time (although I haven't actually been invited for any of the shows I've been on). So if you want to hear me make an ass of myself (or of my friend MeMe), check it out.
HERE
.
More history went down than was obvious at the Motocross of Nations, as it marked the last day of work for Roger DeCoster at Suzuki. He'll be taking the reins of the KTM team for the next few years, after which he is likely going to retire. But if things go the same at KTM as they did at Honda in the '80s or Suzuki in the 2000s with DeCoster in charge, you can expect to see a lot of orange up front within the next three years. I would also bet that, even if
Ryan Dungey
and Mike Gosselaar stay at Suzuki for 2011 (which they both are likely to do), they'll probably both join DeCoster at KTM after that. Just a guess.
And while my friend David Pingree is saying
Jake Weimer
is joining Moto Concepts Yamaha, I'm going to go out on a limb and say that's not likely the case – at least not yet. My bet has him going to Monster Energy Kawasaki alongside good friend
Ryan Villopoto
, and considering that new team manager David Vuillemin texted me asking for Weimer's phone number last Monday, I'm kind of skeptical that they had enough time to not only work out a deal, but get everything all signed.
But that's what's awesome about Silly Season, isn't it? We all hear things, and we all start looking around at things and linking this with that, but in the end, none of us really know. It's a lot of rumors and a lot of guessing. In the end, we'll know for sure when the press releases come out.
In photos of the post-race celebration from the MXoN, some of you may have noticed that
Trey Canard
has what looks like a puncture wound above his left eye. Well, it IS a puncture wound. Belgium and Germany got the corks out of their champagne quicker than the US team did, and when they began to spray Team America, Trey ducked – right into his sprocket-shaped trophy. We came within an inch of Trey possibly damaging his eye!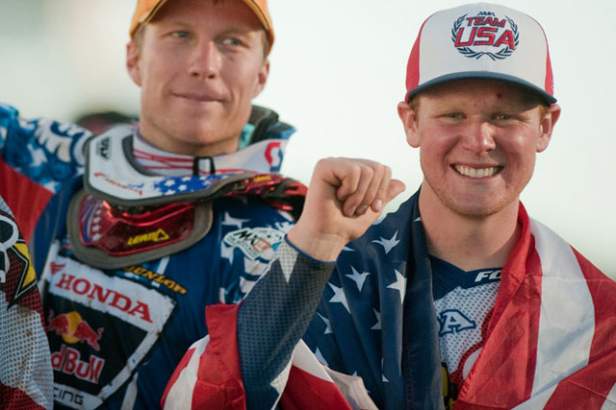 Check out that wound above Canard's eye.
Photo: Steve Cox

Also, I wanted to give a shout-out to the two biggest Team USA fans I met at the MXoN. I ended up in line behind them at the airport going through security, then later found a picture I had snapped of them. They're the guys in the Mad Hatter USA hat and the Red/White/Blue afro wig. They had never been to an MXoN, but they had seen pictures and figured most of the people would dress up in USA outfits like that. But, you know, this isn't Europe. I told them they need to make sure they make the trek to France next year and wear similar outfits. Nice meeting you guys! I'll look you up when I get back to Vegas.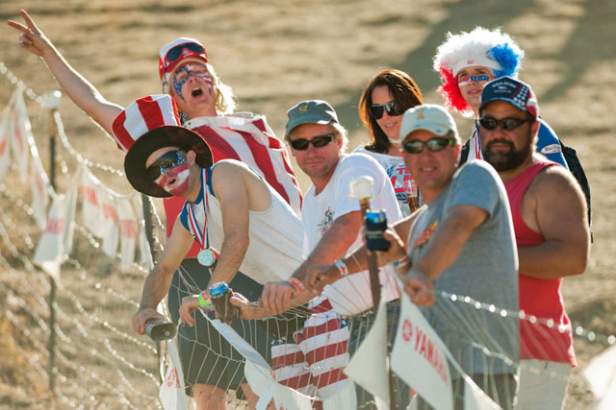 These fans from Las Vegas were looking good.
Photo: Steve Cox

Now let's throw it over to the Weege:

KTM might have the great old names in DeCoster and Stefan Everts on board to run the show, but to KTM has also totally cornered the market on young international talent for the next few years. The list starts with 2009 and 2010 MX2 GP Champion Marvin Musquin, who will race in the U.S. full-time next year. They've also snatched Ken Roczen from Suzuki (perhaps you noticed Roczen at the Motocross of Nations?). Roczen will race some SX here in the U.S. next year and then try to grab the MX2 crown in Europe that Musquin is leaving behind. Roczen took second to Musquin last year in a close championship fight, so he's the odds-on fave for the crown.

And once Roczen heads here, as soon as 2012, KTM already has the other fast 16-year-old from Europe on board—Dutchman Jeffrey Herlings—so don't be surprised to see Roczen full-time in the U.S. in '12, and Herlings the next. They've grabbed the talent early, not unlike what the GEICO Powersports Honda team did in the U.S. by signing Trey Canard, Blake Wharton, Justin Barcia, and Eli Tomac a year before they each turned pro. The plan paid off for the Honda team this year, when Canard landed the squad's first AMA 250 Motocross Championship, and the whole gang even went 1-2-3-4 in the first moto at Unadilla.

And now that Canard is leaving for the 450s, the team is reloading the deck with more hot prospects. I'm hearing Justin Bogle, the only rider to win all six of his motos at Loretta's this year, will race for the team as an amateur next year and, presumably, as a pro in 2012. They've also got Wil Hahn on board to fill Canard's spot in 2011, plus Barcia and Tomac.... Not sure where that leaves Blake Wharton.

Signing this talent so early seems to be the only way to battle the Monster Energy/Pro Circuit Kawasaki squad, which has owned U.S. 250 racing for the last, what, decade and a half? Mitch Payton's team has always been tough, but ever since they got their hands on KX250F four-strokes, they've bordered on unbeatable. But tough luck for Christophe Pourcel the last two years outdoors has finally allowed other teams to break through. Now these other teams are trying to make sure the next Pourcel—and Canard—ride for them, not Mitch.

Of course Payton does have his own young gun in Dean Wilson, who represented well in Colorado over the weekend with second overall behind Roczen in the MX2 class. Roczen was just in the zone over the weekend, but no doubt Wilson, after a great rookie season this year, could be the man in the U.S. next year.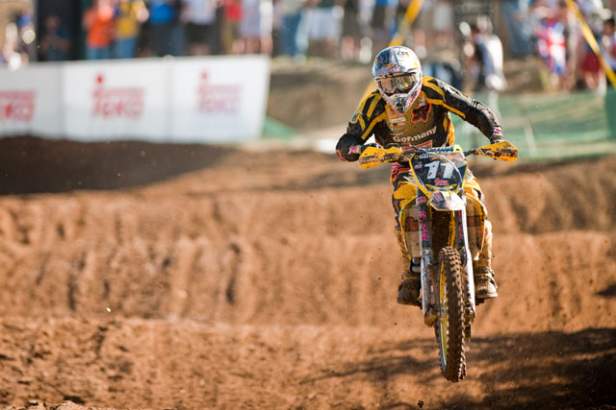 Ken Roczen is the real deal.
Photo: Steve Cox

So who will take DeCoster's place running Suzuki's program? I've heard a rumor that Mike Webb, the longtime team manager of Suzuki's off-road program, is in the running. You folks on the moto side may not know that much about Webb, but I've worked the GNCC beat long enough to know him well, and I'd say he's an excellent candidate. Over the last twenty years, Webb has built Suzuki's off-road program into arguably the best in the nation, claiming countless titles with Rodney Smith and closing on another GNCC crown this year with Aussie Josh Strang. Three years ago, Strang was an unknown and everyone wondered why Suzuki signed him. Now Webb and Smith have molded him into a champion. It's not unlike what DeCoster and Ricky Carmichael did with Ryan Dungey.

Webb's the kind of guy who will fight for his team, fight for his riders, and won't accept being an also-ran. I don't know how close this deal is to being done, and anyone filling in for a someone nicknamed "The Man" will have big shoes to fill. But I think he could handle it.

Thanks, Weege. Here are some closing notes:

Jim Moe - longtime DDNMC volunteer for the HangTown Classic and a dear friend to motocross - was seriously injured in a race on September 25. He is under sedation at a hospital in Marysville, California, with collapsed lungs, a head injury, knee injury, and numerous bumps and bruises. Jim will fully recover in time, but in the interim there will be a fundraiser at RiverFront MX Park in Maysville on October 23.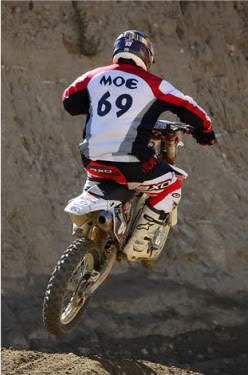 And reiterating what Cox wrote, here's my own happy birthday to GuyB of VitalMX.com. GuyB is a longtime reporter in the action-sports world and wields a strong trigger finger and a good eye in race photography. He also has the sometimes-thankless job of patrolling the waters of the shark tank the Vital forum can become, but his even temperament goes a long ways in that part of his gig. Happy 50th, Guy, and enjoy the off-season.... Well, if there really was one anyway. We all love trying to decipher which rumors are true and which ones are false, but GuyB has been compiling a list of silly season teams. Take a look. HERE.
The fourth and final round of the Matrix Concepts MXoN trivia ran last week, and the winner is Ruskin, Florida's Brian Babernitch, who will receive a limited-edition Matrix Concepts Team USA pit mat and stand. We've gotten a ton of responses and all positive feedback, so a special thanks to the guys over at Matrix for hooking up our readers. Give their website a look at www.matrixracingproducts.com.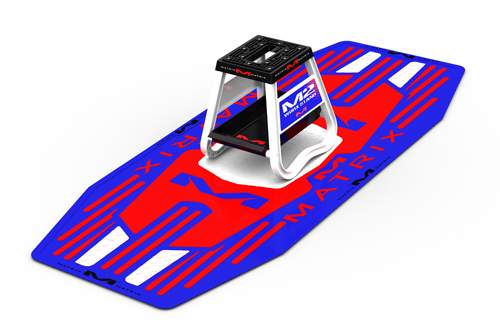 We also want to thank the folks over at MotocrossGiant.com who have also been supplying us with swag for weekly trivia. Be sure to check out their website for fantastic deals every day.

Did you check out today's Old-School Moto Photo of the day on the Racer X Facebook page? It's Tommy Croft leading the pack at the '78 Lake Whitney National and it involves some deep trivia.

But in digging up some results from that race, I realized that the '78 500cc AMA Motocross schedule included ten rounds, of which just two - RedBud and Mt. Morris - are still on the current outdoor schedule. Gone are, in order:
Lake Whitney, TX
Sonoma, CA
St. Peters, MO
Atlanta, GA
Escoheag, RI
St. Joseph's, MO
Charlotte, NC
St. Petersburg, FL

Yes, three Saints used to be on the schedule!

That's it! Thanks for reading Racerhead. Well done, Team USA! See you at the races.