Privateer Profile: Kyle Regal
Kyle Regal's name definitely should be near the top of the 2010 AMA Motocross Championship's success-story list. How often does a full-on privateer make a 450-class podium? Not many. This summer, the 19-year-old took moto and overall podiums, despite several hard crashes. Then, at the 2010 MXoN, Regal took an impressive second place in the second (MX1/MX3) race – which is where we caught up with the Michigan native, now residing in Texas.
Racer X:
Kyle, since we are here at the MXoN, let's hear how it came about that you're racing for Team Puerto Rico.
Kyle Regal
: Well, Gary Bailey contacted me at
Unadilla
and said that they were looking for another rider, and since they are a U.S. territory, that I could race. So, right there, I said to count me in; I was 100-percent for doing it! Ever since then, I have just been digging away and training for it.
You set some pretty decent laptimes in practice and qualifying, then took second in your first moto. You must have felt pretty happy with that.
Yeah, I did feel pretty good after setting the second-fastest lap in timed qualifying. Of course, taking second in the moto was great, but I was more focused on us doing well as a team.
Had you needed to make many changes to your bike from racing the nationals to the MXoN?
Just a little bit. It was really just some minimal changes with the fuel injection. Not too much.
Okay, let's return to the 2010 AMA Motocross Championship: You may have had a couple motos where you crashed out, but on the other hand you also put in some incredible rides.
I think I'll say that I'll just take the good from the bad, and I had a lot of bad. Hopefully, next year, I will just replace the bads with the goods. I finished ninth overall this year, and I want to be top five next year. We'll see, but I definitely think it's reachable.
But you got on the podium several times and beat many established "factory" riders!
I don't know, I rode with many of them the year before when I was riding for Vali, so it wasn't really anything new, or that big of a deal. I got some top-fives last year and knew that I could get on the podium this summer if I worked hard. I guess that you're right, that I rode some good races this year, but I also was in contention a few times when I let it slip away. So, in a way, my season was a bummer, but as I said I will take the good from the bad, and improve next year.
I don't know if you saw this in one of the other magazines, but they claimed that some of the Kawasaki guys referred to Chad Reed's Epstein-Barr as the "Epstein-Regal Virus" after you passed and beat him during one of this summer's motos.
I haven't seen that article, but Chad's a good guy and I like him. I am definitely not going to put anything down on him; he's obviously been sick. I do not see Chad Reed as a quitter; no way! I don't believe half the things you read about a rider like him. You have to believe the rider because he's the one going through the things, not someone on the sidelines. Like I said, he's a good guy, and I like him.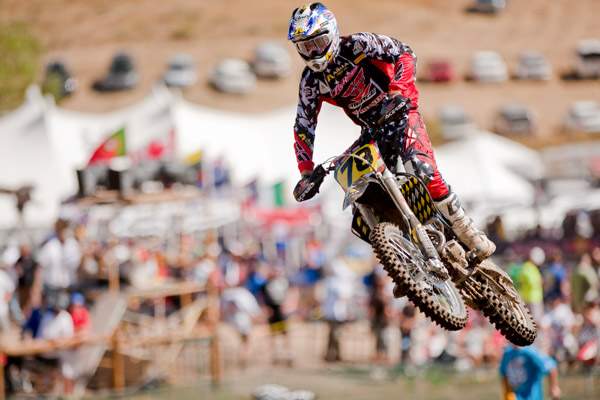 Kyle Regal and teammate Zach Osborne helped Team Puerto Rico to qualify third for the MXoN final.
Photo: Steve Cox
Let's move forward: I would have to imagine that you have some teams after you for 2011, so can you say anything about your plans?
No, I cannot really say right now. I am talking with someone for a deal that I hope works out, but you never know until it's done! I just hope to have gotten some more notice by racing here at the MXoN, because there are a lot of Team Managers from all over, and I hope that it will open some doors. Hopefully, in a couple more weeks, things will get resolved. I'm sure that I will be happy wherever I go and get some good results.
Let's end this with the people that you want to thank.
I'd just like to thank everyone that helped me out: Jim Lewis and Michael Holigan at Merge Racing, Honda, my mechanic Dylan (Turner), my driver, Fly Racing, Western Power Sports, Pirelli, Renthal, and later in the series ARMA. It's difficult right now to remember them all as there are so many, but these were probably the main ones that are there every weekend working as hard as I do.