Over the past few years, Ben Townley has begun to be considered "one of us". Yeah, he's from New Zealand, and proud of it, but he's such a likable guy that he just fits in. When he left Europe, there was almost a wake for him, and the feeling is mutual here in the USA.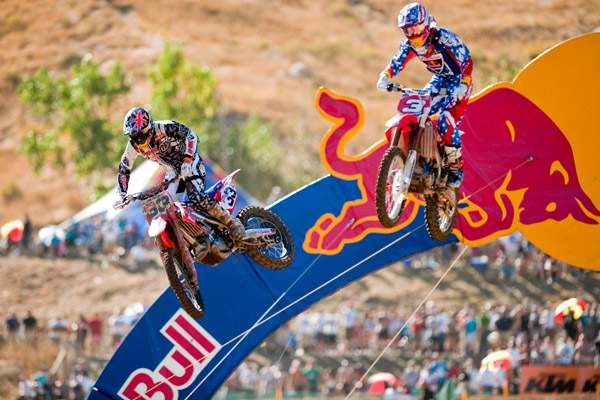 Ben Townley (33) just before squaring off Andrew Short (3) and taking him down in the following turn.
Photo: Steve Cox
So maybe that's why, when he took out Team USA's Andrew Short for second place in the MX2/MX3 moto, so many people were scratching their heads as if to say, "Why would he do such a thing?"
Well, Ben Townley isn't American. He's a great guy, but he was racing for New Zealand. That's his home country.
And let's turn the scenario around a bit: If Short took out Townley for second in the moto like that, I'm pretty sure most of the same fans that were angry at Townley would be pumped for Short and Team USA. The reality is that the people angry at Townley were only really angry at him because of patriotism, not because of the move itself.
But let's take patriotism out of it for a second: I would take out my own grandma, hard enough to break her leg, in order to win a moto at the Motocross of Nations. Wouldn't you?
I mean, it's the biggest race of the year, and winning a moto there is historic – especially if you're from a tiny country like New Zealand.
So, while I like Shorty, and obviously supported Team USA, I can't fault Townley. The dude was just giving it all he had. I mean, maybe he could've waited a few laps before resorting to that, but ultimately, I can't objectively say I would've done it differently. Can you?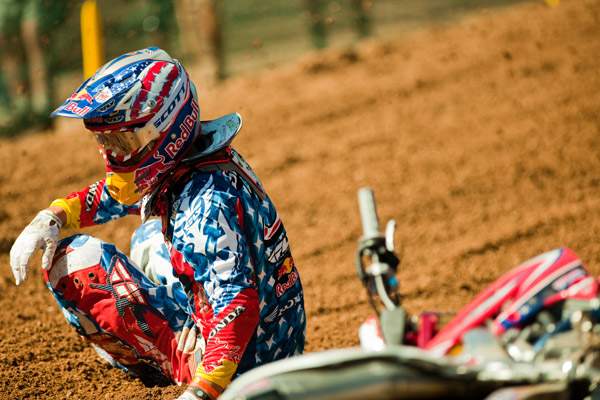 Short brushed himself off and put in two pretty heroic rides after the crash.
Photo: Steve Cox