Ryno Power Premium Sports Supplements
September 28, 2010 9:20am
San Diego, CA (September 24, 2010) Ryan Hughes, better known as "Ryno" in motocross racing, is pleased to announce the release of his newly formulated, premium supplement line, Ryno Power. The supplements are manufactured in Vista, CA in a FDA inspected facility using the highest quality, most effective ingredients from around the world.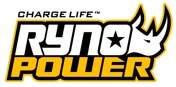 "I wanted to create a supplement line that addressed all the needs of our athletes and could be used in other high energy, high impact sports as well" said Hughes, a legendary racer and highly regarded trainer of motocross and extreme sports athletes.

A championship contender for 26 years in all disciplines of motorcycle racing
, including representing the United States in three Motocross des Nations races, Hughes is a true icon in the sport. Although he still races competitively, most recently the MX1 class at the USGP at Glen Helen, his role has changed into a trainer and ambassador for health and fitness in the motocross world and more. Apparently it's working:


"I've been looking for something that's better for me on race day and the practicing I do in preparation for race day. Ryno Power does that all for me," said Lucas Oil Troy Lee Honda Rider
Ben Townley
"It's awesome!"
Jessica Patterson
had the same praise for Ryno's new product line, "Ryno Power makes me more focused and I have the energy to pound out the motos during the week so I'm prepared and fit for the weekend. Ryno Power had a lot to do with me getting the championship back this year." said Patterson.
Ryno Power is not just a supplement line but a way of life. It's about getting the most your body has to offer and training at a higher level so you are more prepared for the races on the weekend. Hughes has always been known to train harder than his competitors and believes these supplements will help the rest of us do the same.

Many people remember Ryan Hughes for his never-say-die attitude on the track. Throughout his career Ryno surprised fans and industry execs as well with his competitive nature: pushing his bike across the finish line in 1995, racing Supercross in 1996 with a broken jaw and lining up for the second moto of a National in 2003 with a duct taped broken leg. He is tougher than most riders the sport has ever seen.

As training and physical fitness have become as important as seat time in Motocross, Hughes was consistently asked for his recommendation for supplements. He set out to create a line of supplements that would set the bar for what premium supplements should be and address the demands of Motocross racing.

The list of professional athletes choosing Ryno Power is constantly growing including: World Rally Championship driver
Ken Block
, Rookie motocross sensation
Eli Tomac
, FMX Champion
Robbie Maddison
, WORCS champion
Ricky Dietrich
, Championship contender
Ben Townley
, newly crowned Australian motocross champion
PJ Larsen
, 2010 WMA Champion
Jessica Patterson
, motocross professionals;
Vince Freise
,
Jimmy Decotis
, X Games Big Air Skate Gold Medalist
Jake Brown
, Loretta Lynn's champion
Amanda Mayhew
,
Fox Racing
's 150cc rider
Andrew Silverstein
and many more. Ryno Power is catching on in team sports as well with top level trainers in both football and soccer taking notice of improvement in their respective athletes.
Any athlete who tries Ryno Power can feel the difference whether they are competing or practicing.


A custom tailored Ryno Power mix is critical for consistent cardiovascular and strength gains. Ryno Power is made up of six uniquely effective supplements designed to sync together to address all your body's physical demands: Protein, Recovery, Motivation, Carbo Fuel, Endurance, and Electrolytes. They are designed to release at the time your body needs them.

Each product is great by itself but they are designed to work together to target your physical demands during training, practice and racing.

Protein: The highest quality non denatured proteins available. The most important component to rebuilding damaged muscle, available in Vanilla or Chocolate

Recovery: Pharmaceutical Grade Amino Acids to assist the protein in rebuilding stronger and leaner muscle

Motivation: A long lasting steady focus and energy supplement to motivate you and keep you alert

Carbo Fuel: The true "race gas" for your body. Readily accessible carbohydrates for instant physical energy

Endurance: A supplement designed to raise oxygen levels in your blood stream and remove metabolic waste quicker and more efficiently. A must have towards the end of your competition


Electrolytes: Pharmaceutical grade electrolytes in capsule form to help with heat fatigue and muscle cramping
Ryno Power will be available September 24, 2010 at
www.rynopower.com
. All orders received by 2pm ship the same day from our Southern California warehouse. The Gold Medal Package combines all six supplements for a $12 savings. Sign up for the newsletter at
www.rynopower.com
for upcoming promotions and information. All customers and future customers are encouraged to email
info@rynopower.com
or call 1800.771.0131 with any questions about the products or with questions about how to order. Ryno Power is also accepting resumes from racers all over the country to field its 2011 Race Team. Email your resumes to
ridersupport@rynopower.com
.