Monday Conversation: Ryan Dungey
Last year at the Motocross of Nations, Ryan Dungey was an unknown commodity on a 450 – until the event was over and Team USA won, and Dungey won the MX1 individual overall. This year, Dungey and the rest of Team USA didn't have the advantage of coming in under the radar, with it being a home race and with the team being made up of by the two AMA National champs. But Dungey and Team USA still pulled through. We caught up with Dungey after the race.
Racer X:
How much different was this Motocross of Nations win from last year's, your first time doing this event?
Ryan Dungey
: Last year, we kind of came in as the underdogs and we weren't really expected to win. Going in there, people kind of downplayed us a little bit, but the first one is always sweet. It's one of them, especially the Motocross of Nations over there with Ivan [Tedesco] and [Jake] Weimer last year, that once we pulled it off, I don't think we really understood it until it was actually going on – except for Ivan. Like I said, the first one is the best feeling, but at the same time this year it's in the USA. We're expected to win and that's a lot of pressure on a team, but I think we all worked together and we all kept our cool. It's a lot going on this weekend and you kind of have to sit and rest yourself and think about it. I guess we worked together, we never quit, and we came out on top. Every win is great. We love winning...
What was going on in the team meeting before that final moto, since Shorty went down and sort of had a tough race the moto before that?
To be honest, there was no team meeting. Going into the last moto, I could see the look on everybody's faces, like they kind of knew we were down a few points. We were down last year, too, and at the same time, we have to still go out there and race. We can't worry about points and where we're at – if we're winning or not. Right before we were sitting on the line to go out for staging, I told Andrew, "Hey, no matter what happens, at least we gave it our all and did our best and we can walk away and say that." We enjoyed the experience and thankfully we went 1-2. We both got great starts. Andrew turned on his traction control and I came in behind. It was cool. We were out front and it was kind of cool to have us two up front battling with each other. It maybe took the pressure off a little bit. We enjoyed it and came in very thankful.
At one point, I saw him look back at you over the downhill tabletop like, "Who is this on my ass?" Then, when he saw it was you, he pulled over as if to say, "Go ahead, Ryan." You never have that happen in the Nationals with Andrew...
[Laughs] No, Nationals are a different story. It's like, you ain't getting by me. Andrew and Trey rode awesome. Me, I had a break, which helps. Up in the altitude, and especially for Trey on the 250F, and for Andrew, they both had back-to-back motos, and that's really hard, especially up here. Coming off that first moto, they gave it everything they had and they had a lot to overcome, but then the second moto they pulled through so big congrats to them as well.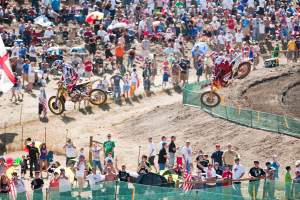 Ryan Dungey leads Antonio Cairoli early in the first moto of the day. Dungey won both of his motos.
Photo: Steve Cox
You haven't done the back-to-back thing yet...
No, I haven't.
And you don't want to ever do that, I'm sure.
No, but I'm very thankful on the day and congrats to the team and everybody for sticking together. I'm glad we could all pull through.
In Italy, it was one thing, because most of the fans there weren't American, obviously, but here you have these thousands of Americans in the crowd, and you're standing on the podium, and then the Star Spangled Banner starts. Everybody is chanting and singing along and waving flags... Talk us through what that felt like standing up there.
The feeling is incredible. For each and every one of us, we work our butts off all year. We work hard, not to go out there and get second, but to win. That's the goal. When everything was said and done and we were on top of that podium holding the number one up and the flag, and then the National Anthem starts, it almost brings a tear to your eye. In 2007, me and Trey [Canard] were at Budds Creek together [watching the Motocross of Nations]. I watched them up there on the podium and I was just like, "Man, I want to be there someday. I want to be able to pull through for my country and handle that pressure." I think Trey is speechless as am I and Short, but it's a great feeling and it makes all the hard work that we put in that much sweeter.