Hello, everyone, and welcome to the Rev Up. In what should be the most important motocross event of the year, I think it's pretty cool that we're hosting the 2010 Red Bull FIM Motocross of Nations for the second time in three seasons. It's already been a banner year for world events, what with the FIFA World Cup taking place along with the 2010 Winter Olympics. Team USA fared well in both competitions, and now it's time to shine in the sport we conquer with an iron fist.
Before I go any further, I'm more than willing to admit that I don't follow the GPs very much. I do respect and admire them substantially. The historic tracks, the huge crowds, and the upscale professionalism of the GPs is impressive. That said, if you want the full low-down, click back to Lord Alford Wiegandt's "Predux" prose, which pretty much covers it all.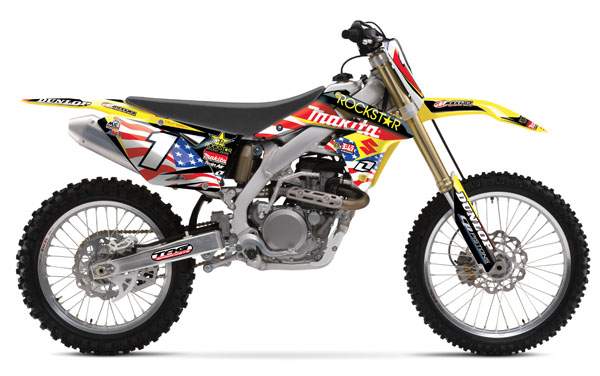 These Ryan Dungey graphics from One Industries are actually available for sale for those of you who want a patriotic bike.
As per the norm, I'm here to get you fired up. And few things if any get my shoulders back like a little patriot games. I'm only 33 years old, but I can make a strong argument that I've heard the National Anthem as much or more than anyone reading this. From every drop of the gate as a four-year-old amateur, to every supercross and outdoor event, to every single NASCAR event over the last six years, it's the hand over the heart and at attention for this bloke. The goose bumps still erupt every time.
I've got to say that my favorite is when they do it at Talladega with 180,000 strong on their feet. The fireworks thunder, the fighter jets roar, and a tricked-out Peterbuilt is blowing smoke down the back straight away 90mph attached with a 35 foot "old glory" fighting the wind. It's 100% pure American. Call me a redneck, call me a flag-waving American, but I love that shit. And it strengthens my love of the fact that we are the best in the world at motocross.
On with the race: This is always a tough event for our riders in the fact that we go not to lose. Every single team involved with the dust up in Lakewood wants to beat Team USA, because if they do, they'll win. That's just fine. With the three-pronged attack we're sending into battle, they'd better all bring a sack lunch.
Trey Canard just might have ridden some of the best motocross in the world over the last two months, and Ryan Dungey has established himself as the undisputed alpha male. It's hard to call Andrew Short a weak link because he carries the mail at Lakewood, and he'll holeshot. We're going to stomp a mudhole in them, and I love it.
It's going to be exciting to see Antonio Cairoli race in the USA again. He blew the doors off everyone at Glen Helen and has had a rough go in the recent MXoN events. Also, it will be interesting to see how his KTM 350 SX/F looks on the track compared to Mike Alessi's. Yeah, but like I said, I'm not versed well enough on all of the foreign riders to offer much bench racing.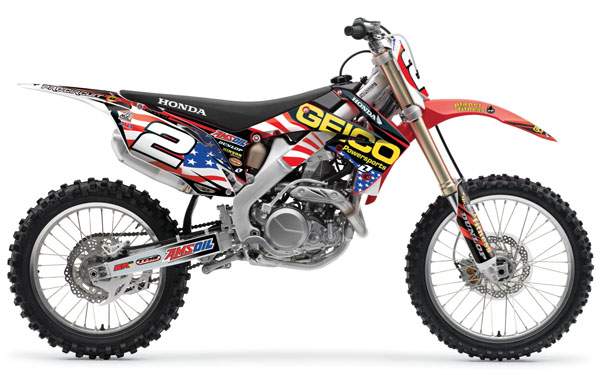 One is selling these graphics, too.
I hope a huge crowd turns out to watch the event and all goes well with the contenders. A true fight among the big names is what all motocross fans across the world want to see. But I want to watch our boys make sure the world remembers why we still hold the Peter Chamberlain trophy.
Do it for all of the soldiers, past and present, that helped let us do whatever we want to do and say whatever we want to say. There is a reason we have our freedom in the United States and the reason we rule the sport of motocross. Badass Americans.