Spy + Ken Block
September 23, 2010 2:23pm
Carlsbad, CA- Ken Block's Gymkhana THREE Part 2; Ultimate Playground: L'Autodrome was officially released last Tuesday, September 14th. The Gymkhana THREE Project was broken into two parts in order to take the best elements of Gymkhana 1 and 2 and kick them up a notch. Gym3: Part 1; The Music Video Infomercial, featuring The Cool Kids, focuses on the advanced marketing and production styles of Gym2. In contrast, the highly anticipated Gym3: Part 2 Ultimate Playground; L'Autodrome, focuses purely on Ken's aggressive and extreme driving style.

In its first week, Gym3: Part 2 received 7.5 million views, was the most viewed video on YouTube, and topped the Viral Video chart. To date, the Gymkhana series as a whole, produced by DC Shoes, has been viewed more than 70 million times worldwide. Gym2 received numerous accolades including a spot on Ad Age's list for "The Top 10 Viral Ads of All Time", a "2010 People's Telly Silver Award" presented by You Tube, and a "2010 Bronze Pencil Award", in the "Online Branded Entertainment" category, at the One Show Entertainment Awards. With featured tricks such as, multi-directional Segway donuts, a 360 and "alley-oop" on the bank, and a 1440 rain spin, Gym3 Part 2 is sure to not disappoint.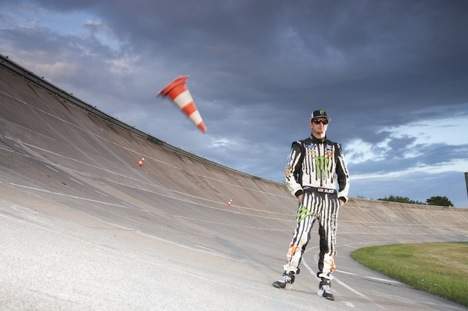 SPY+ Ken Block. This partnership establishes Ken Block as an official ambassador for the SPY brand aligning one of the most prestigious eyewear brands with the most prolific marketing machine action sports has ever seen. SPY is proud to have been a part of Gymkhana THREE Part 1 with the "Cool Kids" wearing the Tice and Kubrik shades. SPY's branding can be seen on the tail fin of Ken's 2011 Ford Fiesta as he tears up the asphalt in Gymkhana THREE Part 2; Ultimate Playground: L'Autodrome.

In celebration of the Gym3 Part 2 release SPY is proud to announce its most recent collaboration with Block. Dropping in Summer 2011, SPY will release a signature collection of products that reflects the spirit of all things Block. SPY has been working closely with Ken in order to perfect every detail of this signature line to make sure it's completely dialed in. Look forward to Ken rocking SPY in and out of races and look for SPY signature style to grace the now infamous Gymkhana video series. Stay tuned to spyoptic.com for more details.

SPY Optic was created by a passionate group of action sports and motor sports enthusiasts who quickly attracted the attention of the world's best athletes. Based in Southern California, at the crossroads of an emerging Action Sports culture in the mid-nineties, the SPY brand was born. Representing our unique position as an entity immersed in Boardsports, Motor sports, Fashion and Culture; SPY is the Brand that invites the world to "Live Thru Our Lens."

The SPY brand has supplied not only the fashion to suit your passion; it has been a market leader in eyewear related technology. The SPY Scoop® venting system combats lens fogging by promoting airflow between the lens and the wearer's face. SPY's polarization treatments supersede existing eyewear standards with its premium injected Trident polarized lenses. The lenses effectively eliminate more than 99 percent of blinding glare for precise, unobstructed vision. Look for SPY to keep pushing the boundaries for both taste & technology! Stay on top of all the biz at spyoptic.com.

Safe Harbor Statement

This press release contains forward-looking statements. These statements relate to future events or future financial performance and are subject to risks and uncertainties. In some cases, you can identify forward-looking statements by terminology such as "may," "will," "should," "expect," "plan," "anticipate," "believe," "feel," "estimate," "predict," "potential" or "continue," the negative of such terms or other comparable terminology. Comments in this press release regarding, among other things, our future prospects, new opportunities, the success of our brand and the success of our new partnership with Ken Block are forward-looking statements and are subject to inherent risks. These statements are only predictions. Actual events or results may differ materially. Factors that could cause actual results to differ from those contained in the forward-looking statements include, but are not limited to: the general conditions of the domestic and global economy, changes in consumer discretionary spending; changes in the value of the U.S. dollar, Canadian dollar and Euro; changes in commodity prices; our ability to source raw materials and finished products at favorable prices; risks related to the limited visibility of future orders; our ability to continue to develop, produce and introduce innovative new products in a timely manner; the performance of new products and continued acceptance of current products; our execution of strategic initiatives and alliances; uncertainties associated with intellectual property protection for our products; and other risks identified from time to time in our Orange 21 Inc. filings made with the U.S. Securities and Exchange Commission. Although, we believe that the expectations reflected in the forward-looking statements are reasonable, we cannot guarantee future results. Moreover, we assume no responsibility for the accuracy or completeness of such forward-looking statements and undertake no obligation to update any of these forward-looking statements.