Privateer Profile: Cole Seely
When you think of who made their mark in the 2010 rookie class, names like Dean Wilson and Eli Tomac likely come to mind – but what about Cole Seely? Okay, maybe Seely raced some pro events last year, but 2010 was his first full season. Not only did the Troy Lee Designs/Lucas Oil Honda rider take a podium in Supecross, he also did in Motocross with his third in moto one at Pala Raceway. Finishing up tied for sixth in the West Coast Supercross Lites, and 12th in AMA 250 Motocross championship, Seely can look back at his success as he now prepares for 2011 – again with the Troy Lee Designs team. We caught up with the 20-year-old Newbury Park, California, resident to get his take on his (so far) short career as an AMA Pro.
Racer X:
Cole, let's begin when I first met you last summer at Budds Creek, where you were filling in for then Rockstar Makita Suzuki's injured Nico Izzi.
Cole Seely
: Yeah, as you can imagine, I was very excited about that weekend. Although it had rained the day before the race, and I was a little nervous, I was still really pumped to be there. After a mid-pack start in the first moto, I crashed a few times, and actually don't even remember where I finished. Then, just before the first moto it started raining really hard! It was a pretty crazy race. I had never seen it rain that hard during a moto before. I did enjoy it, but I did feel kind of bad beating on a factory bike like that in the mud.
You rode the factory bike at Budds Creek, but you also raced some pro events earlier last year, right?
Yes, my very first pro race was the 2009 Anaheim 1 Supercross. Then I raced the entire west coast supercross series for Fun Center Suzuki. My best placing was a tenth at San Diego. Then I also did four rounds of the AMA Motocross series. Overall, it was a lot of fun last year, and I learned a lot.
After the 2009 season ended, you signed on with the Troy Lee Designs/Lucas Oil Honda team for 2010...
Yes, that's right. I was very excited to sign with the team at the end of last year! I had spoken to David Pingree for a little while, and then went down to Troy's shop with my agent Brian Siegrest and we put a deal together. I knew that it would be a huge opportunity for me! Actually, at that time I was enrolled in College and was about to start looking for a job as I was uncertain for a while if I would be racing with the way the economy was going. The big thing about being on Troy's team was the organization that they had; I was on a set schedule as far as when I was riding, and when I was training. The team had set me up with a trainer by the name of Charles Dao, and I truly believe that working with Charles was one of the best things to happen to me and my racing career.
It seems that way. You really began to build some momentum early in 2010, especially with taking that second overall at the San Diego Supercross.
Oh yeah, that finish in San Diego was definitely very big for me. I was so excited to see that all the hard work that myself and the team did in the pre-season had paid off. Finishing second was like seeing the light at the end of the tunnel.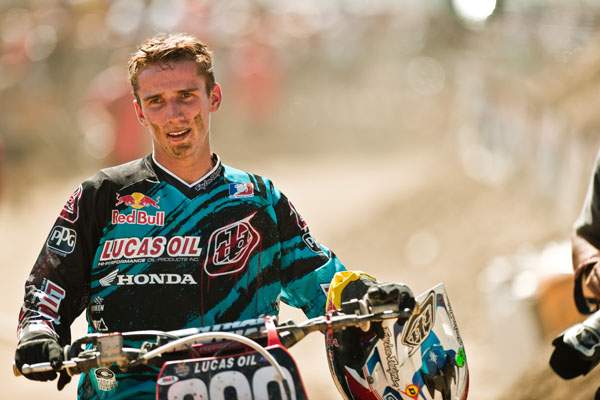 Cole Seely was pumped after his first-moto third-place at Pala.
Photo: Steve Cox
Moving into the outdoors, it seemed like you struggled a bit at first.
Initially, they were tough for me. This was my first complete season of racing the outdoors. I suffered from lots of bad starts and crashes, but I did finish in the top ten somewhat regularly. It definitely took me a while to get my flow going outdoors. Then, at Washougal, I suffered a freak accident and broke my nose. In the first turn a rock kicked up and knocked out my goggle lens, which broke my nose. There was really nothing that could have been done to prevent it, and I'd really like to thank the Asterisk guys for helping me out on that one. So I had to take some time off for that, but returned at Unadilla.
It's almost as if that time off helped you, as you appeared to catch fire – in particular at Steel City.
The time off with my injury didn't help, I'd just say that it helped that I was finally getting used to the longer motos. Staying on my training program with Charles and also spending time at the track putting in motos with my mechanic Rich Simmons also helped me a lot. At Steel City, I was running fifth for a while, and then passed Tomac for fourth later in the moto. But then he thought that we were in bumper cars and took me off the track. That bent my brake pedal pretty badly, but it's all good – that's racing.
At the series finale at Pala Raceway, you had your best finish, taking sixth overall with a third in moto one. That had to be rewarding.
Yeah, I was so pumped to have the season end that way! I previously had never really considered myself to be an outdoor rider, but getting that finish proved to myself and everyone that I could do it. Getting that third in moto one gives me a lot of confidence, and a lot to think about going into next year.
How would you rate your year on a scale of 1-10?
I'd probably give myself an eight. I am very pumped about my 2010 season, but I still want to improve, and I know that I can for 2011.
What all do you have going on for the rest of 2010? Any racing?
I have no plans to race any off-season event as of yet. I'll probably just focus on testing for 2011. I also love to skate, so I'll spend some time at the skate park, or at the car track drifting my car.
Based on your success in 2010, I would suspect that you have some big goals for 2011.
Well, I'd just like to say that my main goal is simply to keep progressing the way that I have been. I am very excited to get back to racing supercross. That's all I want to say right now!
Okay Cole, then with that said, do you want to add anything else?
No, I think we have covered just about everything. But I do want to thank all the guys down at Troy Lee Designs/Lucas Oil Honda, along with my mom and dad, my agent Brian Siegrest, and definitely a big thanks to my mechanic Rich what has been a huge help to me.