Privateer Profile: Austin Howell
Thanks to a steady stream of injuries, the Rockstar Energy Suzuki team has gone through their fair share of replacement riders in 2010. Some have worked out better than others, but team manager Bill Keefe seems to have hit on a good thing with rookie and Northern Californian Austin Howell. Howell made his pro debut at Unadilla aboard a 450, and scored points at five of the next six motos. At the final round at Pala Raceway, however, Howell switched it up and rode a 250. The result was his best performance of the year; a 12th on the day via 10-14 moto finishes. We pulled the rookie out of his motor home at Pala and asked him a few questions about his first (partial) year as a pro.


Racer X
: How was your race?

Austin Howell
: It went pretty good. This is my first race in the 250 Class. The first moto, I didn't get off to such a great start, like, mid pack, but I put my head down and started pushing and ended up getting tenth in that one. In the second moto, I got a top ten start, and I ended up crashing in the first few turns. I ended up going from 40th to 14th, so it was a pretty good day, I'm happy.
What did you think of the track?

They did a really good job on the track, I wasn't expecting this. I was pumped on the track. I loved the dirt, everything seemed to flow good, they had some pretty decent jumps. It's got a lot of nice ruts and it's a track I'm pretty used to, so I was pretty pumped on it.
Did it get pretty rough out there?

Yeah, it did. I like it when it gets rough with a lot of ruts, so I was happy.
How'd you end up on the Rockstar Energy Suzuki team?

I was on my way to
Unadilla
after Loretta's, and they gave me a call and asked if I wanted to ride the 450 for the last four. It was a great opportunity, and I was fortunate to get it. The whole team just works really well together, and this weekend at
Pala
we did a few days of testing on the 250. Everyone was working great together to get the bike dialed, and I know if I had a few more days for testing my results could have been better, but I'll keep improving from here.
As a rookie, what's it like to be in the same truck as a guy like Tommy Hahn, who has a lot of experience and has had success? Do you learn from him or do you just kind of do your own thing?

Being the new guy, I kind of felt out of place, to be honest. But you know, everybody on the team is cool. I got to talk to Tommy a lot, and he gave me a lot of good advice.
Obviously you've raced a lot of big amateur races too, but how would you compare being on the circuit to the motocross scene in Northern California?

Being on the circuit is different than what I thought. It's definitely a lot more laid back. You've got all your times for the motos and everything, so you can just kind of sit and relax and get ready for the next moto. I've been working hard up in Northern California; me and my dad, just working since I started riding. I started riding when I was four and it's been me and my dad the whole way, just slowly progressing my track at my house. That's where I've been coming from.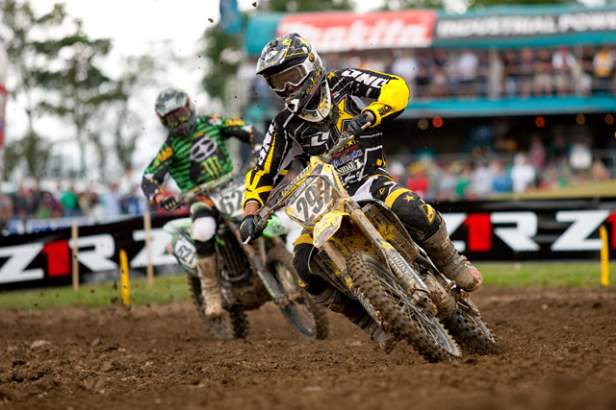 Austin at Steel City.
photo: Andrew Fredrickson

Did we miss anything?
I really want to thank the team. I loved working with everybody, and it was the opportunity of my life.

Maybe you will end up there next year?
Yeah, definitely. I've definitely been talking to Bill Keefe, and the whole team, and hopefully there's a spot for me.