Red Bull TNT Freestyle show at Fay Myers
September 20, 2010 10:24am
Looking for something to do in Colorado before MXoN?

As a great kickoff event to the 2010 Red Bull Motocross des Nations, Fay Myers Motorcycle World would like to welcome you to 3 FREE Red Bull TNT Freestyle Motocross shows on Wednesday, September 22, 2010 at 5pm, 6pm and 7pm.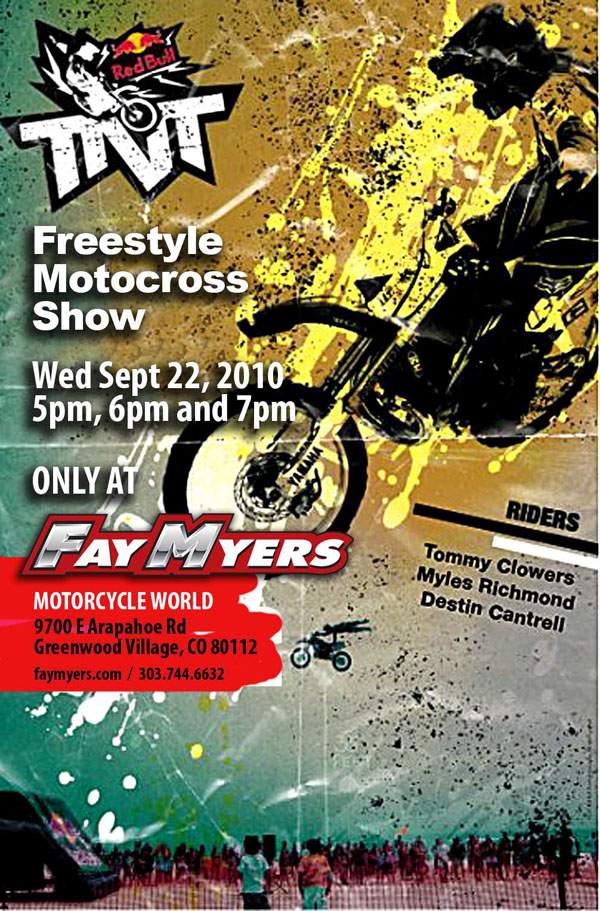 Fay Myers also welcomes the 2010 Red Bull Motocross des Nations who will make its awaited comeback to the United States on September 25 and 26, 2010 at Thunder Valley Motocross Park in Lakewood-Denver, Colorado. Tickets are now on sale at Fay Myers! $90 adult / $45 kids (ages 6 to 11) – general admission for both Saturday and Sunday races!
More information on the venue is online at www.mxthundervalley.com.