Monday Conversation: Tony Cairoli
Welcome to Motocross of Nations Week here at Racer X Online. With the global motocross fraternity headed to
Thunder Valley
in Lakewood, Colorado, for the 2010 Red Bull FIM Motocross of Nations, we will focus this week on the athletes, the teams, the track, and the history of the Olympics of Motocross, beginning right now!
Any discussion of the fastest man on the planet must include Tony Cairoli. The KTM rider, who just clinched another MX1 world title—his second in a row, and this time on a brand new bike—is the favorite of the GP scene, just as race-watchers in America favor AMA Motocross/AMA Supercross #1
Ryan Dungey
(and, when they aren't injured, don't leave out
James Stewart
,
Chad Reed
, and
Ryan Villopoto
). That discussion caused a bit of a meltdown on the net over the weekend when Cairoli was quoted as saying he didn't think Dungey was as good as some MX2 riders, though what he really meant was probably lost somewhere in the pipeline of translation. But with Cairoli leading Team Italia into this weekend's big race, he wanted to clear the air about Dungey, get the whole misunderstanding behind him, and enjoy what will be his second trip to America this year. And since my Italian is nonexistent, we did this interview by email, as you can probably tell....
Racer X: First of all, congratulations on another world championship. How does this one rank of all the titles you won?
Tony Cairoli: My second MX1 title of my career, but the first one on my new bike. It was not only the first year (after six years with Yamaha) with a new brand in KTM, it was also on a totally new bike that no one had ridden before. I'm happy I could take the first MX1 title for KTM and the first title on a 350cc bike. And it's finally my first world title in a row (MX2 2005, MX2 2007, MX1 2009, and now MX1 2010) because of a unlucky season in 2006 and a knee injury in 2008.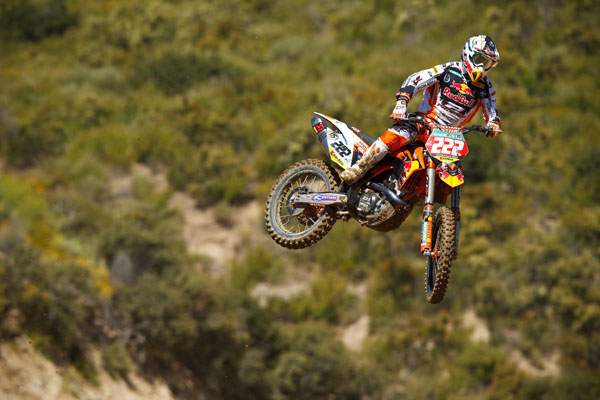 Photo: Simon Cudby
How is it working with so many great former racers at KTM: Pit Beirer, Stefan Everts, and even Heinz Kinigadner?
Yeah, that was new for me, but they added a lot into everything. The last seven years, I've been working close together with KTM MX1 team manager Claudio de Carli—he made me the rider who I am today. But it is always great to get riding tips from Stefan. And Pit is the person who believed in me and took my me and my entire team into the KTM family after the 2009 season. Heinz is always there for good support, and the big man behind Wings for Life. He does an amazing job!

Why do you think you're having such good results on the 350 but your friendly rival Mike Alessi has struggled here in America on it?
Maybe it's just not Mike's year. I only know that this bike is made for me. Everybody knows how much I liked to ride the 250 in the MX2 class. And with this new 350 bike, it's like I found some of my old 250 bikes back. I can ride this 350 machine with more of the style that I rode on the small bike. Only after the preseason races I made the final decision to ride the 350 in the GPs. I wanted to know it would fit in with the rest of the field in the starts, and that worked out great! For sure, there are tracks where I maybe don't have an advantage with my 350 bike, but the 350 is perfect for me.

Last week there was some confusion over a quote in an interview you did involving Ryan Dungey, which caused a mini-war on the message boards. I have no doubt that there was some language confusion, so let's set the record straight: What do you think of Dungey?
Yeah, I also heard about that! I must be very clear:
Ryan Dungey
is a great rider, and one of the fastest riders in the world. And that is what I have always said. Nothing more. I like his clean riding style and he is a big champ! In person I don't know him that well, but I think he's a nice person with a good head and both of his feet on the ground. I like that!
In comparing MX2 in Europe to what you watch on

AlliSports.com

of the AMA's 250 Class, how do you think Marvin, Ken, and Jeffrey Herlings match up against Trey, Christophe, Tyla, Dean Wilson, and the rest?
The level in the MX2 class of World Motocross is high, and we have some big young talent in Europe. So yeah, I think (and hope) we are gonna see some nice battles between those guys!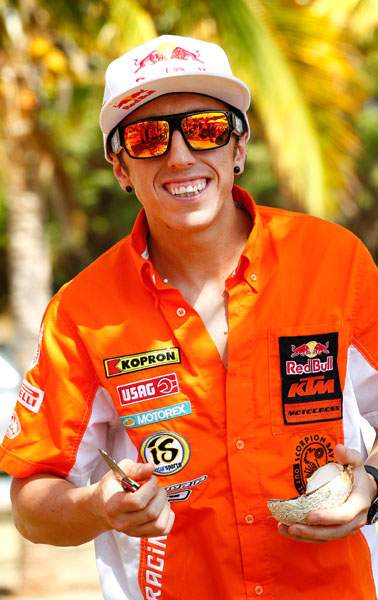 Cairoli taking in the sights in Brazil.
Photo: Sarah Gutierrez
How do you think Marvin will do here next year?
It has always been his dream to go to the USA, and I think he's gonna do really well over there. I hope he stays free of injuries and wins lots of races there.

Did Clement Desalle's exceptional performance at Unadilla surprise you?
No, he didn't surprise me. He's a great and fast rider—he took second place in the MX1 World Championship this year. I think Clement's riding style is perfect for the tracks in the US.

We almost didn't get to see you at Thunder Valley—how did the jersey-logo issue get resolved between the teams and the Italian federation?
Together with my team, I had to fight hard to be part of MXoN 2010. This issue was going on months before, actually, and I always had the feeling that things would work out when we came closer to the actual race. But until a few days ago, it looked like I was not able to race. In my opinion, it is THE race of the year, and the one you can't miss!

The FMI (Italian federation) agreed that the riders can put a few team sponsors on the shirt now, and that is what the issue was all about. It's unbelievable this could happen, but I'm happy things between KTM and the Italian Federation are solved and I can ride.

Italy was heavily favored last year at home but then you had some issues with crashes in the second and third motos. Now Team USA is favored by most to win at home—how are you and your teammates going to approach the races?
Last year we had a big chance to win. I was able to win the first moto and David Philippaerts had some great results, but Davide Guarneri had a crash in the second moto and I was involved in a big crash at the start of the second moto. I was lucky but my bike was destroyed and I couldn't continue the race.

USA is the team to beat, a great team with one by one top riders. The USA team is always ready and so professional. Last year it was amazing to ride for my own Italian fans in Italy, and I'm sure it motivates you to be in front of your home crowd. We had so many fans last year and we still couldn't win the overall. The American team will have mostly their fans behind them this year, which is great. I can't talk for my teammates, but I try to see it as a normal race. I like the feeling of being a team, seeing all those different country flags, and ride hard for your country.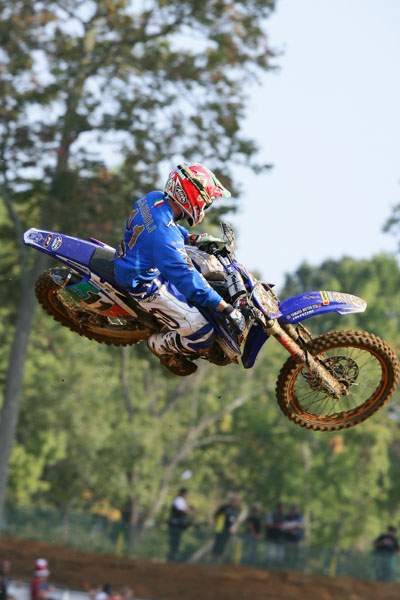 Tony Cairoli in the 2007 MXoN.
Photo: Simon Cudby
The last time the MXoN was held in the States you had a tough week—the bikes almost didn't show, and then you had some crashes. How stoked would you be to redeem yourself this time with a win in MX1, or even an overall for Italy?
My last MXdN in USA wasn't the best race for me. It was a disaster weekend, starting with the bike, which arrived ten minutes before the first practice on Saturday. In practice I had third-best lap times, but I couldn't make that true in the motos. I had a crash in both motos and my bike broke in the second moto. A unlucky weekend, a weekend that I love to talk about ;) Ha ha ha! But anyway,
Ryan Villopoto
was just too fast on that track, for me and anyone else ... and riding with
Ricky Carmichael
was an amazing experience!
When are you arriving in Colorado?
I'm arriving in Colorado Tuesday night, and I'm looking forward to be guest in USA for the second time this year. (My first was USGP at
Glen Helen
.)
Like Everts, you seem set on finishing your career in Europe. Is there a chance we will ever see you in America for a season, or maybe just for a few rounds?
For 2011 I still have the contract with KTM to ride the GP season in Europe. I'm always in for an adventure, and yes, as long as it's going to be a good combination of schedules (and if its OK for KTM), I'd like to come over for one or maybe more outdoors in America next season. I'm also still talking about it with KTM, but the plan is to ride the first two SX in USA as well. I like supercross, but I'll just see it as a nice experience.

For 2012 I'm free, so we will see.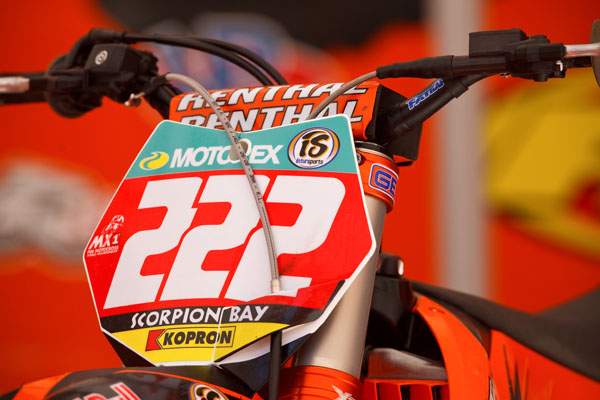 Photo: Simon Cudby