FMF/KTM's
Mike Brown
is out of contention for the WORCS Championship, but he carries the 2009 #1 plate for a very good reason.
Mike Brown
never gives up and he is always fast. At WORCS round nine in
Glen Helen
, Brown showed the field of all-star riders why he has won so many races and titles in his great career.
ValliMotorsport's Taylor Robert took the holeshot for what was supposed to be his comeback ride to the WORCS Series. Robert won the opening round, but was injured during the race and has been out all these months for surgery and re-hab. He held off charges by Caselli and Brown and looked ready to resume his win streak. However, on the second lap of the race, a rock bent his rear sprocket, tossing the chain into the cases, resulting in a broken case and a DNF for Robert. Caselli took over the lead but was quickly displaced by Brown who simply took off and left everybody behind for the next two hours. Brown took the checkered flag with time to spare.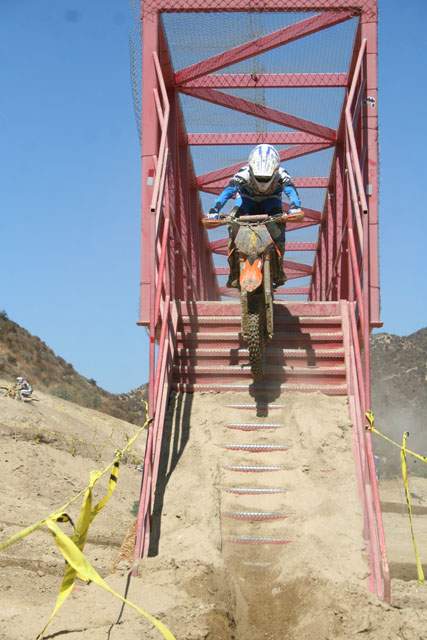 Mike Brown
wins the
Glen Helen
round of WORCS racing.
Photo: Joe Colombero
"It's great to win another one," said Brown. "I've won twice here in California this year, My KTM was perfect for this course and the team had both myself and Kurt ready to go 1-2 for KTM. This course was fast, hot, and a lot of fun. Of course winning is always fun on any track. It was a good race and I'm glad to be back on top of the podium for KTM."
Kurt Caselli took second and extended his point's lead for the Championship over
Ricky Dietrich
. Caselli was happy to continue his podium streak, and happier still to finish in front of Dietrich. "It was a good race and I'm glad Mike won. My plan was simple, finish in front of Ricky and that's what I did. Ricky got by me late in the race, but I was able to close up on him and I thought we were finally going to get to race side by side for a while. We're 1-2 in the Championship but we've hardly even seen each other on the track all season. I closed up on him and thought we were going to have a real race and then we came together and both went down. I felt bad, that it happened, but it did happen. That's racing sometimes. I'm focused on the Championship, the team has worked hard all season and we're in the lead and we've got one more round to go."
Caselli and Dietrich came together with just 15 minutes left in the race. Caselli got up first and Dietrich trailed him, clearly slower than before they collided and crashed. "I didn't know he was that close," said Dietrich. "I was focused on catching Brown and planning out my final laps and suddenly I was on the ground and Kurt had hit me. I looked at him and thought Dude, what's that about? But it was already done. I got up and was dizzy and couldn't get my eyes to focus for a while. I'm pretty sure I got a minor concussion. But if that's the way he wants to play it, I'm game. I'm going to train harder and be ready for Mesquite and we'll see what happens next time the #66 and #39 come together."

Fourth place fell to Monster Energy Kawasaki's Justin Soule with fifth going to to Bobby Garrison on the Zip-Ty/Husky. JCR Honda's Colton Udall put in another great ride for sixth with KTM's Brenden Ritzman seventh, Kevin Rookstool eighth, Nathan Woods on the Husaberg ninth and Gary Sutherlin tenth.

With one round left Caselli leads the WORCS Championship point's chase with 201/3 wins, six points ahead of Dietrich with 195/3 wins. Brown holds down third with 171/2 wins and Soule sits fourth with 159, and rounds out the top five with 115.

Pro 2
Ryan Abbatoye took the Pro 2 win to clinch the Championship. Corey Gruffunder had another come-from-behind-race to take second with Ivan Ramirez taking third. With the Pro 2 Championship in the bag, Abbatoye plans to ride the Pro class in the WORCS Final in Mesquite, Nevada in October.


(WORCS Round 9 of 10)

Pro 1.
Mike Brown
(KTM); 2. Kurt Caselli (KTM); 3.
Ricky Dietrich
(Kaw); 4. Justin Soule (Kaw); 5. Bobby Garrison (HSQ); 6. Colton Udall (Hon); 7. Brenden Ritzman (KTM); 8. Kevin Rookstool (KTM); 9. Nathan Woods (HSB); 10. Gary Sutherlin (Kaw).
Final Round: Mesquite, Nevada, October 24, 2010