Between the Motos: Mike LaRocco
Mike LaRocco has been there and done it in just about every capacity now. First, as a championship racer, he has won close championships and lost them, had rivalries and friendships, and he had a long career racing his dirt bikes. But now, as a team manager (in sort of a dual role with Factory Connection's Darren Borcherding), LaRocco has also won a championship. We caught up with him after his rider, Trey Canard, clinched the 250cc National title at Pala.
Racer X:
This year was a little bit of a new role with taking on the whole team alongside Darren Borcherding, and obviously it's working. You guys won as many races outdoors as anybody and you won the title. What do you have to say about how the season has gone?
Mike LaRocco
: It was great. It was kind of cool on one hand to be on this side of the fence, but hard on the other. We had some really good guys. I'm picky, and when I decided to go ahead and take this role with Ziggy [owner of Factory Connection, and co-owner of the race team], I don't know that I could've done it with anyone else right now. It feels right, so I kind of stayed in it. I think we all work pretty well together and everybody knew their role. We were able to do it the way we did because of that.
Having your experience – a long career, and winning a bunch of national championships back in the day – you obviously know what it takes to both win and last. How much do you think that helped Trey, for example, to get his program together?
I tried to be, and it's cliché, his "rock." I was just trying to keep his head in the right place. He needs some reassuring and we tried to give him the best bike he could have. I think we did a pretty good job for him and he did an excellent job for us.
Coming into that first moto at Pala, obviously Trey had seven points and you guys knew that if Trey could go out and win both motos, he still needed somebody between him and Chris Pourcel in at least one moto. It's funny because you always do this math where this has to happen and that has to happen, but it almost never actually happens like that.
No, and it's hard not to pre-stress about that, but we did the same thing. We were trying to figure out what we needed to have happen. In the back of our minds, we knew that the race was going to play itself out, and it did. I didn't see what happened today coming; never saw that coming. I had a bit of a downer when Trey passed Pourcel and then threw it away, but luck went his way today and I'm happy for him. After last weekend, I was like, "Whatever happens, he deserves to win, and I want to see him win it." I was super-proud of him last weekend. He stood up and gave himself a chance and that was a big deal.
I'm sure maybe it's still a sore spot for you, but this championship reminded me a lot about your 1992 battle with Jeff Emig in the 125cc class. You had this massive points lead and then all of a sudden Emig started winning and winning, and stuff started going wrong. I think you had bikes break and whatever...
Actually, Emig was winning the overalls but we were trading motos. I think I had 65 points or something with three motos to go and I had three DNFs. That was just one of those things where I was like, "Are you kidding me?" You know what, that stuff happens. Of course, I was bummed on that, but I was lucky enough to win a couple more of those those next year. I still cringe thinking about that championship, though...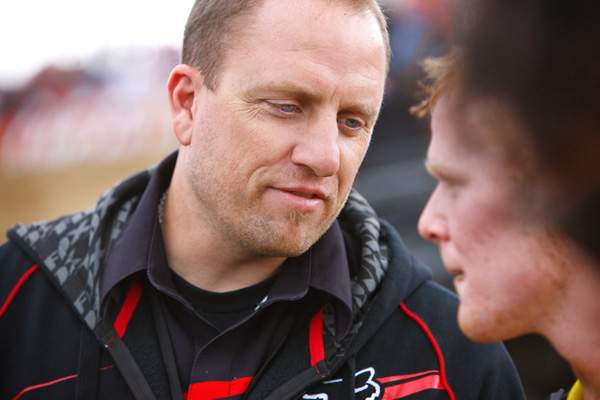 Mike LaRocco talks things over with Trey Canard after Canard's impressive win at Steel City.
Photo: Simon Cudby
It never heals, does it?
No, and I feel bad for Pourcel. You know, Trey had some momentum and I kept telling Trey to make him work for it because it's not easy carrying that weight, and maybe it showed today.
And then there's Brett Metcalfe... As the season wore on, especially the last four races, he started really putting it together. It looked like he was going to start winning at any time and it was just a smidge away.
Yeah, that guy has a black cloud and I would just love for it to blow away. I'm bummed that he didn't get a win this year. I knew when I watched him at Sacramento that he had the potential to win. We're going to miss the hell out of him. I'm just bummed. I knew he could do it and just didn't get it done, and I just see that black cloud over his head and I'm bummed for him. Unfortunately, that's kind of his story, but I hope he gets over it and we're proud of him too. He had a good season. To be honest with you, watching him testing, I was like, "Uh, this is not good..." He got it together just in time for Sacramento and he kind of progressed as the year went on, so he's looking good.
Philosophywise, you said you're picky. As a team manager, what is it you look for first in personnel, whether it be riders or mechanics or whatever?
I just like people that are in it for the right reasons and are passionate about what they do. I'm not a rockstar fan in any way, shape or form, so I just like guys who, if we're going to put in the effort, I want the same from them. It's fairly simple.
I know that when you were racing you held yourself to a very high standard. Does that make it easy to hold other people to a high standard as well?
Yeah, I think it helps having that reputation. I think it helps a lot. Like I said, we've got good people and it's almost fun because you can just let things happen.
So, where to from here? What do you see for the future of the race team and your involvement?
Right now, I'm going to stay in it. We had a successful season. I think I stopped racing because of the travel. I've got four boys at home and it's not the easiest job to have, but they're getting a little older and it's a little easier. So, I like doing it and it's working out all right, so I'm in it for next year. It's in my blood.
Is it kind of like being a competitor without having to beat yourself up physically?
Yeah, it's cool coming to the race without carrying that stress load, but the hard thing is that it really has nothing to do with me. It does, but it doesn't.
You kind of wish you could bring it on yourself and take it on at times?
Sometimes...
So coming in today, how nervous were you? Were you freaking out a little bit?
I expected a big, long, stressful day. You know, I knew we had the potential. I knew Trey had to come do his job and I knew we needed one of our other guys to step up. It turns out we didn't need any of that, but we were hoping to be ready for it...
Congratulations, Mike.
Thanks a lot.