No, Kevin Windham hasn't won any national championships in his long and illustrious motocross career. He has finished second something like 97 times. But what really has defined Windham, more than his runner-up championship finishes, is that he has spent all 16 years of his racing career being the guy who, on literally any given day, could win. He did it at the Charlotte Supercross, winning the 250cc class when he was still racing full-time in the 125cc class (something no one has since been able to duplicate). He has done it time after time over the years.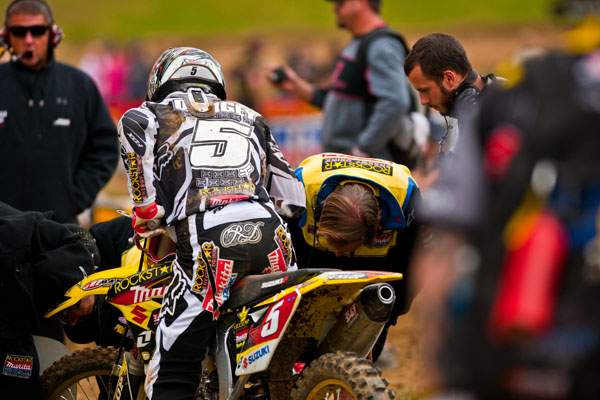 An early crash in moto one dropped Ryan Dungey out of the competition.
Photo: Steve Cox
However, even knowing that Windham can win at any time, very few people expected it at Steel City when Ryan Dungey was looking absolutely unstoppable (he won the previous nine AMA Nationals this season prior to Steel City) and Windham was having trouble lasting a whole moto.
But in moto one at Steel City, Dungey started near the front, but didn't last the whole lap before he fell and reportedly damaged his front-brake rotor, eventually dropping him out of the moto after he pulled into the pits to have it checked out.
Brett Metcalfe quickly took over the lead on the opening circuit and just up and split. He was gone. But Windham fought his way into second and then caught a second lucky break (after Dungey dropping out) when Metcalfe stalled it. He was back going again quickly, but in second, behind Windham.
And this is where Windham's cunning came in yet again: He didn't have Metcalfe's speed because he got some arm-pump, and Metcalfe passed him back. But Windham relaxed and waited. He was patient. And when he got the feeling back in his right arm, he went back after Metcalfe and made the pass stick with only a lap or so to go.
On a bike with very little testing time (comparatively speaking) that he hasn't ridden all year until the last few Nationals (his GEICO bike is entirely different), Windham won a national moto after only a few tries.
And in moto two, it's not to say that he "let" Ryan Dungey beat him, but Windham did know that he didn't have to beat Dungey to win the overall.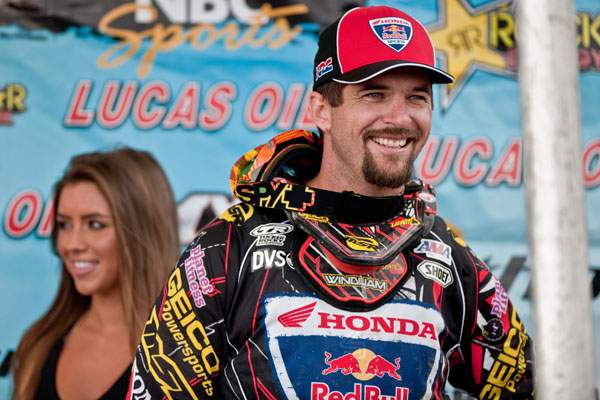 Somehow, Kevin Windham keeps surprising us. It shouldn't really be a surprise anymore.
Photo: Steve Cox
Windham has been racing as a professional for 16 years, and although he likes to talk about how he's "old" now and all that, the reality is that his win at Steel City was really a culmination of his 16 years of racing experience. He won because of his age, essentially, not in spite of it. One has to wonder how it would've been had Dungey – who was four years old when Windham turned pro – not dropped out of moto one.