Clutch. Especially in motorsports, that is a word with dual meanings. Obviously, you have the clutch, as in what Tommy Hahn blew in moto two at Southwick that prevented a top overall finish. But it's the other kind of "clutch" that legends are made out of.
A clutch performance is when someone absolutely has to perform no matter what, and then they do. It's performing under pressure. And pressure almost doesn't even describe what Trey Canard had to withstand in order to win at Steel City.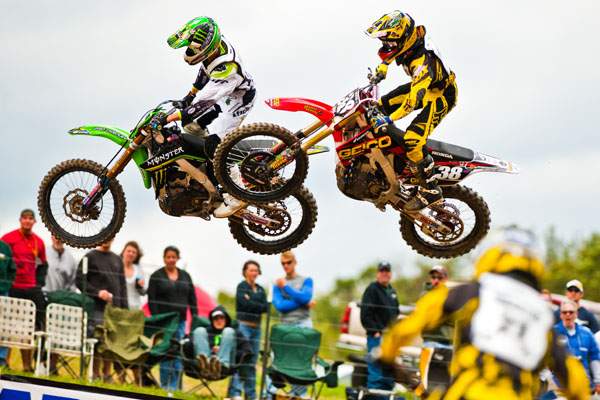 In both motos, Trey Canard (38) and Chris Pourcel (377) were rarely farther than this apart.
Photo: Steve Cox
First off, it's one of Chris Pourcel's favorite tracks, as he literally toyed with Ryan Dungey there last year. Second, Canard had Pourcel on his tail for nearly the entirety of both motos. And third, Canard absolutely had to pull through if he was going to have any sort of legitimate shot at the 250cc National Championship going into Pala, as he trailed by 13 points. Going 2-1 or 1-2 at Steel City against Pourcel would've left him still trailing by 13 points, allowing Pourcel to ride into the championship books with something like a 3-4 score.
But Canard was unbreakable. When Pourcel picked up the pace, so did Canard. In the end, they beat Tyla Rattray by 22 seconds in the first moto even though Rattray was right with them past the halfway point. And in moto two, they beat Dean Wilson by 13 seconds even though they didn't even pass him for the lead until there were only three laps to go!
They were both on another level, but someone had to win, and Canard did it. However, at Pala, Canard is going to need to win both motos and have someone finish between he and Pourcel in at least one of them. Even though he has done his part, he still doesn't completely control his own destiny.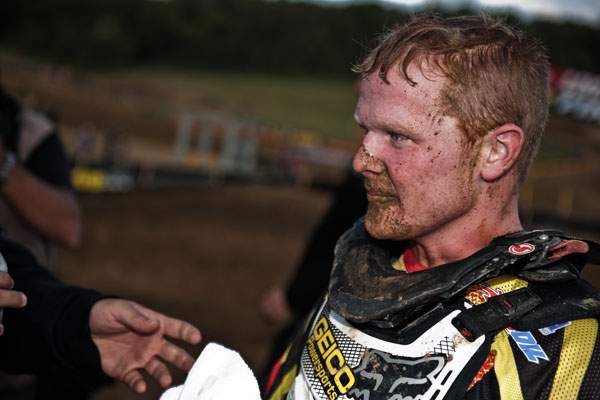 Canard's performance was the absolute definition of "clutch". He needs one more this weekend at Pala to beat Pourcel for the title.
Photo: Steve Cox