Thursday Rev Up: Steel City
Hello, everyone, and welcome to the Rev Up.
And then there were four motos...
That's all that remains in the 2010 Lucas Oil AMA Pro Motocross Championship, yet there is a mountain of drama set to unfold. Steel City has always been one of my favorite tracks and has provided some of the greatest moments in recent history; one moment being the 1996 event that saw Jeff Emig win his first premiere title over Jeremy McGrath by going 1-1 in a knock-down, drag-out battle. Most of you should remember the slow-motion footage of "Fro" taking the inside gate and cutting over on MC as the gate fell, then riding off with the championship. That memory blasted back when I saw the shot of Christophe Pourcel cutting over on Trey Canard last weekend. I believe that move set the tone for things to come, and we should all have the shoulders back as we prepare to watch it all unfold over the next four motos.
Beyond that, Steel City is always a great race. Her many off-camber corners and challenging jump sections provide a canvas for immaculate motocross art. The weatherman says it's finally time for some cool weather, and it's simply a great time to be a motocross fan; especially one that likes to go to the races. We're approaching the best time of year to ride, and if Steel City doesn't have you revved up already, check out what Taylor Congdon has coming down the pike with Moto 2: The Movie.
Now, let's get down to brass tacks, shall we?
450
I became a Brett Metcalfe believer when he ponied up to the 450 class for outdoors 2010, and now I'm a legitimate fan after he smoked Ryan Dungey at Southwick last weekend. Honda must have had Johnny O'Mara's 1986 Unadilla USGP gas statistics running for #24 at 'wick. Now I'm on the "Bretcalfe" bandwagon and will be pulling for him to nail down a moto win before the final curtain falls.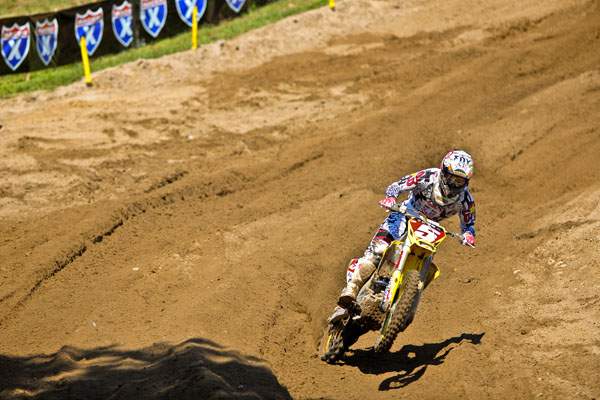 Ryan Dungey is looking to make history at Steel City.
Photo: Steve Cox
Up next is a guy I have always been a fan of. If you didn't remember that Matt Goerke won Motocross 338 last year, you probably ghost rode the fact that Mr. Hahn was your 450 feature winner at Steel City in 2009. Hahn has the talent and the speed to win it again this year, he just needs to get a couple starts. Come on, son! Go get some this weekend.
Then we have the record book to look at. Ricky Carmichael is the author of the great golden-bound novel of American Motocross records. The GOAT penned a chapter in 2001 when he rode a KX125 to victory, surpassing the great Mark Barnett as the most winning tiddler pilot ever. This weekend Dungey can make history with his 10th outdoor win of the season. That's gnarly.
250
You can insert any cliche you want to here, but all I hear is the bell ringing for fight time. The battle for the 250 crown has a lot of ingredients that will decide who gets to wear the title belt. They say motocross isn't a team sport, but it looks like this one is going to be a total team effort between Pourcel and Canard. It's hard to say who has the baddest fullback blocking for them. For Canard, he has a wrecking ball in the name of Justin Barcia who is hands down the dirtiest rider in the top ten. (Plus, he and #377 have beef.) In Pourcel's corner, he has young Dean Wilson who has not only won an overall already, but is a threat to win every time the gate drops. Go ahead and throw Tyla Rattray and Blake Wharton into the stew as well. Heavy, right?
It's a tricky scenario here, in that both of the championship contenders' teammates can equally help and hurt them. Are we going to see some, "Let Brock bye" action as we come down the stretch? It's going to get ugly in one way, shape or form.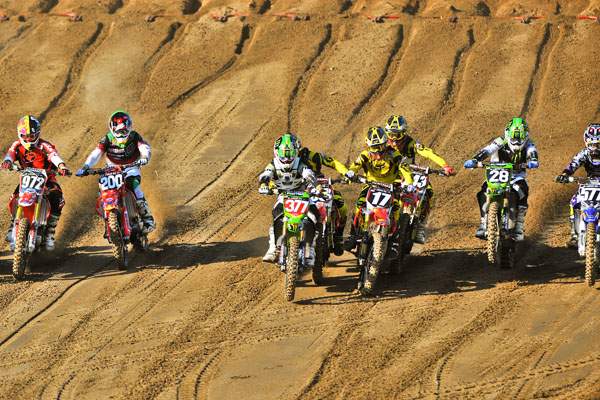 Chris Pourcel (377) cuts Trey Canard (38) and the rest of the guys off on his way to a good start in moto two.
Photo: Steve Cox
The title isn't completely in Canard's hands because, with that 13-point deficit, if he wins out, Pourcel will nip him by one point if he follows him across the flag in every moto. I can tell you that this is not going to happen. There isn't a cold beer's chance during rush week that those two won't have some riders between them in the next four motos.
As we've seen all summer, anything can happen. What dreams may come, or be broken, is set to unfold for all the world to see. Both of these great champions want this title more than anything in the world. To put it simple and bold: it's time for them to pound the rock.
Folks, this one's going to be huge.
Thanks for reading, see you next week.