Between the Motos: Mike Fisher
The Monster Energy Kawasaki team is used to winning races and championships. That's the standard the team has set for itself. But this year, injuries and illnesses have limited the team's winning potential, and it has been frustrating. We caught up with team manager Mike Fisher to find out how he deals with the tough times in racing.
Racer X:
It's been a tough year. As a team manager, how do you sort of keep it in perspective?
Mike Fisher: I don't keep it! Really, we just move forward every week. We move forward every weekend and try to improve, like with
Nick Wey
. When we go to the race, we're used to winning. We're used to being able to win or having a chance to win every week and we're all geared for that. We did a lot of winning this year, too, so we did well. We've all done this. Our team is pretty well seasoned and we've been in this position before. We just look forward to next year right now, and even before that we look for improvement from
Nick Wey
; if you're getting 15th, let's get in the top 10 now. Then, let's stay in the top 10. Today [at
Southwick
], he was sixth and it may not look like a big deal, but it kind of was because it's an improvement for him.
Plus, he did it coming from behind.
Yeah, everybody is kind of motivated on that right now, just to keep him up there and be consistent. We have a potentially new rider [Billy Mackenzie] coming over next week. We're going to test with him. We did Friday. He landed Thursday and then we went out with him Friday. We just did a pre-run. He was kind of jet-lagged, but we just did a little quick ride at Milestone. We'll test with him this week a couple days and if he's good and he feels good and we think he's fine, we'll go to Steel City with him.
Obviously it's easy to motivate yourself and your team when you won last weekend. You're like, "Yeah let's go do that again!" But it's a little harder when you haven't won in a little bit, isn't it?
It's really hard. When I first took this job, it was the weekend after James [Stewart] had landed on [Ricky] Carmichael at Unadilla. It was at Denver. I showed up and it was just [Michael] Byrne racing because James was hurt. It was awful that whole time. James' stomach was sick and he was throwing up everywhere and landing on people and cart-wheeling and upside-down everywhere... Then, we're running a two-stroke against 450s. It was a struggle this year, for sure. I guess if we would have started off winning every race, I wouldn't know that so well, but I knew it. Bruce [Stjernstrom, who was the team manager before Fisher took over] told me at the time, "Dude, when you win [it's worth it]..." Stanley, our boss, is Japanese and he'd be like, "We're winning really well!" He thinks you just turn the win meter on and we just win. It's not that simple. We know it's been good and we've won a lot, but it can change like that. We just try to move forward. During the week, we always try to get our guys to look forward to developing, and about what we are going to do in the next few months, and the next year's plan for our bike. It gets everybody thinking about that instead of dwelling on right now because it's not great, so let's look forward to next year instead. What are we going to do to improve this? Let's work on that. It helps them and helps the team. These guys [the members of the team] really do get emotional about it. They want to win; we all want to win.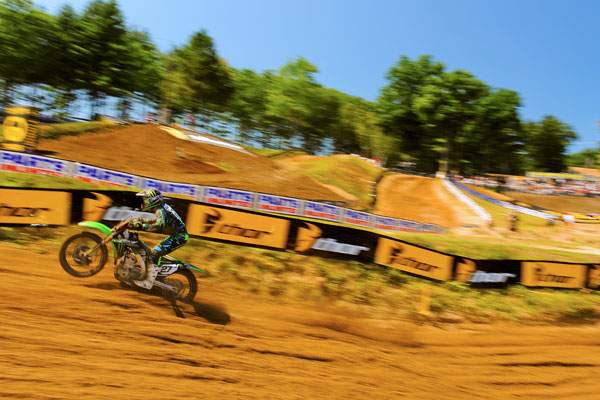 Nick Wey has been improving all season, and he nearly cracked the top five at Southwick.
Photo: Steve Cox
Winning's their job. They spend however many hours a week doing this.
We all feel the same. If they didn't, they wouldn't be good. That's the hardest part: keeping everybody motivated all the time.
It almost seems like bringing in some Scottish guy, if you end up doing that, is like value in and of itself. Like, "All right, let's go! We've got another guy. Let's see what we can do with him."
He sent a video of himself over from the last round in Australia, and I don't know the level there, but he looked pretty good. But these guys [in the AMA Nationals] are on it right now, I think. People discount how fast they're going, but they're going fast.
Yeah, Stewart didn't go smoke them last week when he showed up...
No. I don't know where we expect him [Mackenzie] to be, but it's good to have a new guy here and for us to learn more about something from a new person and see if we can do the best with him. We just want to push him out there and get him some good laps and give all our sponsors, including Monster, two guys on the track. That's another thing we try to do every week and it's hard to do.
Right now we're in the middle of silly season and everybody, especially a lot of good Lites guys, are looking for 450 rides. What kind of position does that put you in? You probably like multiple guys and you only have so many spots on your team. How do you handle that?
That's a tough deal, because we always have four riders on the Pro Circuit team. If we have four good riders, no matter what, we only can take two [to the factory 450 team]. We know there are only two guys who are going to make it, and that's a hard decision to make. For the most part, these guys are awesome. The team right now over there, they're great. I love Ryan [Villopoto] and I love those guys, so there are a lot of choices right now for us, actually. It is hard to do. It comes down to negotiating what they want and what we want. It just may come down to that and how important it is for them to be here. If they really, really want to be here, then those are the guys that will probably be here.

That makes a big difference, too, I would imagine. It's not just a matter of dollars and cents, but a matter of, "I really want to ride for you." When you go in with that attitude, chances are you're going to be more successful anyway – even more than the guy who's getting paid more than you.
Right. Ryan [Villopoto] is a perfect example of that. He wants to be here. He loves being here. He loves racing and practicing. It's a good feeling with him and we both have a good feeling toward each other. I know he wants to be here and it shows. His results show and he doesn't make excuses. He doesn't bullshit around. He just races the best he can every week.
Sometimes, that's fourth, and sometimes it's first...
Sometimes it is. He doesn't win every week. He's capable of winning and I know he gives it his all every time. He makes little mistakes that are just mistakes that everybody makes. He's human.
It's a hard standard, though, when everybody looks around and you're like, "Ricky Carmichael won everything all the time." It's a hard standard and I think people get sort of caught up in that idea sometimes that the guy has to be dominant every week, all the time...
Supercross is pretty hard to win like that. Outdoors, guys have been more dominant in the past like Ricky [Carmichael] and James [Stewart]. James was like that with us the last year he was here. Ricky had done it. [Ryan] Dungey damned near did it this year – with the exception of Chad [Reed, who won the Hangtown opener], he has won every race. Supercross is pretty hard to do like that, though. Since McGrath, it hasn't really been done, I don't think. Maybe that one year with Ricky Johnson, he won a lot of races that year, but I don't think it's really happened, right?
Carmichael did it in '02, won all but two. McGrath won all but one in '96. Last question is also regarding signing riders and stuff: For example, Jake Weimer; the dude killed it in Supercross, and especially Vegas. It seems like, in the industry as a whole, and I'm not pointing fingers at you, people look at him and see that he's been struggling outdoors, and all of a sudden they're like, "Eh, I don't know..." Do people really have that attitude that maybe he's not as good as they thought after all that he won this year and last year?
It's unfortunate with this industry that people forget very quickly who you are and how fast you can be. I mean, he has a little injury right now and so it's hard for him to come show that, too. I think he was trying to ride through some of the pain and it wasn't doing well for him. Then you think, "Well, if he takes off [some races, to heal up], he's out of sight anyway and then they forget about him. It's a crappy part of our sport that people feel that way. I really like him. Even outdoors, he's got awesome speed. Pourcel's talent outside is amazing; maybe the most talented guy here out of everybody. It's amazing to watch and amazing the way he can ride. They're very different in the way they ride but you can see Jake can hold his own with him, and he can still do that.